Student food vlog: 3 Ways with Sweet potato
It's the third of our '3 Ways with' food vlogs, and this one's pretty sweet. Sweet potato, to be exact. We asked graduate vlogger Laurie to rustle up a few meals with this versatile root veg - the best thing to happen to carbs since sliced bread.
Watch the video above to see the meals.
Prefer to read your recipes? Here's what Laurie cooked.
Sweet potato satay curry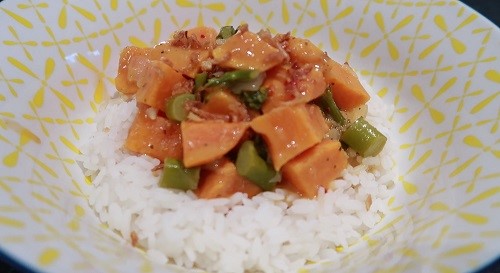 Fry chopped onion and garlic until soft, then add curry paste. Fry for a few minutes, before adding a tin of coconut milk and a big dollop of (yes) peanut butter. Simmer for 25 minutes, then add chopped green veggies of your choice and a squeeze of lime juice. Cook till the veg is soft, and serve with hot, steaming rice.
Find the recipe at the BBC Good Food website
Sweet potato and spinach bake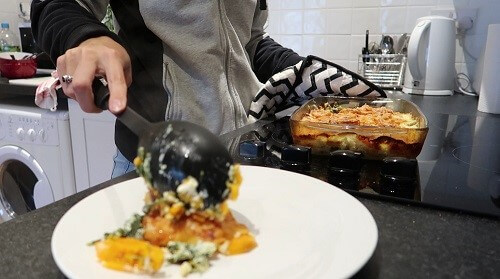 Preheat your oven to 200 degrees. While that's heating up, add single cream to a saucepan with some garlic and fresh herbs and gently warm through - remove from the heat before it starts to boil. Next, grease a baking dish with butter and layer sliced sweet potato and spinach before pouring over the cream. Sprinkle with cheese and bake for 45 minutes.
Find the recipe at the BBC Good Food website
Veggie sweet potato mash shepherd's pie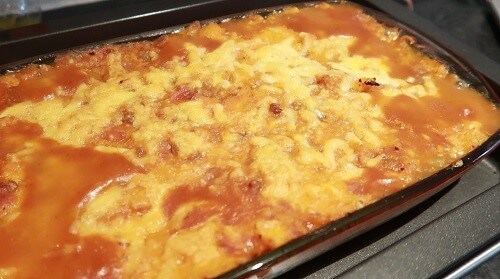 Fry some chopped onion until soft, then add carrots, fresh thyme, a tin of tomatoes, a stock cube, and a tin of lentils. Bring to the boil. In a separate pan, boil your chopped sweet potatoes until soft, then drain and mash with a knob of butter. Add the lentil/carrot mixture to an ovenproof dish, and smooth the mashed potato over the top. Sprinkle with cheese and bake for 20 minutes.
Enjoyed this article? Give it a like
Laurie is a University of Stirling graduate. She studied Literature, Education and English Linguistics, and MSc TESOL.