Tasty festive treats you can make with your flat at uni
Get your flat into the festive spirit with University of Bristol student Georgina's favourite seasonal treats that are perfect for making together.
Bon appetit!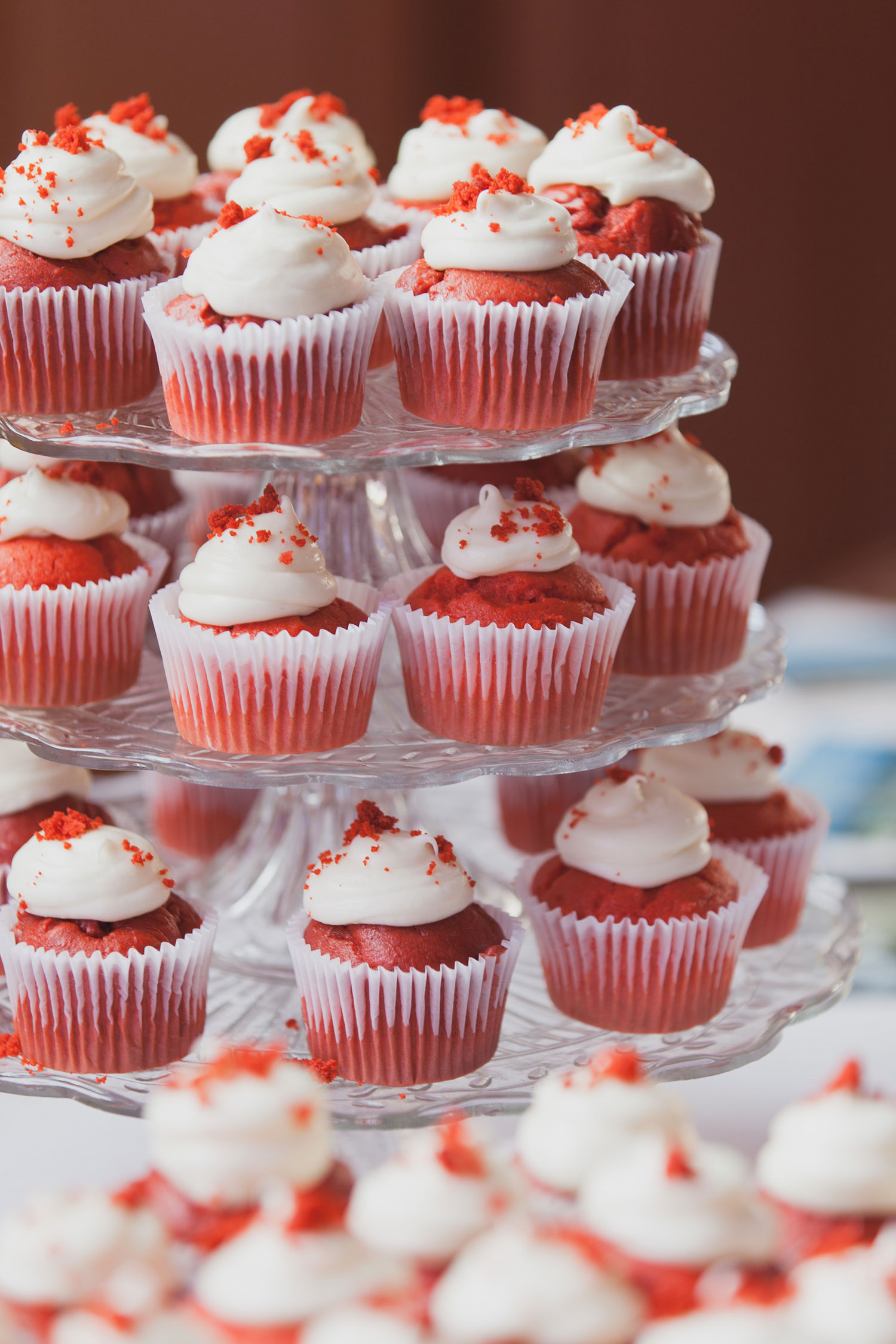 Cupcakes by themselves don't scream Christmas, I know. But with a bit of decoration, any treat can become a festive wonder.
I like making red velvet cupcakes. They taste delicious and the red colouring gives them that little Christmassy edge. These are also great to share with friends.
Ingredients (makes 12)
1 tbsp cocoa powder
1 tsp bicarbonate of soda
1 large egg
1 tsp white wine vinegar
1 tsp vanilla extract
1 tbsp red food dye (gel is best)
150g plain flour
150g caster sugar
100ml milk
50ml vegetable oil
50g softened butter
Method:
Line a cupcake tin with 12 cupcake cases. Preheat the oven to 180C. Sieve the flour, cocoa powder, bicarbonate of soda and a pinch of salt into a bowl, then mix. In a separate bowl, beat the softened butter and sugar together.
Beat the egg and add to the butter and sugar. Then add the vanilla extract, milk, oil and vinegar as well. Beat together until combined well. Slowly, add the wet ingredients to the dry ones and mix well. Add the red food dye.
Divide the batter into 12 cupcake cases and bake for 15 minutes, or until a skewer inserted into the cake comes out clean. You can then decorate these however you like, with melted chocolate or perhaps green butter icing to make them fit for any Christmas feast.
2) Peppermint creams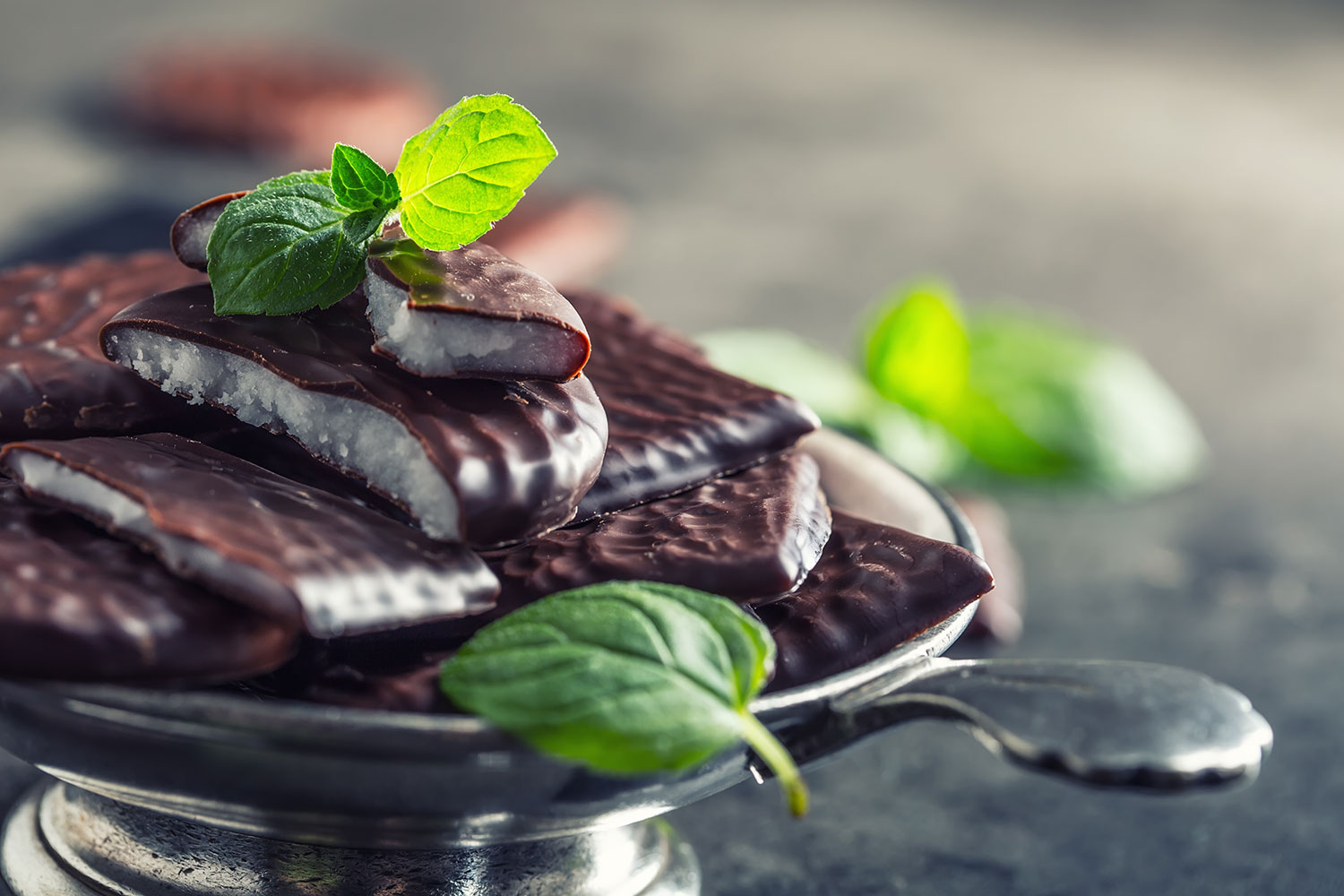 I have always been a big fan of mint. Mint ice cream, mint toothpaste… there actually isn't a lot of things that contain mint. So it's no surprise that peppermint creams are one of my favourite treats. When I was five, my mum got me a book called The Usborne Yummy Little Cookbook. It contains lots of simple recipes for sweet treats. This delicious recipe is one of them.
Ingredients (makes about 50)
500g icing sugar
1 egg white
2 tsp peppermint flavouring
4 tsp lemon juice
green food dye
Method:
Mix the egg white, peppermint and lemon juice in a small bowl. Sieve the icing sugar into a larger bowl and, with a spoon, make a hole in the middle. Pour the egg white, peppermint and lemon into the sugar and mix together. Then, using your hands, squeeze the mixture until it's a dough-like texture.
Separate the mixture into two bowls. Add a few drops of green food dye to one of the bowls. If the mixture becomes sticky, add a little more icing sugar. Sprinkle a little icing sugar onto a work surface and grab a rolling pin.
Roll out the green mixture until it is 1-2cm thick. Use a cutter (or a glass) to cut out any little shapes you like. Then repeat with the white mixture. Leave the creams to harden for at least an hour. If you like, you could also dip them in melted chocolate and leave for a few hours to set.
3) Shortbread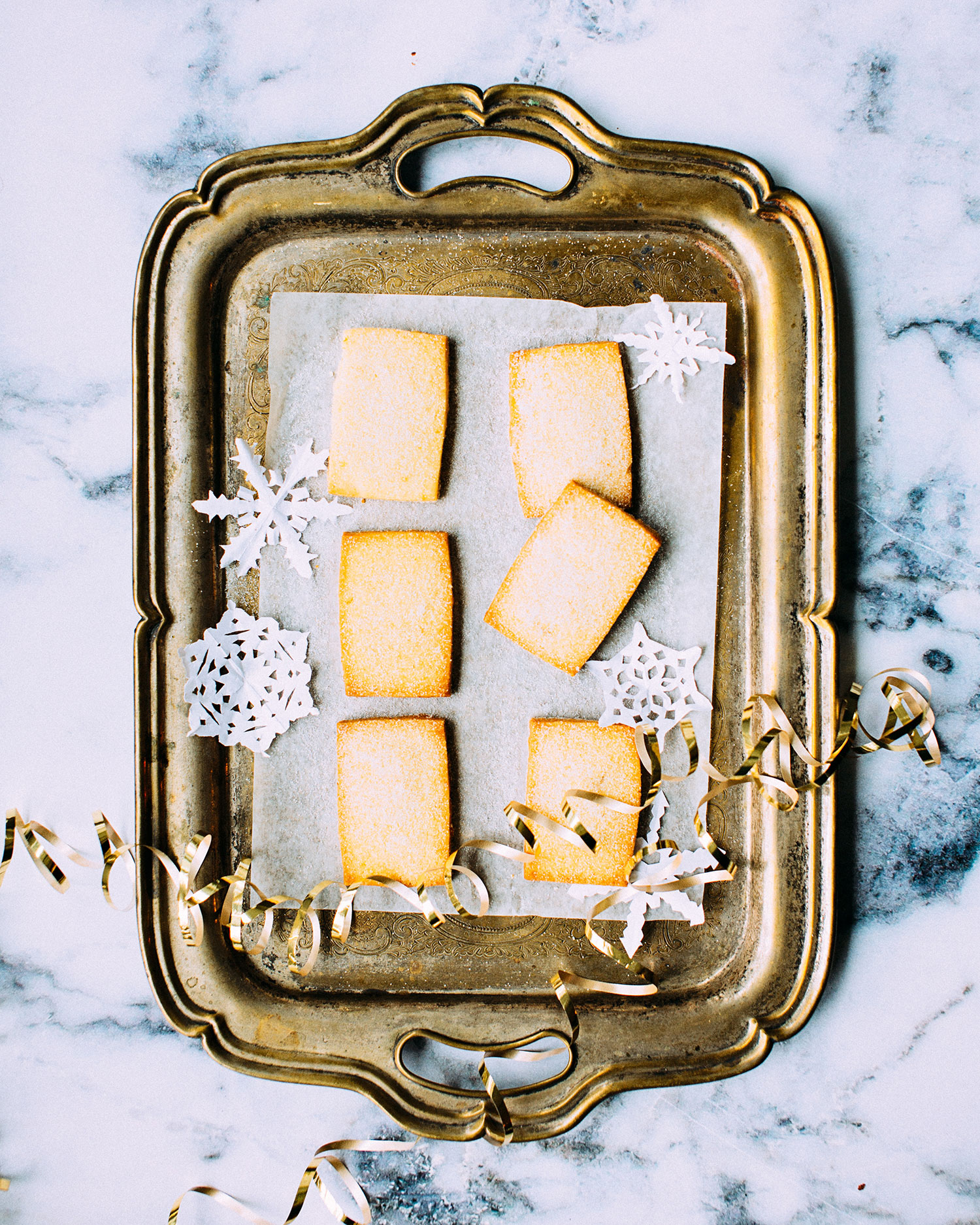 Shortbread has always been one of my favourite biscuits. My dad used to buy a tin every year and hide it on the top shelf of the cupboard (where I still can't reach), just so I wouldn't eat them all while he was out.
Ingredients (makes 8 pieces)
150g plain flour
25g rice flour
100g butter
50g caster sugar (plus a little extra for dusting)
Method:
Preheat the oven to 150C and grease a 20cm tin with butter. Sieve the plain flour and rice flour together into a large bowl. Add the butter and rub it in until it is like breadcrumbs. Stir in the sugar with a wooden spoon.
Using one hand, squeeze the mixture into a ball. Press the mixture into the tin with your fingers and then smooth the top with a spoon. Using a fork, press a pattern around the edge of the tin and make holes in the middle, then slice into eight equal pieces.
Bake for 30 minutes until the shortbread is golden. Once out of the oven, dust with sugar and leave in the tin for 10 minutes. Then remove and place on a wire rack to cool.
4) Chocolate log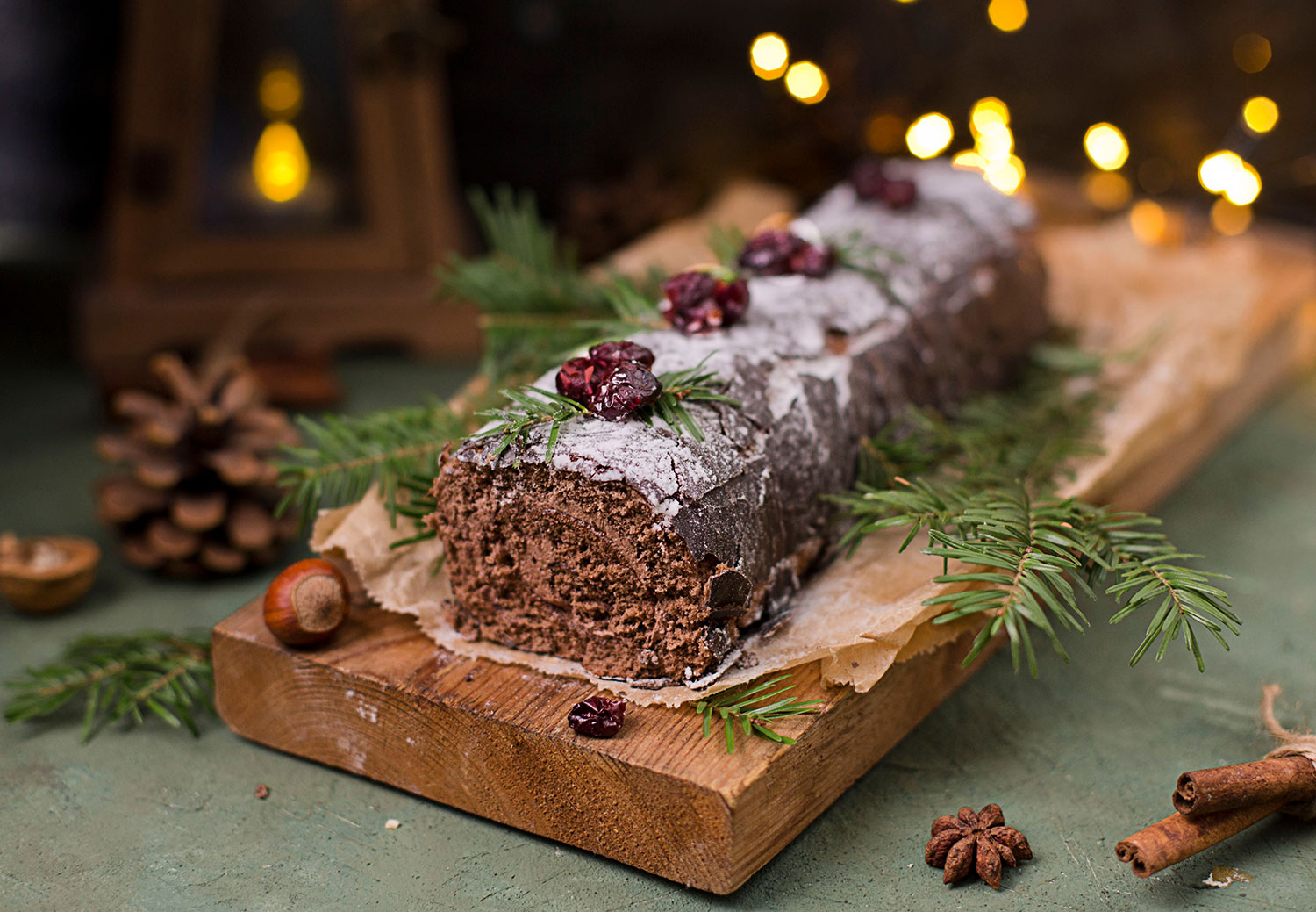 A chocolate log (also called a yule log or chocolate roulade) is something I make every year with my family. We like to give it a slight twist by adding cherries to make it a Black Forest Chocolate Log. This is definitely one of my favourite desserts, and it isn't limited to Christmas time either.
Ingredients:
200g dark chocolate.
150g caster sugar
5 medium eggs
300ml double cream
125g Morello cherries
1 tbsp icing sugar
1 tbsp cocoa powder
Method
Line a Swiss-roll tin (basically a flat baking tray with edges) with baking parchment. Preheat the oven to 180C. Melt the chocolate in the microwave or in a glass bowl over a pan of simmering water. Separate the egg whites and yolks. Then, whisk the sugar and egg yolks until very thick. Fold in the melted chocolate.
In a separate bowl, whisk the egg whites until they form stiff peaks. Beat two tablespoons into the chocolate mixture, and then gently fold in the rest. Pour the mixture into the tin and bake for 15-20 minutes, until it has risen and is firm to touch.
Lay out a large piece of baking paper and sift half the icing sugar over it. Turn out the warm roulade onto the paper and leave to cool. Whip the cream until it forms soft peaks. Then spread over the roulade. Sprinkle the cherries over.
Using the baking paper underneath to help, roll the roulade up from one of the shorter ends. Transfer onto a plate, then dust with cocoa powder and the remaining icing sugar.
5) Brandy butter
Brandy butter is a very Christmassy creation; my mum makes it every year. You can make this instead of butter icing to add to any bakes you like, giving them a Christmas twist.
Ingredients
110g unsalted butter
85g caster sugar
85g icing sugar
3 tbsp brandy
Method
Add the butter and caster sugar to a bowl, then sieve in the icing sugar. Cream the ingredients together (here's how) using a wooden spoon, or an electric whisk.
Add in the brandy and beat until the consistency is smooth. If you add too much brandy, just add a little more icing sugar until you get the right consistency. Spread on mince pies or pipe onto cupcakes.
Enjoyed this article? Give it a like