3 Tasty cocktails that are perfect for Dry January
Whether you're attempting Dry January, enjoying a booze-free night in or just don't drink alcohol in general, these three mocktails are sure to give your tastebuds a party.
These delicious non-alcoholic drinks are all found in Clare Liardet's book, Dry, which features a huge range of clever fusions of flavour without a drop of alcohol in sight.
Making your own cocktails from scratch might sound like a lot of effort, but it's actually really fun, and is a great idea for a flat night in. Don't have a shaker? Why not use an old pasta jar (thoroughly washed, of course), water bottle or coffee flask instead.
1. After Eight Martini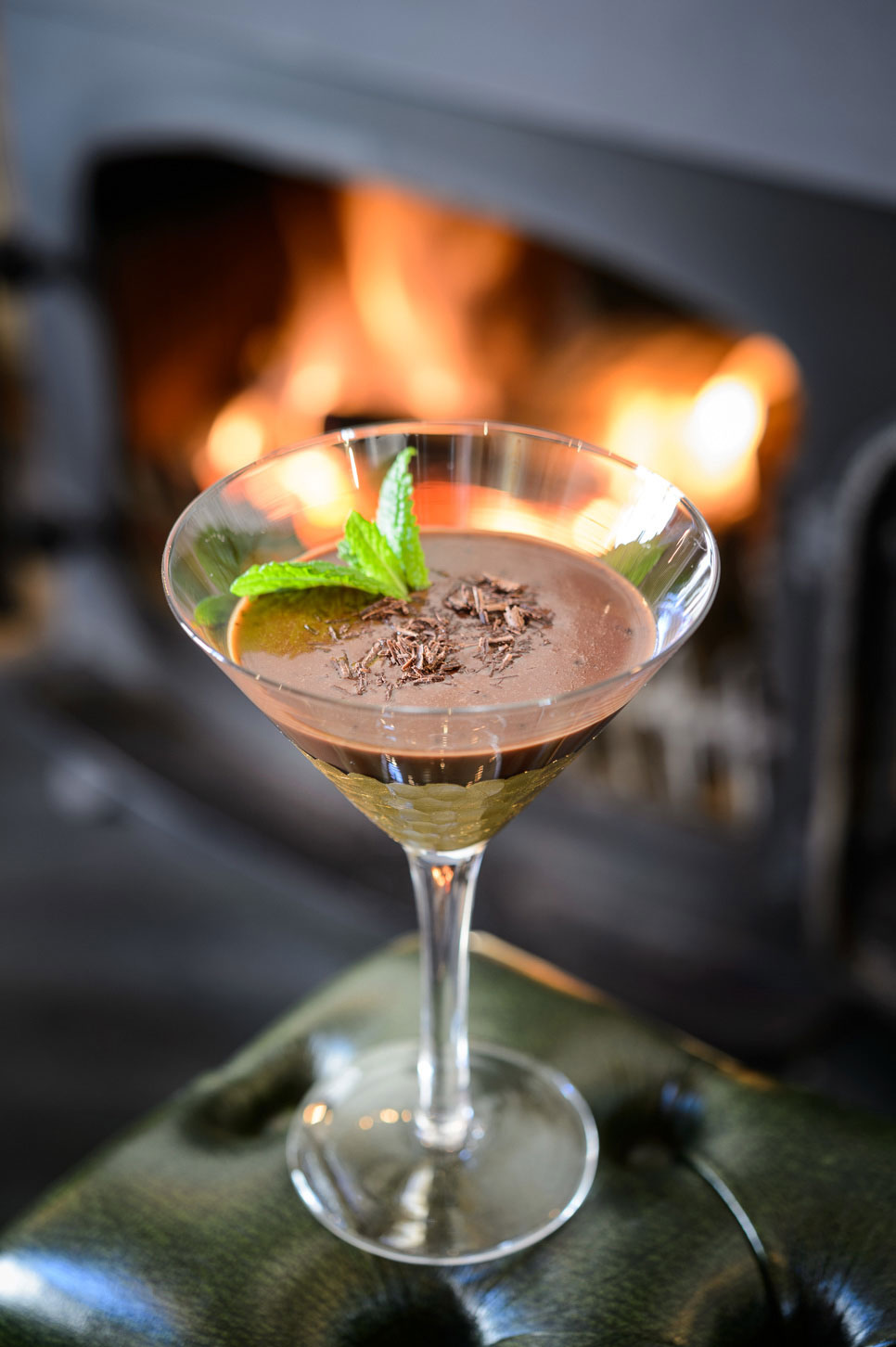 Ingredients (serves 1):
You will need: chilled martini glass, shaker
1 tbsp chocolate ganache (see below)
50ml double cream
30ml Simple Herb Syrup made with mint (see bottom of article)
ice cubes
mint leaf or sprig to garnish
For the chocolate ganache:
235ml double cream
250g good-quality dark chocolate, grated
Method
For the chocolate ganache:
Put 235ml cream in a pan and heat gently. Bring just to the point of boiling and keep watch to stop it from boiling over. Add the grated chocolate and whisk until smooth.
Transfer to a sterilised container and store in the fridge. It will keep happily for up to a month, but keep it well covered so it doesn't absorb any fridge flavours. It doesn't take long to make and is also delicious whisked into a cup of hot milk on a cold, grey afternoon.
For the After Eight Martini:
Put a tablespoon of ganache into a pan with 50ml cream and the mint syrup, and heat very gently until the ingredients are blended. Allow the mixture to cool, then pour into a shaker with some cubes of ice, and shake. Working quickly, pour the drink into a chilled Martini glass and garnish with a sprig or leaf of mint.
Inspiration: This is a real after-dinner treat, rich and chocolatey with a hint of mint. I remember stealing After Eight chocolates from my grandparents as a child, and feeling deliciously wicked while licking sticky fingers.
2. Hot Buttered Spiced Apple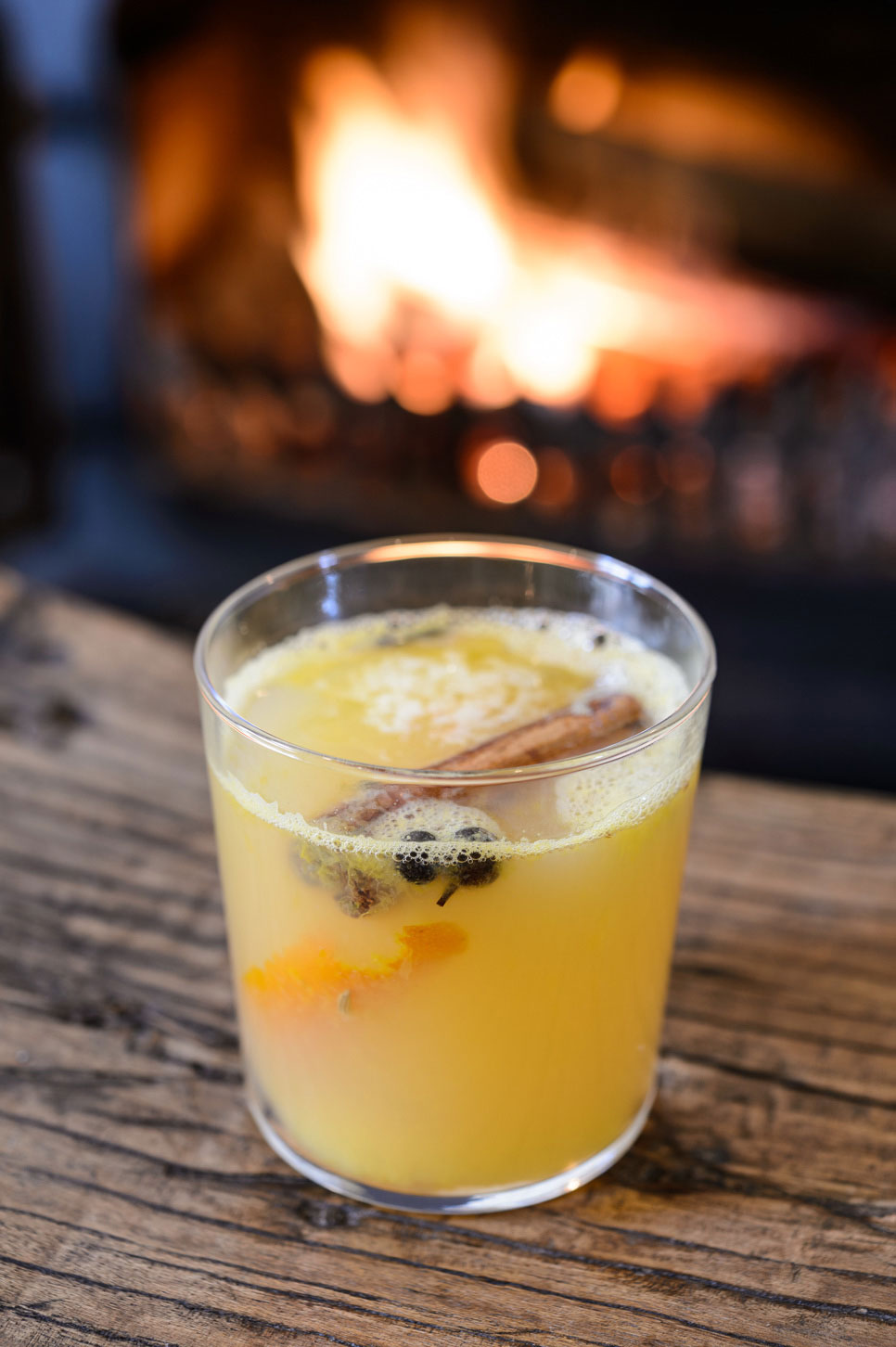 Ingredients (serves 1):
You will need: heatproof glass or mug
250ml cloudy apple juice
juice of ½ a lemon, plus 1 strip of zest
juice of ½ an orange, plus 1 strip of zest
½ cinnamon stick
1 whole clove
2 allspice berries
¼ tsp fennel seeds
small red chilli (optional)
½ tsp unsalted butter, softened
cinnamon stick for garnish
Method:
Add the apple juice, lemon juice, orange juice, zests, spices and fennel seeds to a pan. Simmer over a medium heat for 20 minutes but do not allow to boil. If you're adding chilli, do so halfway through and keep tasting. Remove if it starts to become too spicy. The idea is to add a little gentle background heat that is barely noticeable.
Ladle the liquid into a heatproof glass or mug, leaving the zest and spices in the pan if you wish. Add about half a teaspoon of butter to your glass. Serve with a cinnamon stick to garnish.
Inspiration: I've had many versions of hot apple or cider over the years, but this is one of my favourites. It's incredibly warming at the end of a long walk or on arriving home after a cold, busy day.
Flavour: It might sound odd to use butter in a drink, but it adds a lovely savoury depth. You can also play with the flavours a little – add citrus zest or a pinch of ground cinnamon to your softened butter.
3. Pear and Rosemary on the Rocks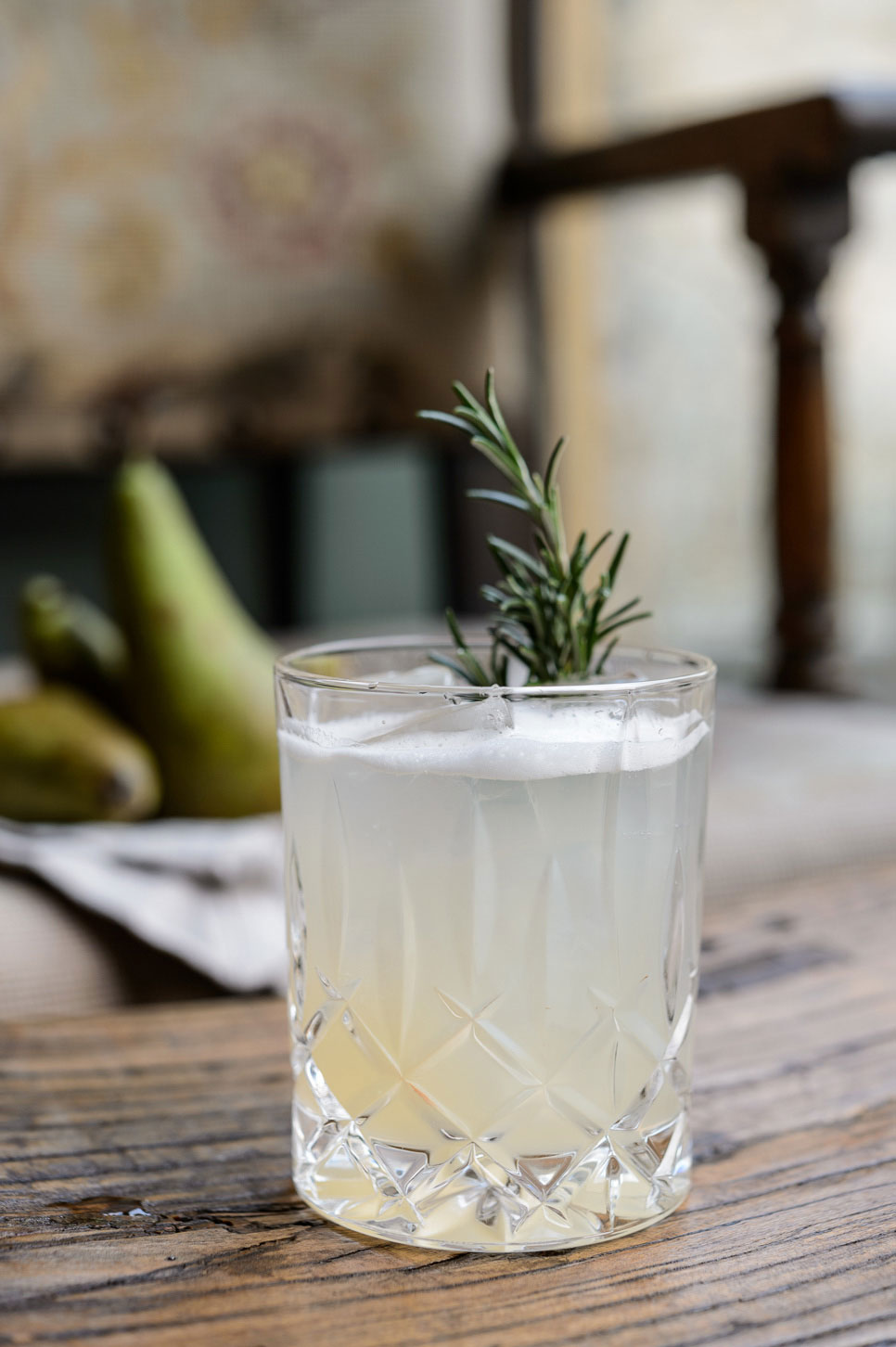 Ingredients (serves 1):
You will need: tumbler, shaker, strainer
60ml juice from 2 small pears, or good quality shop-bought pear juice (not from concentrate)
30ml freshly squeezed lemon juice
25ml Simple Herb Syrup made with rosemary (see bottom of article)
ice cubes
sparkling water
a sprig of rosemary and a slice of pear to garnish
Method:
Combine the pear juice, lemon juice and rosemary syrup in a cocktail shaker with ice, and shake well. Strain into a rocks glass and top with a splash of sparkling water.
Garnish with a sprig of rosemary and a slice of pear. For a longer drink, add more water and a dash of lemonade.
Flavour: This is an elegant drink for an autumn evening, as the shadows begin to lengthen and a chill appears in the air. For me, a ripe pear is a luscious and fragrant treat, particularly when paired with a hint of warm, woody rosemary.
Simple Herb or Flower Syrup
The intensity of a herb's flavour varies throughout the year, so you might need to experiment with these lovely syrups. Just use a teaspoon to test the strength as it simmers, and adjust as necessary.
Ingredients (makes a 400ml bottle):
200g sugar
200ml water
herb/flower of choice (e.g. a few good sprigs of mint or 2 sprigs of rosemary, as per the above recipes)
Method:
Put the sugar and water in a pan on a low heat, stirring constantly, until the sugar dissolves. Bring the syrup to a simmer, add your chosen herb or flower and then continue to simmer for a further 5–10 minutes. Remove from the heat and allow to cool. Strain the syrup into a sterilised bottle.
So there you have it. Three classy mocktails that taste great and will impress your friends. These recipes were taken from Dry, by Clare Liardet. For more mocktail inspiration, get your copy here.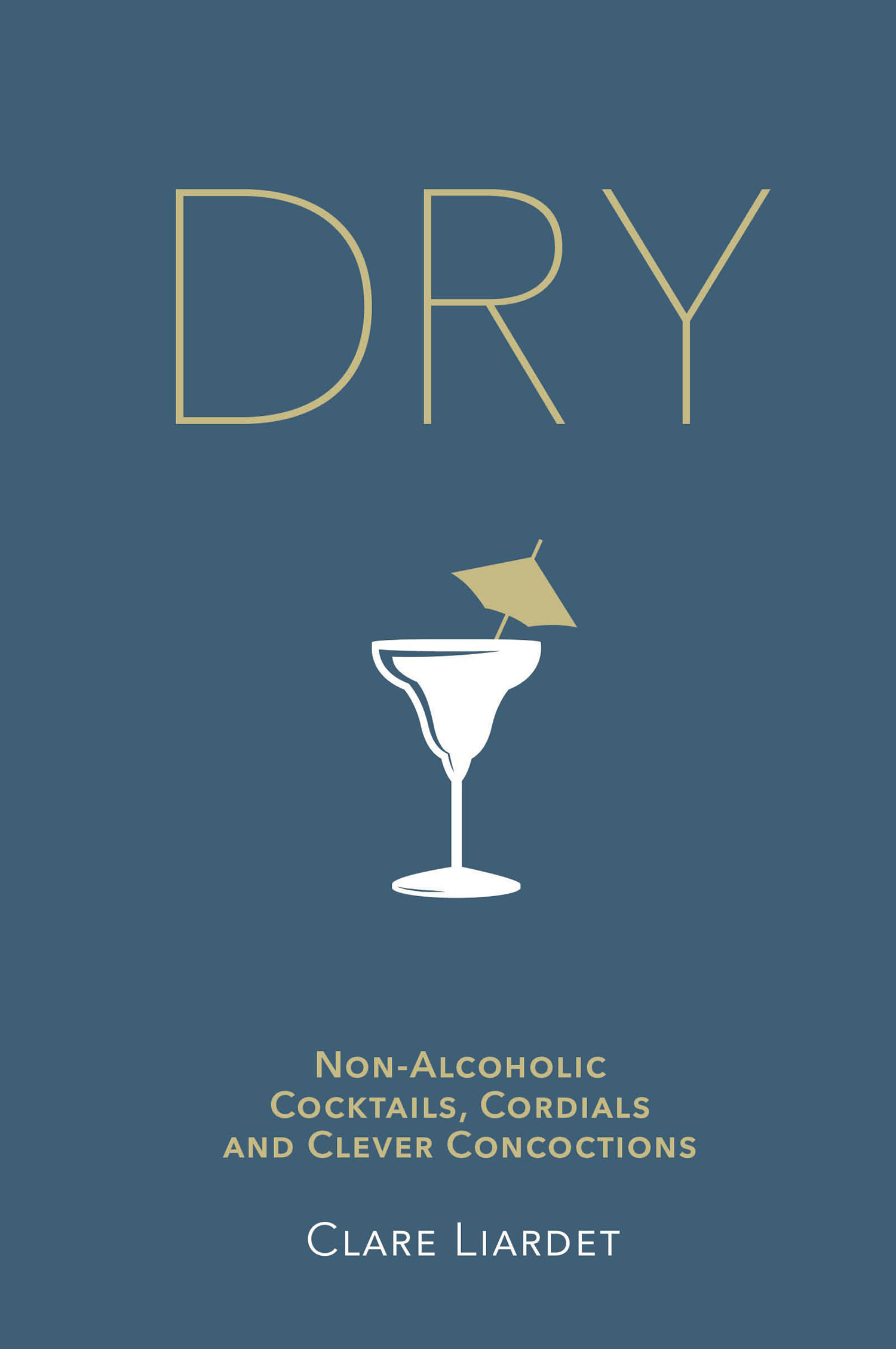 Enjoyed this article? Give it a like