4 Easy recipes to get you in the mood for spring
It might seem like we've had the longest winter ever, but the good news is that it is coming to an end.
As well as packing away the thick woolly jumpers, this is also a great time to ditch the heavy comfort food and embrace the next season – spring.
Here, I've pulled together a few of my favourite recipes for this time of year, with some seasonal, light flavours to get you in the mood for the warmer months ahead.
The best part is that they're pretty straightforward, so you don't need to be a cooking pro to get them right, either!
1) Spring protein bowl
If you're hunting for something quick and healthy to eat, look no further than this spring protein bowl. Packed with goodness, it's perfect for building up that vital revision energy and it's super quick to prep, too.
Ingredients (serves 1)
1/2 medium avocado
100g cooked chicken breast
5 asparagus spears, halved
Handful of spinach/salad leaves
15g mixed seeds
1 1/2 tsp balsamic vinegar
1 1/2 tsp olive oil
Salt and pepper for seasoning
Method
To get started, pop your asparagus spears into a pot of water and bring to the boil. Allow to simmer for 5-10 minutes, while you prep the rest of your ingredients. 

Meanwhile, give your salad leaves a wash and place them at the bottom of your serving bowl. Dice the avocado and chicken and place over the leaves.
Next, drain the asparagus and leave to cool for a few minutes. Then, sprinkle it on top of the avocado and chicken.
In a separate bowl, mix together olive oil, balsamic vinegar and seasoning. Once the dressing is made, drizzle it over the salad. Top with mixed seeds to serve.
2) Goat's cheese and red onion tart
This is one of my spring favourites – it's creamy, delicious and packed full of flavour. Plus, if it's your turn to cook for your mates, they'll think you're a baking god (even though it's almost unbelievably straightforward to make).
Ingredients (serves 2)
1 chilled puff pastry sheet (e.g. Jus-Rol)
200g goat's cheese
150g red onion chutney
Thyme (optional)
Green salad (to serve)
Method
First, preheat your oven to 180C. Then, lay out the roll of pastry flat and cut it into four rectangles. For each rectangle, make a small fold on all four sides to create a well in the middle, then place them on a baking tray.
Next, split the red onion chutney between each pastry slice and spread to create a thick bottom layer. Cut the goat's cheese in equal slices and top each one (sprinkle with thyme, if desired).
Finally, place the pastries into the oven for 15-20 mins (or until the pastry in golden brown).
Pop on a plate with the green salad to serve and enjoy!
3) Zesty chicken pesto pasta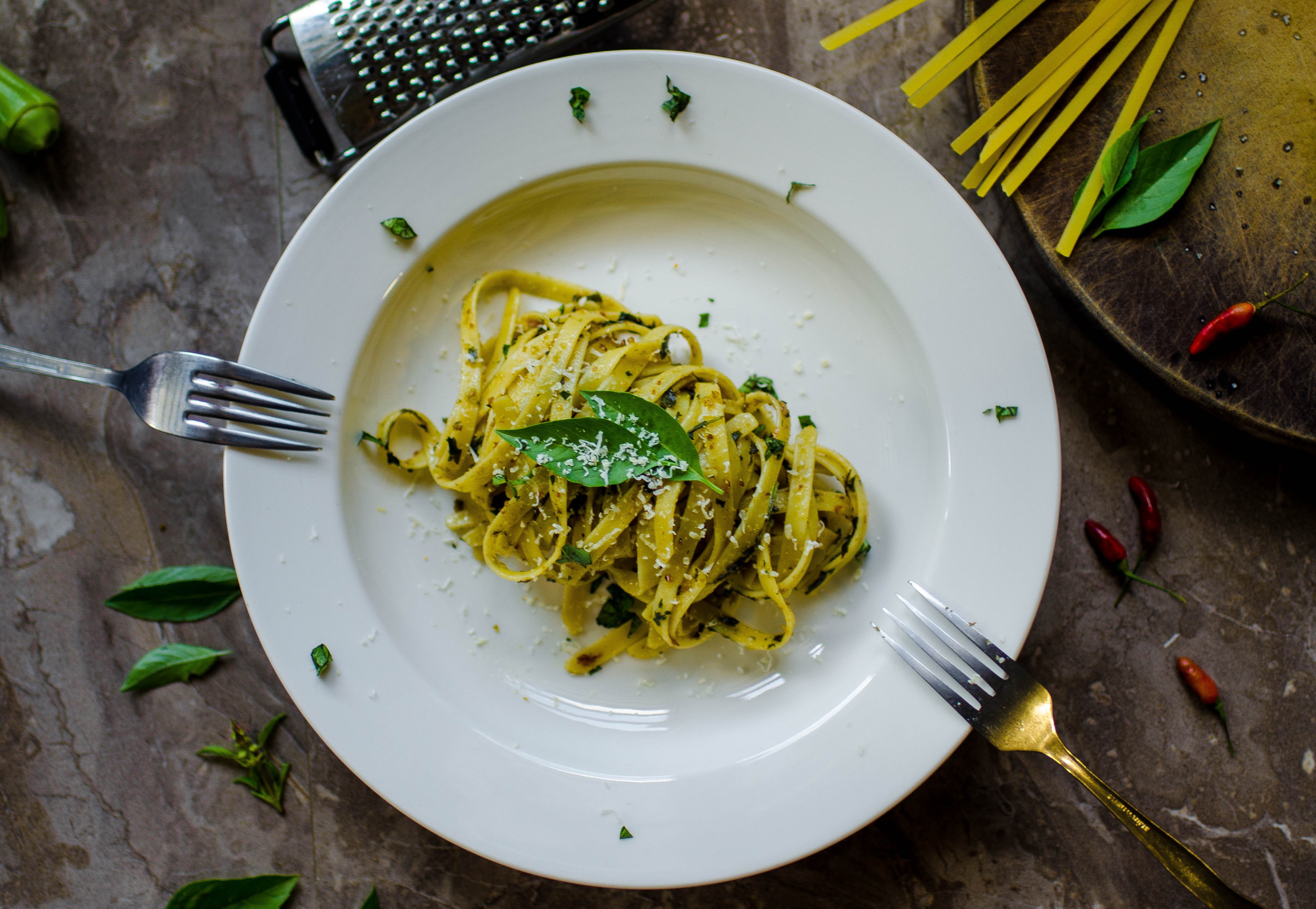 I'm a huge fan of Italian food, which means I eat pasta way too many times a week. Thankfully, there are loads of ways you can have pasta and this is one of my top go-to recipes.
Ingredients (serves 1)
1 chicken breast, diced
100g basil pesto
1/2 lemon
50g pasta
1 1/2 tsp olive oil
Salt and pepper
Grated parmesan
Method
Warm the oil in a frying pan and, once hot, drop in the diced chicken. Season with salt and pepper and fry until cooked through (roughly 15 minutes).
Meanwhile, pop your pasta into a pan of boiling water and cook according to the instructions on the packet. Once cooked, turn off the hob, drain the pasta and place it back into the pan.
Then, take the chicken off the hob and add it to the pan of pasta. Stir in the pesto. Once mixed, turn the hob back on and cook lightly for 1-2 minutes (stir continuously to avoid sticking).
To serve, place into a pasta bowl and finish with fresh lemon juice and a sprinkle of parmesan cheese.
4) Spring minestrone soup
Even in spring, we need a little warmth to sooth our soul. Luckily, this recipe is a walk-in-the-park and perfect for those days when it's sunny but a little cold outside. Even better? You could use pretty much any of the veg lying around your kitchen to make it.
Ingredients (serves 2)
1 onion, diced
2 cloves of garlic, chopped
100g new potatoes, halved
50g peas
100g asparagus, trimmed and halved
1 stock cube
250ml boiling water
100g cherry tomatoes, halved
50g spaghetti, broken into pieces
Small handful of spinach
1 tbsp light olive oil
Salt and pepper
Method
To make this one, warm your oil in a large stockpot on a medium heat. Throw in your diced onions and fry until they start to go soft (around 5 minutes), then add the garlic and cook for another minute.
Next, pour in the boiling water, mixed with the stock cube. Add the new potatoes and bring to the simmer. Cover and leave for 20 minutes.
Once the potatoes are starting to feel softer, add in the peas, asparagus, tomatoes and spaghetti. Pop the lid back on and leave to simmer for a further 15-20 minutes.
Check the pasta has cooked, then throw in the handful of spinach and simmer for 2 more minutes. Then, take off the hob, season with salt and pepper to taste and serve in a deep bowl.
Still need some inspiration? Click here for more tasty meals and budget dinner ideas.
Enjoyed this article? Give it a like
When not stringing words together, can usually be found on the local beach with her cocker spaniel pup, Huey.