4 Healthy and affordable snacks for a life on the go
Economising at uni is important, and so is eating healthily. We all know this. But when so much of our money goes on rent and partying, and with the constant temptation for expensive convenience food, eating well on a student budget is difficult. So how do you do it?
Meal prepping, that's how. It's a great way to eat healthily, plan meals, and save money.
Whether you need a meal for the library or a snack between classes, here are four healthy snack ideas for on the go.
1. Breakfast smoothie
Easy to carry smoothies are great for when you're running late. I enjoy oat milk, bananas, cacao nibs, and porridge oats. Dairy-free? Swap regular milk for coconut, soya, or almond milk. You could also add honey for sweetness.
Simply put your ingredients in the blender and you're good to go - a quick and easy meal prep for the morning.
2. Bananas and peanut butter
Simple but very tasty. All you need to do is dip a banana (high in protein, potassium, and fibre) into the peanut butter and enjoy. This can be made into a tasty, healthy alternative by switching your high-calorie, supermarket peanut butter for a high-protein or organic alternative.
The ideal uni snack due to its portability.
3. Roasted vegetables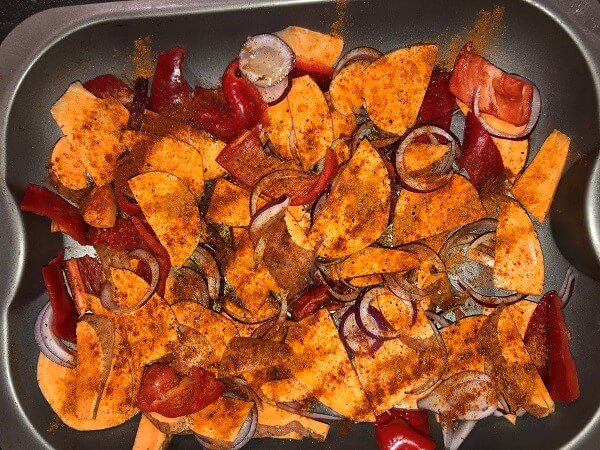 Preheat your oven to a medium temperature. Chop up as many sweet potatoes, red onions, and sweet pointed red peppers as you like and put them on a baking tray. All you need to do now is add olive oil, give it a mix and add any seasonings you want. My personal favourites are cajun, black pepper, and cayenne.
Within 25 mins you will have a tasty, filling, and healthy dish. Have it for dinner and eat the leftovers for lunch the next day. Simply store your meal in the fridge overnight and take your tub to uni the next day as it also tastes good cold. You can even have it with brown rice, pasta, or in a wrap.
4. Buddha bowl
Buddha bowls don't just taste great, they're aesthetically pleasing and fun too. They also contain high quantities of protein, carbohydrates, and essential vitamins - making them healthy and filling. You can meal prep this easily for the next day or several days.
I like to have sweet potato, broccoli, chia seeds, sweetcorn, and brown rice. Simply prepare the sweet potato in the same way as mentioned above and leave to rest. Put as much broccoli as you'd like in a pan of boiling water until cooked, and do the same with a small can of sweetcorn. Lastly, cook your rice using the instructions on the packet.
Add all of the ingredients into your favourite tub and complement your bowl with your preferred salad leaves. Finally, season with pepper, add chia seeds, and a low calorie dressing such as peanut sauce for extra flavour. Store your tub in the fridge overnight and eat the next day! Other tasty ingredients you can try are avocados, spinach, chicken, quinoa, and cauliflower.
Enjoyed this article? Give it a like
I'm a 21-year-old English student studying at the University of Aberdeen. I have a keen interest in the arts and I am part of the university cheerleading team. I'd describe myself as funny, confident and honest. I also enjoy fitness.