Breakfast: 3 Morning meals that are ready in just 15 mins
It is so easy to skip breakfast in the morning- whether you overslept, have an early appointment, or just cannot be bothered to spend the time preparing a meal. But it is important that you do not skip it, as it will bring you much energy for the day.
Here are three quick and easy breakfasts that are ready in 15 minutes or less.
1. Sweet and spicy porridge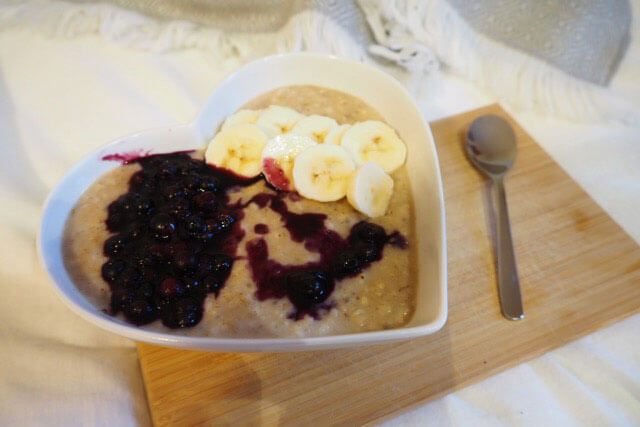 Ingredients (serves one):
1⁄2 cup of oats
1 cup of water
a splash (or two) of milk
a pinch of salt
1 tbsp of chia seeds
1 tsp of honey, maple, or agave syrup
ground cinnamon, clove, and ginger
a few raisins or dates, diced
some blueberries
1⁄2 banana, sliced
Method:
Put the oats in a pot over a medium heat and add the water and the salt.
As soon as it starts to bubble, turn the heat off and add some milk (add more milk if you like your porridge smooth and creamy).
Stir in the raisins or dates, the syrup of your choice, and the chia seeds and let it simmer.
When your porridge has your favourite consistency, add the spices you like and mix.
Transfer everything into a bowl and put the blueberries and banana on top.
2. Rye bread with cream cheese, avocado and tomato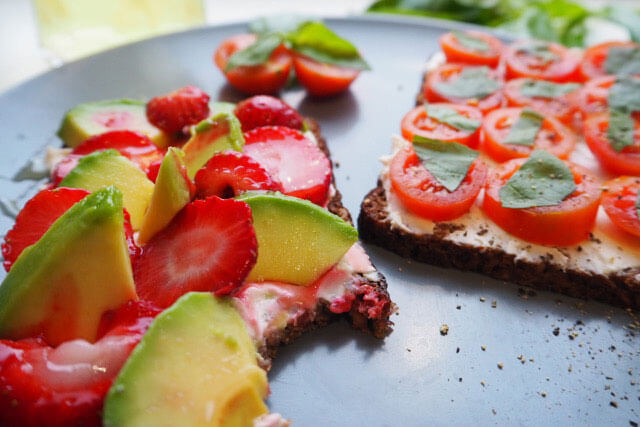 Ingredients (serves one):
2 slices of rye bread
cream cheese (or cottage cheese)
1⁄2 of an avocado, sliced
1 salad tomato or 3 plum tomatoes, sliced
honey, maple, or agave syrup
basil, fresh or dried
pepper
optional: some strawberries, sliced
Method:
Spread cream cheese on both slices of rye bread.
Top one slice with tomatoes and add some basil and pepper on top.
Top the other slice with sliced avocado and strawberries.
Drizzle some of the syrup of your choice on the top.
3. Quick and healthy banana pancakes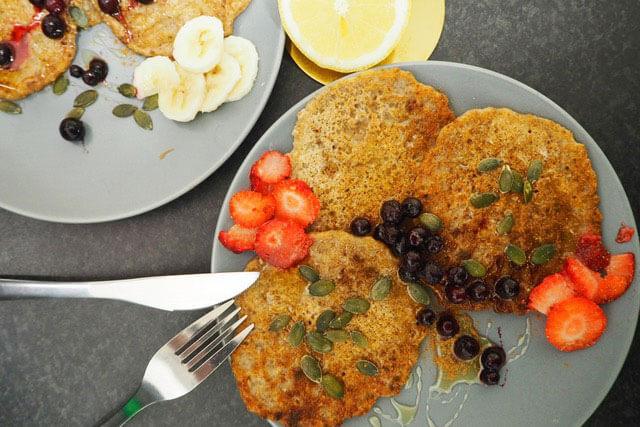 Ingredients (serves one to two):
2 tbsps of coconut or sunflower oil
1 banana, as ripe as possible
1⁄2 cup of wholemeal flour
a splash of milk
about 1⁄4 cup of water
1 tablespoon chia seeds (can be switched for an egg)
1⁄2 tsp baking powder
honey, maple or agave syrup
berries, fresh or frozen
the juice of 1⁄2 lemon
optional: ground ginger, cinnamon and nutmeg
Method:
Put a big pan on the hob over a high heat and add some of the oil of your choice.
Mash the banana until smooth and place in a mixing bowl with the flour, baking powder and chia seeds/egg. Mix until everything is combined.
Add the water gradually, mix, and then add the milk until the mixture is smooth (if you like, you can now add some spices).
Add a tablespoon of the mixture to the pan to create one pancake. Cook as many pancakes at once as your pan will allow.
Flip them as soon as they are crispy and fry them until crisp on the other side as well.
Lay out your pancakes on a plate and drizzle with syrup and a bit of lemon juice, sprinkle with cinnamon if you like and top with the berries.
Enjoy your breakfast!
Enjoyed this article? Give it a like
Hello, I am Vanessa, a 25-year old postgrad from Germany. My passion for writing evolved through my linguistic studies and the many books I read. In my free time I love to explore the world, may it be through fashion, travelling and cooking and I am always open for new experiences with my friends and family.