Christmas feast: Feed your flat for under £15
Fancy cooking your flatmates a festive feast before you all head home for the holidays? It couldn't be easier to feed your whole flat with these Christmas dinner recipes.
And at just over £3.50 per person based on a flat of four, you'll have plenty of spare change for the all-important crackers.
Shopping list
Roast-in-the-bag whole chicken with stuffing (approx. 1.5kg) - £5.00
3 large Maris Piper potatoes - £2.00 for a 2.5kg bag
3 large carrots - £0.35
Brussels sprouts - £0.59 for 500g
Pigs in blankets - £2.00 for 12
Cranberry sauce - £0.64
Bread sauce - £0.50
Whole cooked chestnuts - £2.40
Bisto gravy granules - £1.00
Total spend = £14.48*
Store cupboard: Honey, oil, black pepper, salt, butter, milk
Method
First things first, get the meat in the oven at 200C/fan 180C. If you're feeding a flat of four to six, a chicken is a far savvier (and speedier) option than a turkey. Make things even easier with a roast-in-the-bag option, which comes prepared in its own foil tray.
A 1.5kg bird will take around one hour 40 minutes to cook (for exact timings, check the cooking instructions on the packet), leaving you plenty of time to get on with the trimmings.
Ultimate roast potatoes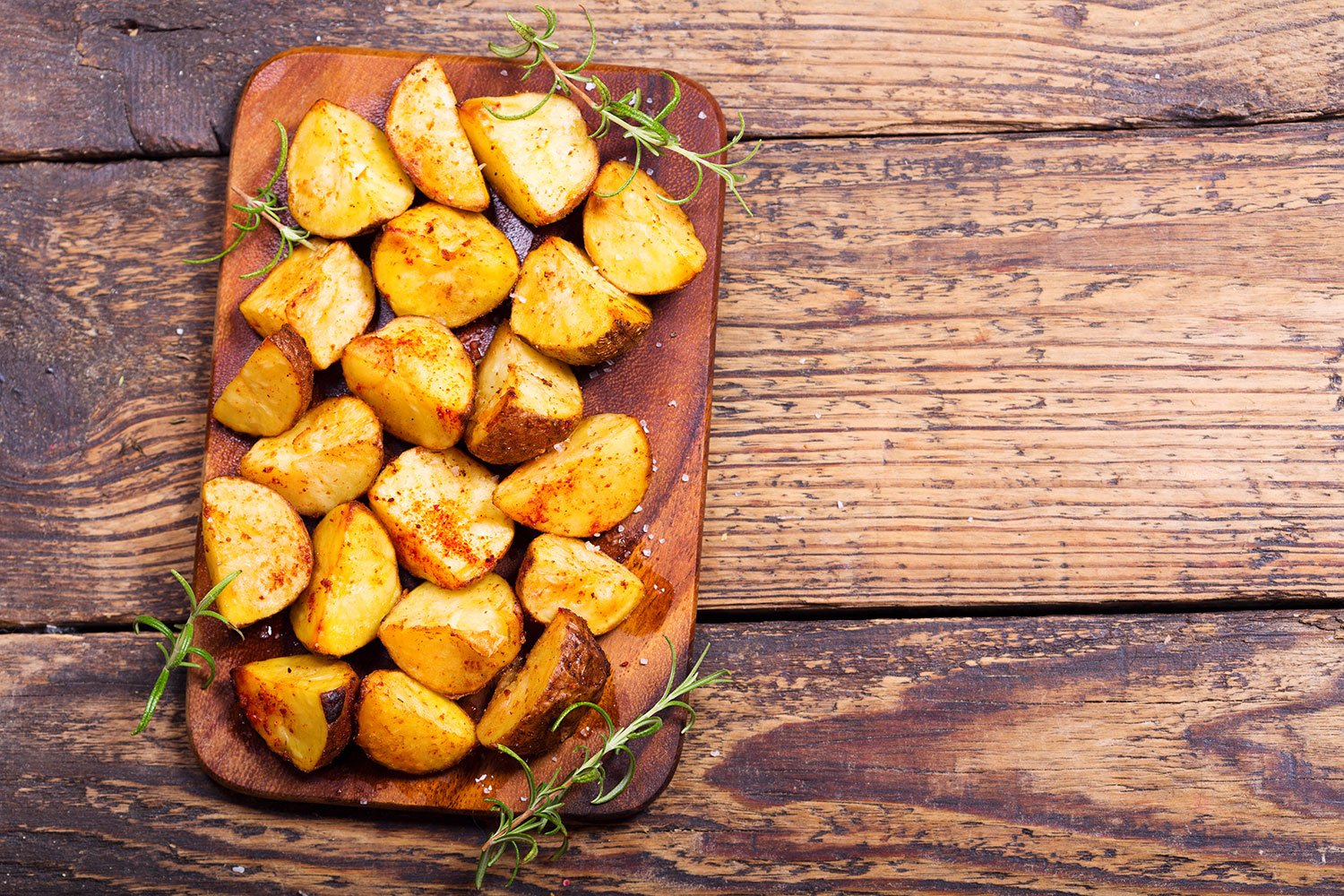 I'm calling it, there really is nothing worse than a mediocre roast potato, especially at Christmas. Guarantee a perfectly crispy on the outside, fluffy on the inside spud by following this recipe to the letter. I promise you won't regret it (*whispers* they're even better than mum's).
Peel and chop the potatoes into roastie-sized chunks
Place in a saucepan (which has a lid) and just cover with cold salted water
Watch carefully as you bring the pan to a boil. The moment it does, set a timer for five minutes, lower the heat, and simmer
Grab a roasting tray and pour in three tablespoons of oil (I used vegetable) and a tablespoon of butter
Put the tray in the oven on the shelf above the chicken
Drain the potatoes well and allow to steam-dry in the pan for three minutes
Next, grab a lid and shake the potatoes to biff them up a bit. The crumblier the outside, the crispier they'll become
Remove the roasting tin from the oven and carefully place the potatoes in the hot oil – turn them over for maximum fat coverage – and place in the oven
Roast for an hour, turning and basting the potatoes every 15 minutes.
You're welcome.
No-mess roast carrots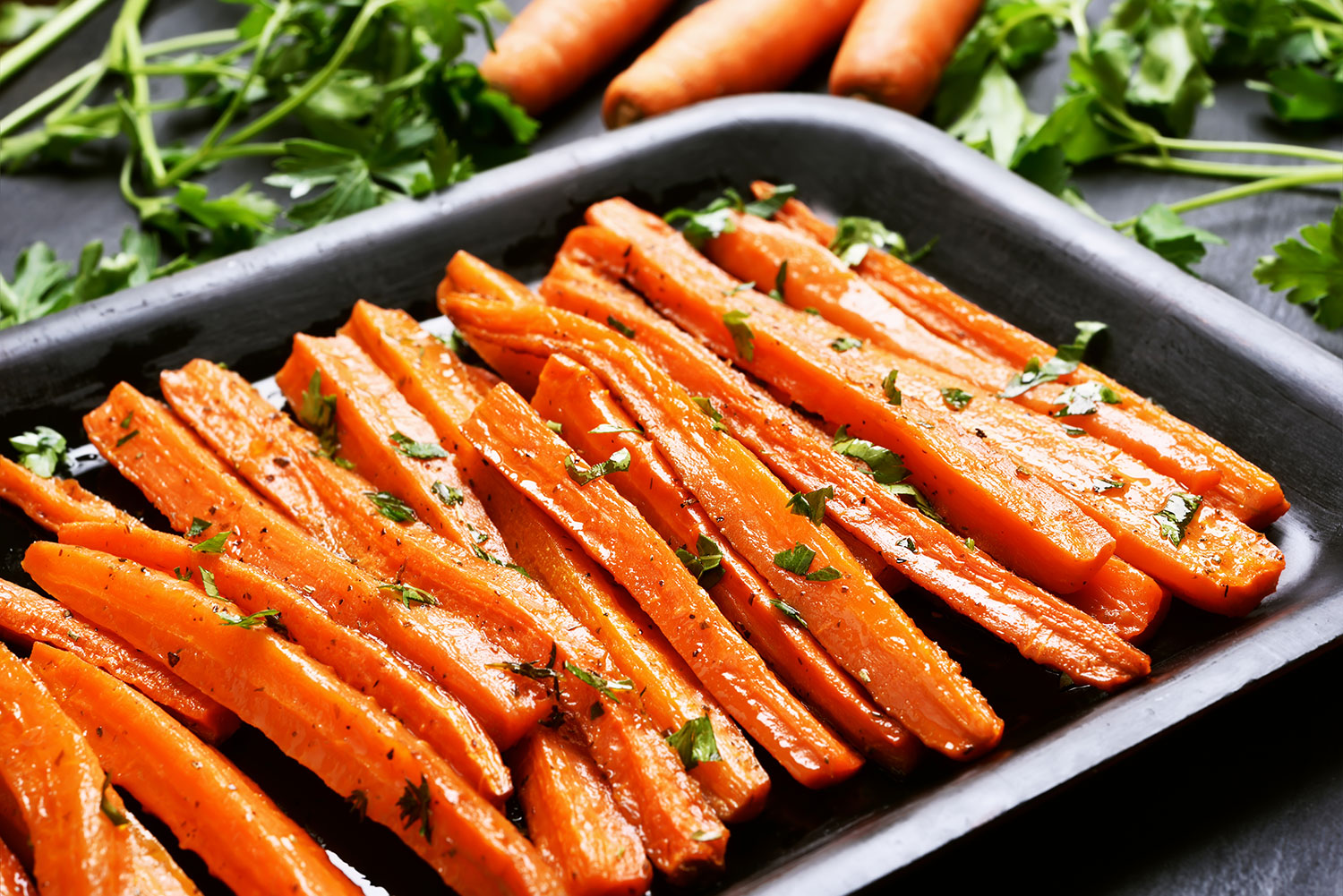 Let's face it, roast potatoes are the star of the show (they're not called ultimate for nothing). Allow yourself maximum time to focus on the spud-basting by following this fuss-free roast carrot recipe.
Still delicious, with a sweet and salty covering, these carrots score extra points with your flatmates because there's no washing up after them.
Peel and chop the carrots in half lengthways, and half again
Place in the centre of a piece of foil (enough to wrap them in)
Drizzle over some oil (I used olive) and dollop a teaspoon of honey on top
Sprinkle over a pinch of salt and some black pepper
Wrap the carrots up in the foil and place in the oven alongside the chicken
Roast for one hour.
Brussels sprouts with chestnuts
Love them or hate them, the sprout is a Christmas dinner staple. Simply boil yours, or make them extra special with the addition of some chopped roast chestnuts. Well, it is Christmas after all.
Remove the outer leaves of the sprouts
Bring a pan of water to the boil and carefully add the sprouts
Simmer for 10 minutes
Drain and return the sprouts to the pan
Add a little oil and a handful of chopped chestnuts
Fry for a few minutes and keep warm until you're ready to serve.
Time your chicken to come out the oven 15 minutes before your spuds, carrots, sprouts and pigs in blankets (don't forget to throw them in the oven around 25 minutes before serving) are ready, so it has plenty of time to rest.
Make your bread sauce and gravy according to the packet instructions, and then serve everything up along with the cranberry sauce.
Sit back and enjoy the wows of appreciation from your flatmates. And let them do the washing up.
Enjoyed this article? Give it a like