How to turn cheap convenience food into something to be proud of
Being on a budget doesn't mean your food has to be boring. So, get creative with those supermarket deals and remember why you don't always have to go out to eat for a tasty treat.
These recipes are all designed to be easy-to-make and on-budget, so you don't have to worry about flashing wads of cash or skipping revision to answer your food cravings.
Sticky popcorn chicken
This recipe is taking comfort food to the next level. Itching to snack on popcorn chicken… but feel like you should probably have a 'proper' dinner? Let's make a meal out of it!
This sticky popcorn chicken is a twist on a Chinese classic. It's all about junk food at its best with those oriental vibes.
Ingredients (serves 1)
5 ready-made popcorn chicken pieces
60g rice
2 chopped spring onions
For the sauce
Sachet of sweet 'n' sour sauce
1 chopped garlic clove
1 tsp sesame oil
1 tsp vegetable oil
Soy sauce
1 tsp ketchup
Cornflour (optional)
Method
Start by placing your popcorn chicken onto a baking tray and cooking it in the oven according to the packet instructions. In the meantime, cook the rice in line with the instructions on the side of the packet.
Once thoroughly cooked, remove the chicken from the oven. Heat the sesame and vegetable oil in a frying pan and place the popcorn chicken pieces in the oil to start frying.
Add in the chopped garlic and fry for one minute. Then, stir in the sweet 'n' sour sauce, ketchup and soy sauce (to taste). To make the sauce thicker (if desired), add a dash of cornflour.
Drain the rice and place it in a serving bowl, topped with the sticky popcorn chicken mix. To serve, top with spring onions for that super fresh taste.
Pizza burrito
I am a huge advocate of pizza and, honestly, it's my go-to on a busy day (or if I'm feeling particularly worse-for-wear after a night out).
So, it's always a good idea to change things up and have something (slightly) less calorific than the average supermarket offering. And it all comes down to the pizza burrito. Not tried it before? Don't regret missing out on this super-easy lunch-time hack.
Ingredients (serves 1)
One large wrap
50g grated cheese
2 tbsp tomato paste
Italian herbs
Toppings of your choice (e.g. shredded chicken, pepperoni, veg)
Method
Preheat the oven to 180C. Next, place the wrap onto a baking tray and spread the tomato paste, so that it covers up to a couple of inches from the edges.
Then, add your toppings in a straight line down the middle of the wrap, leaving space at the top and bottom. Top with grated cheese and Italian herbs. Once all the toppings are added, fold each side of the wrap in the style of a burrito and roll over to avoid it coming undone.
Place the tray in the oven and leave the burrito to cook for 10-15 minutes. Once golden brown, take out of the oven, cut in half and serve.
Easy katsu curry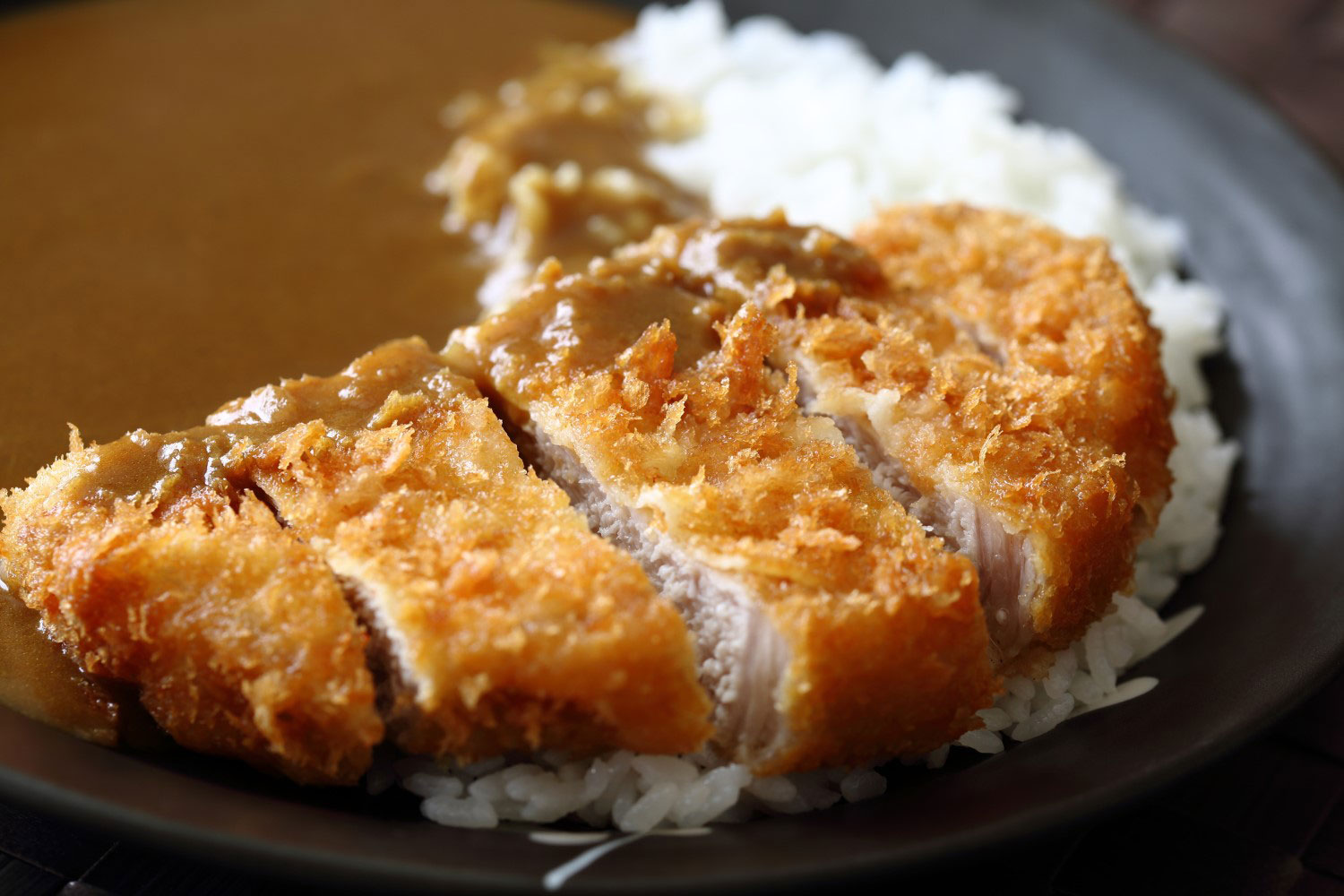 If you're missing your Wagamama favourite, give it a try at home. This katsu curry recipe is so easy to make, it's almost impossible to screw it up.
And, if you're hoping to impress your mates, this could be the perfect go-to when it's your turn to cook for the flat.
Ingredients (serves 1)
1 breaded chicken
1 diced onion
60g rice
1 tsp vegetable oil
For the sauce
1/2 can of coconut milk
1 tsp curry powder
1 tsp turmeric
1/2 chicken stock cube
1 clove of garlic
Soy sauce
2 tbsp water
Method
Following the instructions on your breaded chicken, preheat the oven to the required temperature and pop it onto a baking tray to bake for the suggested time. Next, put your rice on to boil according to the instructions on the packet.
To get started on the sauce, heat the vegetable oil in a separate pan and, once hot, add the diced onion. Allow to fry for five minutes (or until golden brown). Then, stir in the curry powder, turmeric, garlic and chicken stock cube, as well as the water, to make a thick paste.
After frying for one minute, add the coconut milk while continuously stirring. Add the soy sauce to taste and simmer for five more minutes.
Once the rice is boiled, drain and place in a bowl, topped with the breaded chicken. Pour the sauce over the chicken to serve.
Mac 'n' cheese pizza
Sometimes, it's hard to decide which Italian classic to go for – pasta or pizza? So, why not stick them together?
This pizza is all about the mac 'n' cheese base and the good news is that you can make it in minutes. Perfect for last-minute movie nights with friends.
Ingredients
2 cans of mac 'n' cheese
50g grated cheese
4 tbsp tomato paste
Italian herbs
Toppings of your choice (e.g. shredded chicken, pepperoni, veg)
Method
Preheat the oven to 180C. Then, using a round cake tin, empty the cans of mac 'n' cheese into the bottom and spread and flatten it into a base. Pop the tray into the pre-heated oven and bake for 5-10 minutes.
Once the pasta base has turned golden brown, remove from the oven. Using the tomato paste, spread a thick layer across the top of it to cover every inch, then evenly spread your selected toppings. Top with cheese and Italian herbs, and place back into the oven.
Once the cheese has melted to perfection and is starting to crisp, remove the tray from the oven. Cut the pizza into even slices and serve.
Still looking for more recipe ideas? Click here for more inspiration on the Common Room.
Enjoyed this article? Give it a like
When not stringing words together, can usually be found on the local beach with her cocker spaniel pup, Huey.