Incredible student-friendly alternatives to a traditional Christmas dinner
I remember Christmas as a student very well. My friends and I always wanted to do something to mark the occasion before heading home for the holidays, but the thought of cooking a traditional dinner filled us with dread.
We had tried cooking big meals together in the past, but each attempt seemed to descend into chaos, with the final result looking more like it had been cooked by a five-year-old rather than a bunch of adults.
Something had to give. We all loved pizza (who doesn't?), and we'd had some mediocre successes with traybakes in the past. So, a plan was hatched.
After a little bit of research, we found a couple of recipes we could try and were inspired by the thought of a Christmas pizza. Check out our shortlist below.
The ultimate Christmas pizza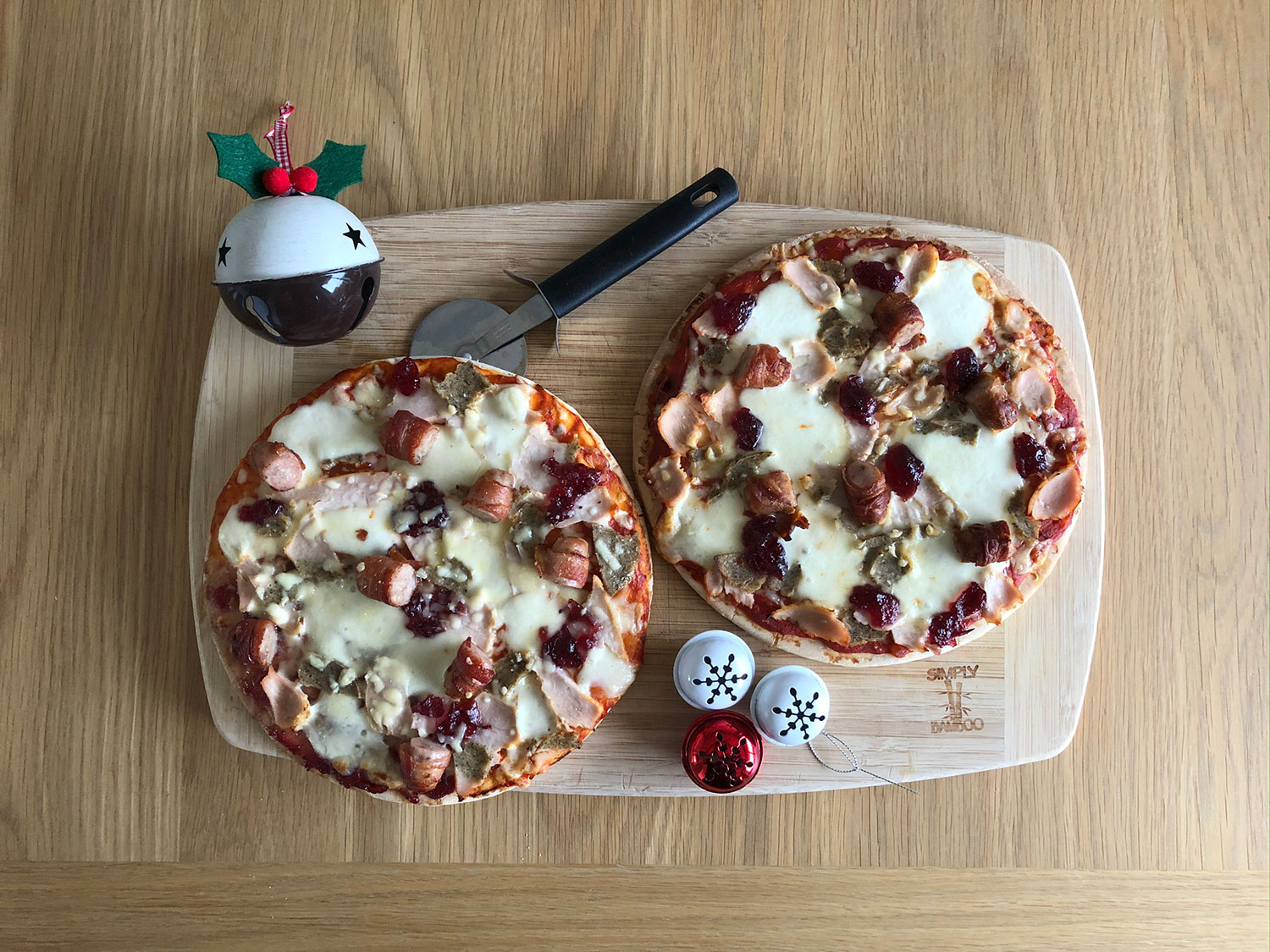 I didn't know how this was going to turn out, but I can honestly say it tasted incredible. I don't know why this isn't a regular thing already. The stuffing and pigs in blankets are a particular highlight.
Of course, the beauty of making pizza is that you can customise it to your liking, so by all means try some parsnips or sprouts on there if you like. We cheated a bit with the pre-made pizza bases, but you could easily make your own dough if you wanted to. For another shortcut, consider buying pre-cooked slices of turkey and stuffing, which you can quickly tear up and throw on.
Ingredients (serves 2)
2 pre-made pizza bases
100ml passata
Handful fresh basil (chopped)
1 garlic clove (crushed)
Cranberry sauce
Cheddar cheese (grated)
Mozzarella cheese
Stuffing
Cooked turkey
Pigs in blankets (pre-cooked as per the packet's instructions)
Method
Preheat the oven to 200C (180C fan). If you're using stuffing from a packet, make and cook it as per the instructions and cook the pigs in blankets at the same time.
Meanwhile, add the passata, crushed garlic and chopped basil into a bowl and mix well. Then, spread it evenly over each pizza base. Sprinkle the grated cheese on top of the sauce (as much as your stomach desires). Next, chop up the mozzarella into bite-sized pieces and spread it evenly over the pizzas.
Now comes the hard part - trying to add the pigs in blankets without eating them all first. Cut the cooked pigs in blankets in half and add them to the pizzas. Then break up and spread both the stuffing and cooked turkey to your liking. Finally, add a handful of small dollops of cranberry sauce to each pizza and pop them in the oven for 10-12 minutes.
No-fuss vegan Christmas dinner
The authors from plant-based cookbook BOSH! have come up with some incredible meals over the years, and this vegan Christmas dinner has to be up there with the best of them. Put in the little bit of effort that this meal requires and, my word, will you reap the rewards. Crispy roast potatoes, amazing gravy and a lack of washing up make this a winner in our eyes.
Easy, one-tray Christmas dinner
My flatmates and I always loved the idea of having a traditional Christmas dinner together, but it just always seemed as if it was going to be expensive and a lot of effort. Something like this one-tray version is perfect though.
It skips out a whole turkey entirely, which has to be the most daunting aspect of any roast dinner. Instead, it uses turkey breast steaks and bacon for an easier option. The great thing about this recipe is that everything is cooked in the same tray, meaning there's less effort for you while cooking and clearing up.
So there we have it. A few student-friendly alternatives to a traditional Christmas dinner. The beauty of these recipes is that they can be personalised. Grab a couple of friends and go for it.
Enjoyed this article? Give it a like