Meal prep for exams: How-to and four delicious recipes
Exams, assessments, and essays take up a lot of time, even when term is finished. During such busy weeks where we think there is no time to eat healthily, we end up eating quick and unhealthy meals that are expensive in the long run.
I am a very conscious eater and I love cooking. From time to time, I like to prepare meals and store them in the freezer, simply because a batch of soup can make several meals. With proper meal prep, however, I am not so familiar. So I thought I'd try it and share my experience with you.
How much it cost, what I cooked, how I used my prepped meals in several different ways, and how much time I spent in the kitchen.
Shopping: What I bought for the week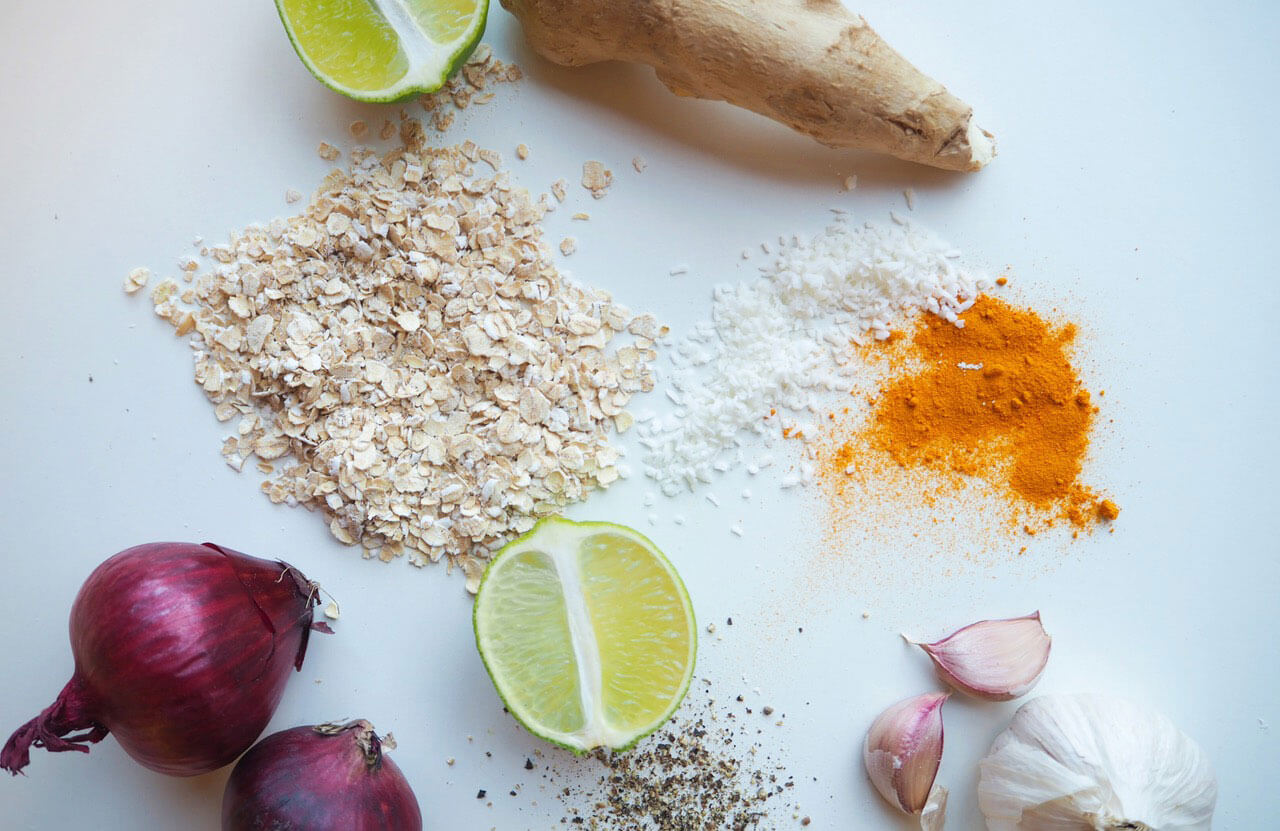 The point of batch cooking for me was to save money as well as time. So I wanted to make sure I shopped wisely, buying things that would make versatile meals to last a whole week at least. So here's what I bought:
rolled oats
plain muesli
honey
coconut oil
lime and lime juice
salad
cheese
yoghurt
desiccated coconut
olive oil
3 x chopped tomatoes
2 x onions
garlic
spinach
bananas
1 x aubergine
1 x courgette
1 x carrot
3 x peppers
1 x sweet potato
rye bread
berries
1 x can of chickpeas
turmeric
ginger
1 x can of coconut milk
tomatoes
rice
potatoes
pasta
Total cost: £27.71
Time for preparation, cooking, and cleaning: 2 hours (approx)
Breakfast: Coconut-lime granola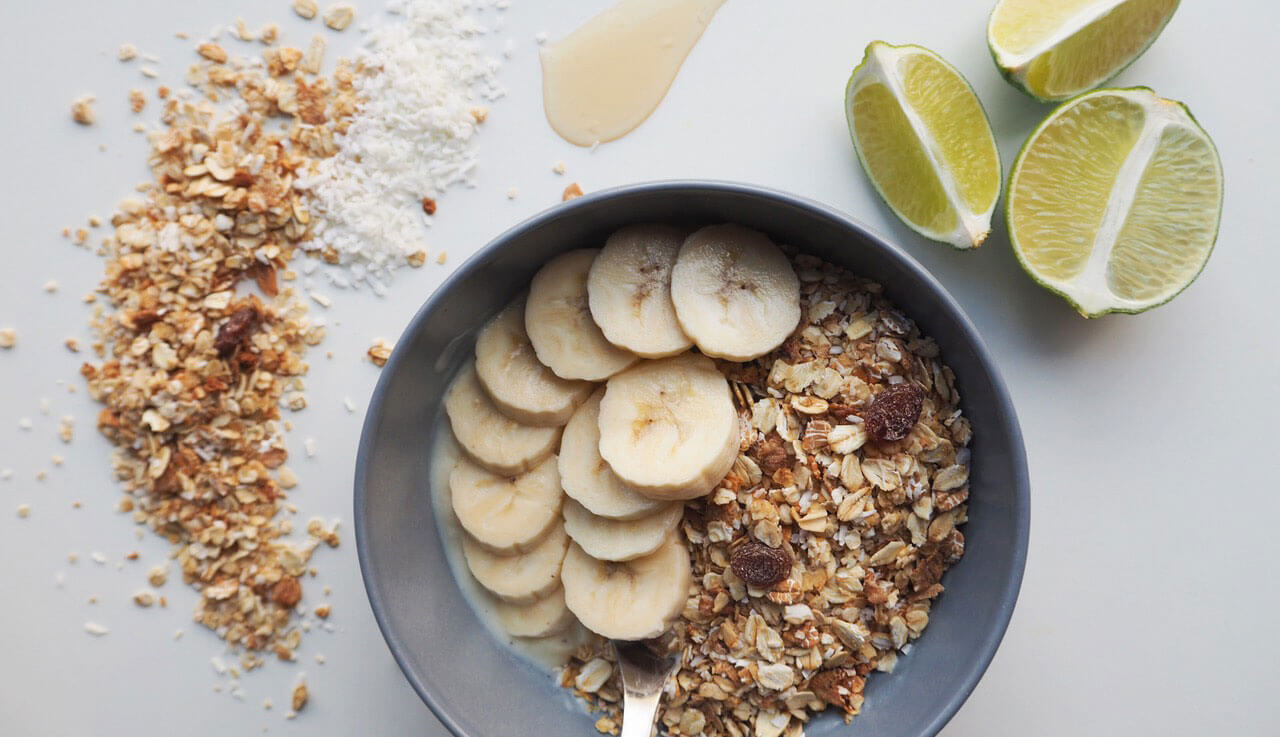 For breakfast, I like to eat something quick and easy. Normally I go to the gym first thing and, between meetings, lectures, and everything else, there is not much time to spend in the kitchen. Still, I want it to be healthy as many store-bought granolas are either high in sugar or expensive. Plus, it should be delicious. Granola is perfect for this - I can spice it up, vary the flavours, and it lasts me for a long time.
What you need:
500g rolled oats
500g plain muesli (remove the raisins beforehand, but keep them)
3 x tbsp honey
1 x tbsp coconut oil
the zest of one lime
juice of one lime
100g desiccated coconut
What to do:
Preheat the oven to 180 degrees
In a large pan, melt the honey and the coconut oil over a medium heat
Remove from the hob when it's liquified, and add the lime zest and half the amount of the juice
In a large bowl, combine this liquid with the rolled oats, mix everything well, then add the muesli and mix again
Spread the mixture evenly on two baking trays
Sprinkle with the desiccated coconut and the rest of the lime juice
Bake for 20 minutes, loosening it up halfway through
As soon as the granola is ready, you can add the raisins if you like
Let it cool down completely, so it gets crispy, then store in an airtight container
Time: 10 minutes preparation, 20 minutes baking
Cost for this recipe: £2.25
Lunch: Simple ratatouille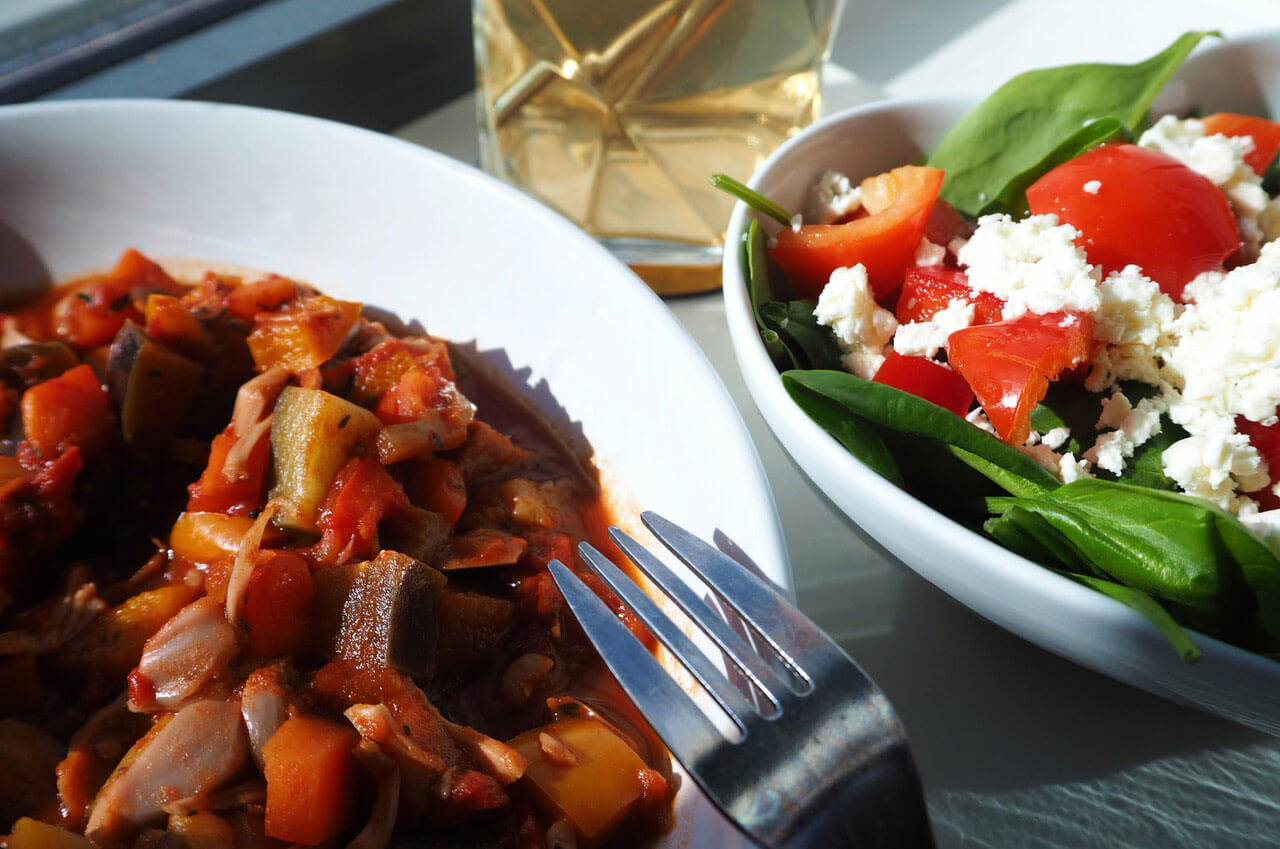 While the granola is in the oven, it is time to prepare lunch. This is a recipe I have from a friend and she should know how handy meal prep is as she has twins. It is so easy, always delicious, and you can vary it in so many ways - simply exchange some of the veggies or add more spices.
I am a vegetarian, so I didn't add any meat. But I'm told it tastes great with some chicken. As I am usually very hungry around lunchtime, I love switching the sides between pasta, rice, and potatoes, where the ratatouille works great as a sauce. With the sides, I just try to make sure I don't eat the same combination each day.
What you need:
some olive oil
1 x onion (diced)
3 x cloves of garlic (thinly sliced)
3 x cans of chopped tomatoes
1 x medium aubergine (diced)
1 x large carrot (diced)
1 x large courgette (diced)
2 x peppers
seasoning of your choice
What to do:
Put a large pan on a medium heat and add some olive oil
Add the onion and garlic and fry until soft
Add the chopped tomatoes and all the veggies
Add the herbs and spices (I used salt, pepper, basil, and thyme)
Let everything simmer until the veggies are soft
Let everything cool down and put into an airtight container
Keep one portion in the fridge, freeze the rest for later
Time: 10 minutes preparation, 15 minutes cooking
Cost for this recipe: £3.44
Dinner: Sweet potato and chickpea soup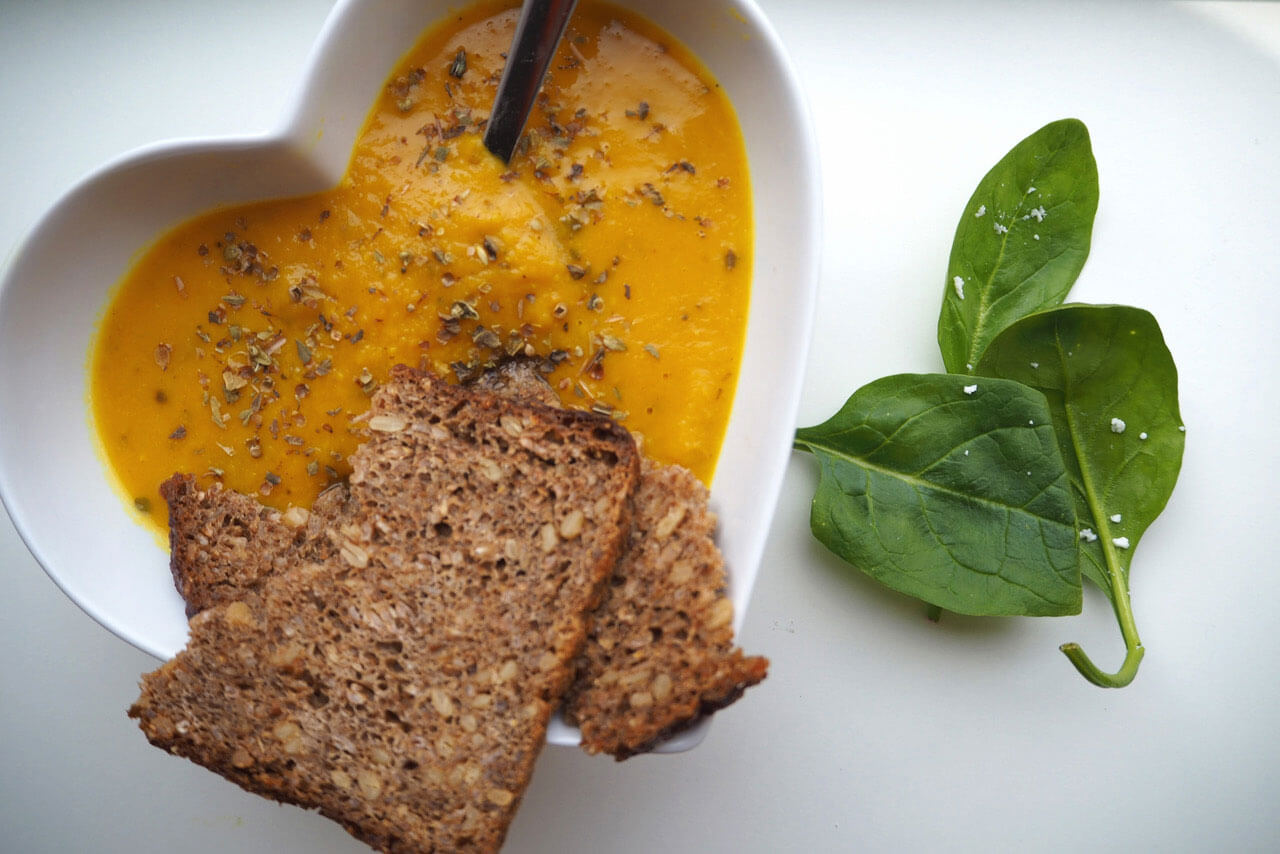 For dinner, I like to eat something light and simple. Living in student accommodation means (at least in my flat) many people in the kitchen around dinner time. That makes things quite tricky at times, so it is very handy to have a soup to pop in the microwave. As a side dish, potatoes, rice and pasta work here as well perfectly, as well as bread.
What you need:
some olive oil
1 x onion (diced)
1 x sweet potato (diced)
1.5 litres of water
1 x can of chickpeas
pepper and salt
turmeric (ground)
1 x piece of ginger (thumb-sized, finely chopped)
2 x cloves of garlic (thinly sliced)
400ml coconut milk
What to do:
Heat the olive oil in a large pan, on a medium heat, and add the garlic and onion
Add the sweet potato and cover everything with the water (you might not need all 1.5 litres)
Season with salt and pepper, and let the sweet potato get soft
Take off the hob, and add the remaining ingredients
The soup can either stay like this or, the way I love it, it can be blended (for this you might want to add some more water)
After cooling down, put into airtight containers, keeping one portion in the fridge and freezing the rest for later
Time: 7 minutes preparation, 20 minutes cooking
Cost for this recipe: £5.12
Side: Salad with dressing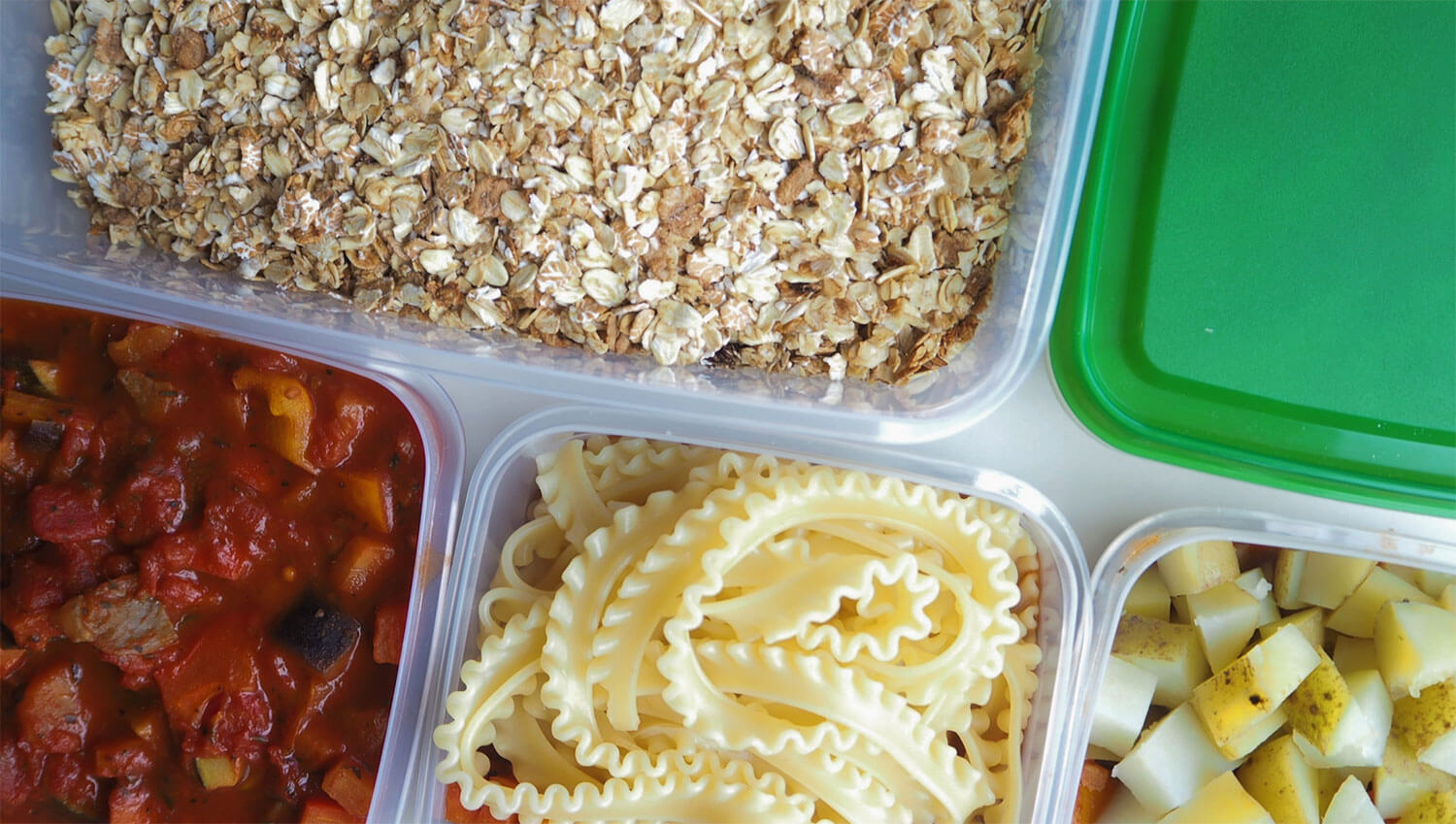 Whether you have it with lunch or dinner, or as a snack, a quick and easy salad is always great for adding some vitamins to your diet.
What you need:
1 tbsp of olive oil
lime juice
pepper
1 tsp of honey
half a cup of water
tomatoes (sliced or diced)
feta cheese
spinach
What to do:
Put all the spices and liquids in a glass and mix them together, simple as that
Store in a small container and use if needed
Put the spinach, tomatoes, and crumbled feta cheese into a bowl, then add some dressing
Time: 5 minutes
Costs for this recipe: £3.00
What I ate and what I thought

For all the ingredients, I paid around £28. This also includes items that will actually last me for quite some time, such as the olive oil, the rice, and the turmeric. The granola and the salad dressing lasts longer than a week as well, while the amount of the soup and the ratatouille was perfect for one week. Also, a quick tip: while I was busy preparing each meal, I always had a pan on the hob to make either the rice, pasta or potatoes, so I didn't spend extra time on that.
All in all, it was an interesting experience. Food prepping saved me a lot of time during the week and reduced especially food waste. During busy times, I will definitely try this out again, simply because there is one stress factor out of the way. On a normal day-to-day basis, however, I love to cook and try different recipes so this could not be a permanent option for me. But, if you are not really keen on cooking, this could be the perfect solution for you.
Enjoyed this article? Give it a like
Hello, I am Vanessa, a 25-year old postgrad from Germany. My passion for writing evolved through my linguistic studies and the many books I read. In my free time I love to explore the world, may it be through fashion, travelling and cooking and I am always open for new experiences with my friends and family.