'My friends absolutely love them': Krishna's top uni meals
What a pleasure it is to come home after a long day and not have to cook, not have to wait for uber eats, not have to stand in the queue for a takeaway.
Instead, I come home to delicious, homemade food every night. But how?
Batch cooking on the weekend is how. It is not at all difficult or time-consuming. It just takes a maximum of four hours out of your weekend. A small sacrifice (and no sacrifice at all if you enjoy cooking) for a week's worth of wholesome meals.
First step: Make your spinach gravy
This will be the base for our first two dishes. So, boil a large bag of spinach, then drain. Tip the cooked spinach into a blender, and blitz until you get a green gravy. Keep to one side, you'll need this shortly.
Okay. On with our first dish.
Spinach rice
Ingredients:
3 tbsp of vegetable oil
1 tsp of cumin seeds
1 onion, chopped
1 tsp of ginger and garlic paste
spinach gravy (half the mixture)
2 cups of basmati rice, cooked
salt (a pinch)
cheddar cheese, grated
1 tbsp of plain yoghurt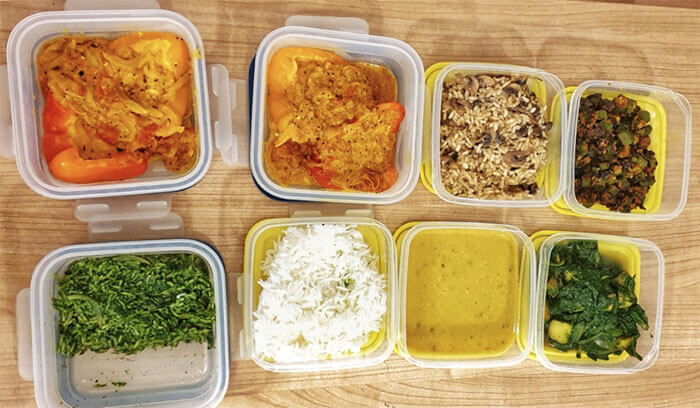 In a pan, heat the vegetable oil. Add the cumin seeds. As you smell the aroma of the seeds, add the onions. Sautee them well. Add the ginger and garlic paste, and mix well. Add half of the spinach gravy, and mix again. Add salt to your taste and then the rice. Mix well and cook on a low heat for 2-3 minutes. Serve with some plain yogurt and little cheddar on the top.
Potato-spinach gravy
Ingredients:
spinach gravy (the other half of the mixture)
1 potato, chopped and boiled
1 cup of basmati rice, cooked
1 tortilla wrap
Using the same ingredients and recipe, this gravy is very easy to cook. Instead of rice, we need to add one chopped boiled potato in the gravy. The gravy is best accompanied with either plain rice or a tortilla wrap.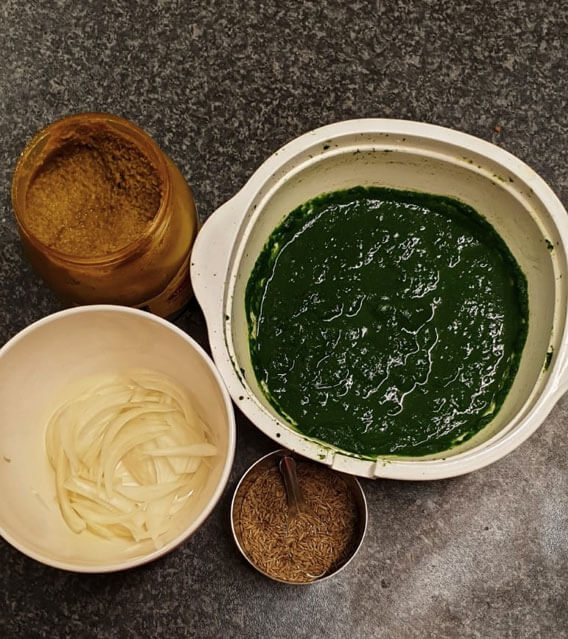 Stir-fried okra
Ingredients:
3 tbsp of vegetable oil
350g of okra, chopped
salt (a pinch)
1 tsp of chilli powder
1 tsp of turmeric powder
1 tsp of coriander powder
1 tsp of ginger and garlic paste
1 tbsp of plain yoghurt
1 tortilla wrap
Method:
Heat the vegetable oil in a pan over a medium flame. Add the chopped okra, close the lid, and cook for 3-4 minutes. Add the red chilli powder, turmeric powder, and coriander powder. Mix well, put the lid on for 2-3 minutes. Add the ginger and garlic paste and mix well. Lastly, add salt to your taste. The okra tastes best with plain yogurt and tortilla wrap.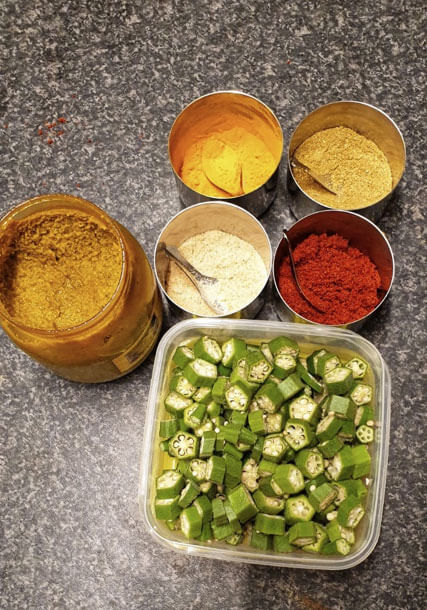 Mushroom risotto
Ingredients:
1 tbsp of olive oil
1 onion, chopped
1 cup of risotto rice
1 punnet of mushrooms, chopped
salt (a pinch)
black pepper (a pinch)
parmesan cheese
water (a splash every 3-4 minutes)
Method:
Heat the olive oil in a saucepan. Add the onions and saute them well. Add the mushrooms and saute them too. Heat on a medium flame until the water starts to separate from the mushrooms. Add the risotto rice and toss until brown and crispy. Add a little water every 3-4 mins. Cook until everything is soft and creamy. Add salt and black pepper according to taste. Additionally, you can also add parmesan for cheesy taste.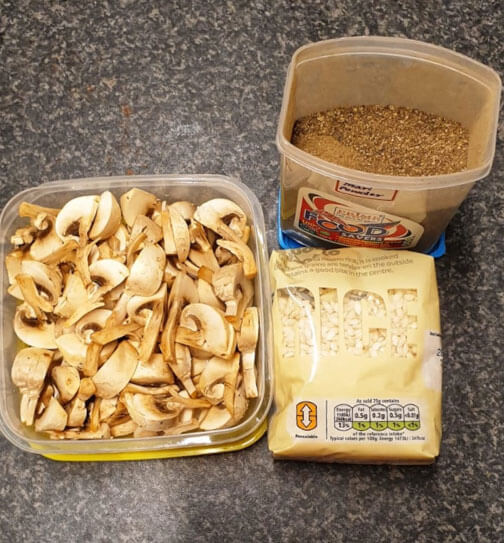 Stuffed peppers
Ingredients:
3 peppers, chopped in half
2 tbsp of vegetable oil
2 onions, chopped
1 tomato, chopped
1 tsp of ginger and garlic paste
1 tub of cottage cheese
2 potatoes, boiled
2 tsp of chilli powder
2 tsp of turmeric powder
2 tsp of coriander powder
double cream
fresh coriander
1 tortilla wrap
salt (a pinch)
In order to prepare the filling, heat one tbsp of vegetable oil. Sautee half the onions, then add the cottage cheese and the potatoes. Mix well, then add the spices and a pinch of salt. Mix well again, then keep to the side.
Next step is to make the gravy for the peppers. Saute the rest of the onion and the tomato in 1 tbsp of oil. Add the ginger garlic paste and the same spices as used above. Mix well. Lastly, add the whole cream to the mixture. Let it cook on a low flame.
In the meantime, stuff your peppers with the stuffing made and gently place them in the gravy. Let the stuffed peppers cook in the gravy for 10-15 minutes. Garnish with fresh coriander and serve with a tortilla wrap.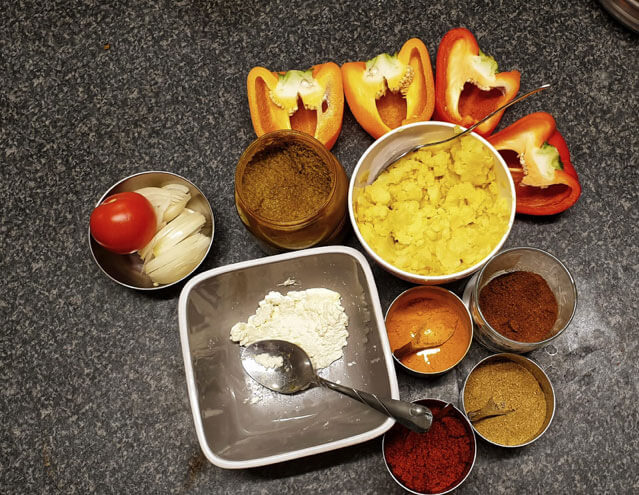 All the recipes provided here are my own. I have experimented with them for my friends and they absolutely loved them.
Happy eating!
Enjoyed this article? Give it a like
I am a bubbly person with an unlimited bunch of smiles and giggles. I love to read Shakespeare, pen down the unspoken words, paint my emotions and lastly, cook at oddly hours. On gloomy days I prefer loud music and a cup of coffee and on weekends I enjoy cozy lights and sweat-pants. My ideal philosophy of life is 'Keep it Simple'.