Simple and tasty recipes you can cook with less than 10 ingredients
The last couple of months haven't been easy. Our whole lives have changed, from how we're studying and socialising to when and how we can leave the house.
Even the food we can buy from the supermarket has been affected, with fluctuating stock levels and a limitation of choice.
With that in mind, we wanted to inspire you with three tasty recipes that are simple to make and don't use that many ingredients. So, below you'll find a few of student ambassador Shilpa's favourite mouthwatering meals.
Mongolian chicken
One of the reasons I chose this dish is because of how simple it is to make. Also, most of its ingredients are long-lasting and can be used in a variety of other dishes, so I don't have to worry about wasting any food. And of course, because this dish is so damn good! But you don't have to take my word for it, try it on your own and let your taste buds thank me.
Ingredients:
250g chicken breast
70g cornflour
3 tbsp vegetable oil
1 tbsp ginger garlic paste (or use 1 ½ tsp minced garlic and 1 tsp minced ginger)
60ml dark soy sauce
80ml water
60g sugar
1 tsp sesame oil
Green onions (optional)
Salt, pepper and chilli powder
Method
Cut the chicken into small pieces. Mix cornflour on a plate with salt, pepper, and chilli powder. Coat the chicken in the cornflour mix.
Heat the vegetable oil in a large pan over a high heat. Add the chicken and cook for 3-4 minutes on each side until golden brown.
Transfer the chicken to a plate lined with a paper towel.
Add the ginger garlic paste to the pan and cook for about 20 seconds. Add the soy sauce, sesame oil, water and sugar to the pan and bring to a simmer.
If you don't want the sauce to be sweet, reduce the amount of sugar. If you feel the sauce is too sour, or tastes too much like soy sauce, just add more sugar to neutralise the taste.
Then mix 2 tsp of cornflour with 1 tbsp of cold water. Add the mix into the sauce and let it simmer until the sauce thickens.
Add the fried chicken to the sauce and mix well. Garnish with green onions (optional).
Serve with plain rice, fried rice or even tortilla wraps.
Gulab jamun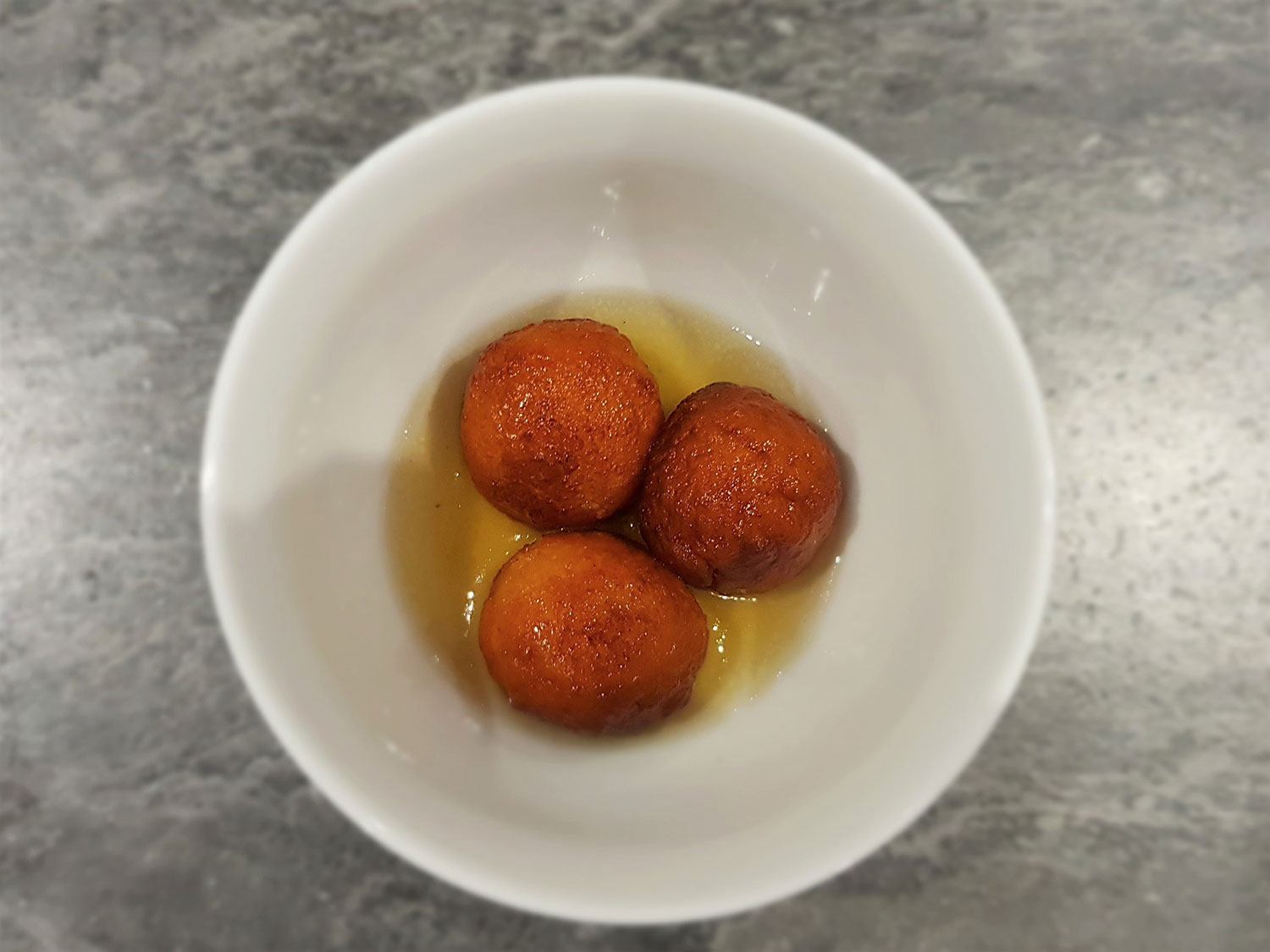 For those of you who don't know what this is, gulab jamun is an Indian dessert, and in my personal opinion, the best Indian dessert there is. I usually make these when I feel like having something sweet, but also want something more than a mug cake. They're simple to make and use few ingredients.
Ingredients
230g milk powder
80g all-purpose flour
1 tsp salt
230g sugar and 120ml water
1 tsp of butter or oil
1 pinch of baking powder
250ml double cream
Method
Mix 120ml water with 230g sugar in a bowl.
Boil the mixture until it turns slightly sticky. It shouldn't be too thick or too loose.
Set aside and keep it hot.
Mix the milk powder, flour, salt, melted butter and baking powder in a bowl.
Mix well and then knead by gradually adding double cream so it does not get too sticky or dry.
Divide the dough and roll into small balls. Note that the surface of the balls should be smooth.
Heat the oil or butter in a shallow pan till the oil is hot. Add the balls and simmer.
Fry the balls in low-medium heat until golden brown, stirring gently to fry them equally.
Transfer the balls to the hot syrup and let them soak for a few minutes. Then serve hot.
Pasta with alfredo sauce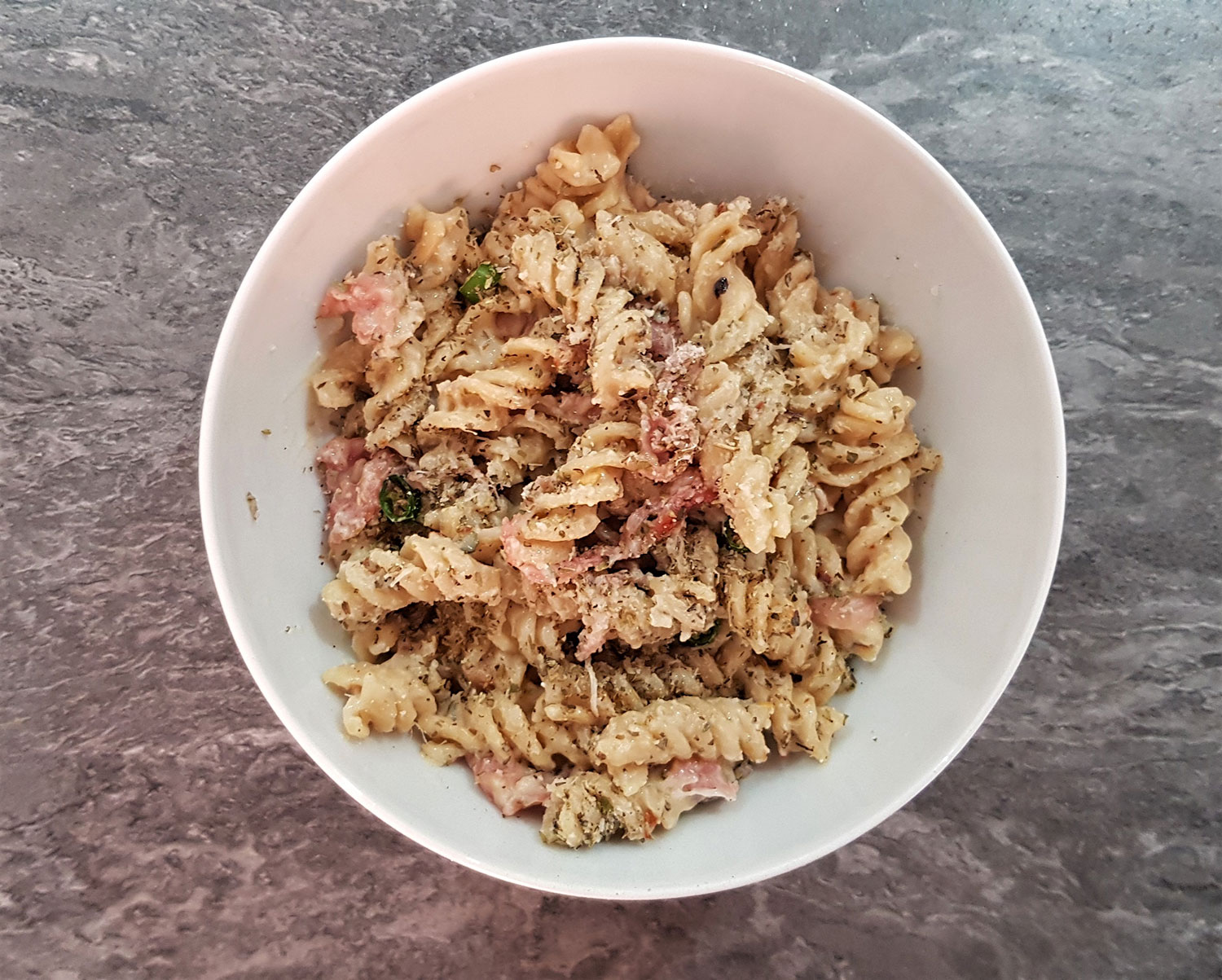 I'm not a big fan of the bottled pasta sauces that you get from shops, but I really like pasta and it's so easy to make. That's when I started making this sauce; it takes pasta to another level. I personally love this recipe because of how fast you can make it, and how you can just add whatever meat/vegetables you want.
Ingredients
80g pasta of your choice (e.g. fettuccine, fusilli or penne)
1 tsp butter
1 ½ tsp flour
½ tsp garlic
½ tsp salt
350ml milk
3 tsp parmesan cheese
Salt, pepper, chilli flakes and oregano for flavour
3 slices of cured prosciutto (optional)
Method
For the pasta:
Cook your pasta according to the instructions on the packet.
Drain the water from the pasta and set aside.
Melt the butter in a saucepan on a medium-low heat. Add the flour and mix well until it becomes a smooth paste. Ensure there are no lumps.
Add 110ml of milk and mix it well. Then add the remaining milk and the spices for flavouring as needed. Simmer for 3-4 minutes.
Add the cheese and garlic and mix well. Bring it to a simmer until the paste reaches the consistency you require. If you want it to be smooth, take it off the heat early; if you want it to be thicker, let it heat for a few more minutes.
Toss in the cooked pasta and mix well.
Add the prosciutto (if you're using it) and stir it in.
Garnish with oregano and parmesan cheese.
If you prefer it baked, transfer the pasta and sauce into a baking tray, add parmesan cheese and bake at 200C for 10 minutes until the top layer is coated brown. Serve hot.
Enjoyed this article? Give it a like
Second year computer science student at the University of Manchester that's currently on a placement.