Simple, no-fuss traybake recipes every student can cook
Cooking is a skill that we use every single day, and yet I seem to create so many disasters in the kitchen. If I had a pound for each time I overcooked something or added too much spice I'd be rich.
That's why I turned to traybakes. The thought of chucking everything into an oven tray and popping it into the oven seemed like my type of cooking.
Sweet potato with taleggio, onions & basil
My kitchen stopped looking like 12 excitable children had been let loose and started to have some sort of order. In fact, I particularly enjoyed how traybakes require minimal washing up and give you time to relax while the food cooks.
Rather than sharing my basic-but-functional recipes with you, we've pulled in an expert. Rukmini Iyer is a food stylist and food writer who has written four books dedicated to traybakes. They offer page upon page of delicious inspiration, and they're perfect for students.
Below, she shares a few tasty recipes that will have your belly rumbling instantly. So go on, give them a go!
Sweet potato with taleggio, onions & basil
Whole roasted sweet potato was a university staple, given a new lease of life by my friend Laura. She perfected softening finely chopped red onions and garlic together to pile into the hot potatoes, along with a good dollop of Greek yogurt. This version, with rich Taleggio and a basil dressing, is perfect comfort food.
Ingredients (serves 4):
Prep: 15 minutes
Cook: 1 hour
4 sweet potatoes (about 1kg)
2 red onions, quartered
1 tablespoon olive oil
1 teaspoon sea salt
A handful of lemon thyme sprigs
200g taleggio, thickly sliced
For the dressing:
30g fresh basil, very finely chopped
3 tablespoons olive oil
1 clove of garlic, finely grated
1 teaspoon sea salt
½ tablespoon lemon juice
Method
Preheat the oven to 180C fan/200C/gas 6.
Prick the sweet potatoes all over with a fork, then tip them into a roasting tin with the quartered onions. Rub the potatoes and onions with the oil and salt, then scatter over the lemon thyme, transfer to the oven and roast for 55 minutes.
For the dressing, mix the chopped basil with the olive oil, garlic, sea salt and lemon juice and set aside.
When the sweet potatoes have had 55 minutes, take the tray out of the oven and cut a cross into each potato – they should be wonderfully soft inside. Lay the slices of taleggio inside the potatoes, then return to the oven for a further 5 minutes for the cheese to melt. Serve hot, with the onions and dressing alongside.
From The Green Roasting Tin by Rukmini Iyer, page 210.
Wild rice winter salad with roasted brussels sprouts, pancetta, feta & sunflower seeds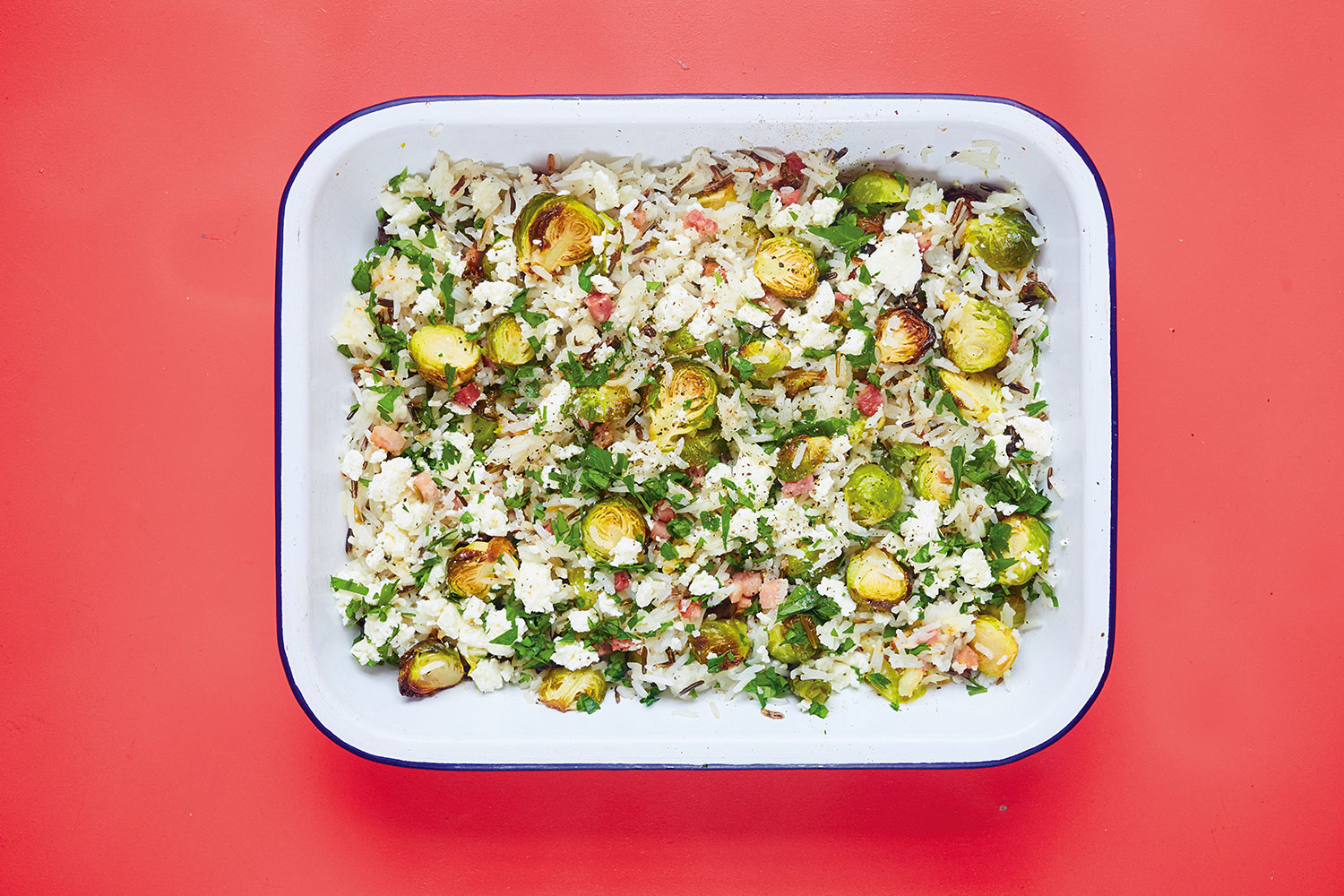 Brussels sprouts and pancetta are a classic for a reason – they're utterly compelling together. Carbed up with some wild rice, with seeds for crunch and feta and lemon for flavour, this rice salad is as lovely for a hot dinner as it is for a cold lunch the next day.
Ingredients (serves 2 generously):
Prep: 10 minutes
Cook: 30 minutes
200g wild rice
500g Brussels sprouts, halved
80g cubed pancetta
Sea salt and freshly ground black pepper
2 tablespoons olive oil
50g sunflower seeds
1 lemon, juice only
100g feta cheese, crumbled
A handful of fresh flat-leaf parsley, finely chopped
Method
Preheat the oven to 180C fan/200C. Place the rice in a pan of boiling salted water and simmer for 25-30 minutes until cooked through.
Tip the halved Brussels sprouts and pancetta in a roasting tin large enough to hold everything in a single layer. Season well with black pepper and drizzle with the olive oil, working everything together well with your hands. Place in the preheated oven and roast for 25-30 minutes. Throw in the sunflower seeds for the final 5 minutes of cooking.
Drain the rice well, then stir it into the roasted sprouts and pancetta along with the lemon juice, crumbled feta and flat leaf parsley. Taste and season as needed with the sea salt and black pepper, and serve hot.
From The Roasting Tin by Rukmini Iyer, page 120.
Red wine mushroom casserole with a cheese scone cobbler topping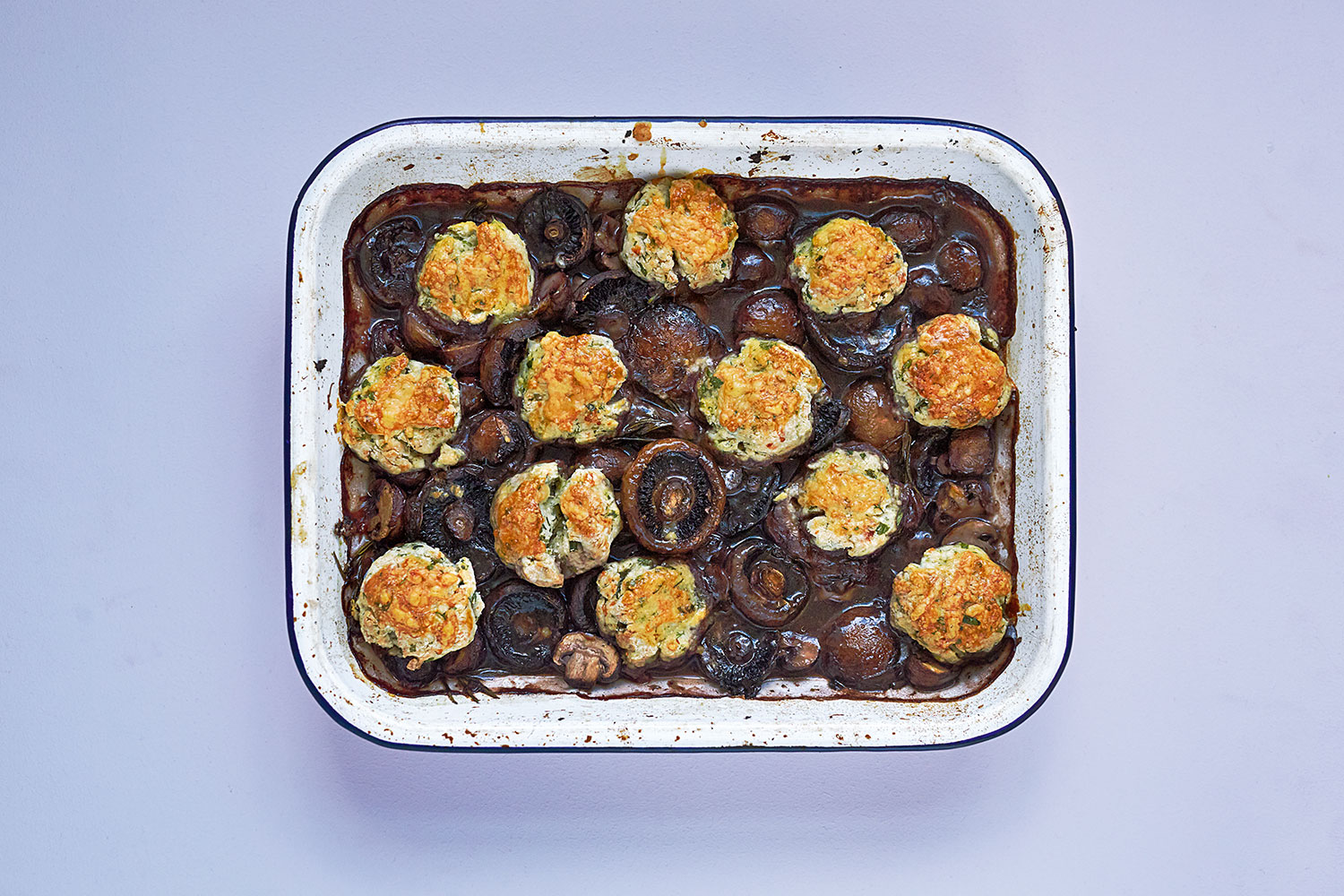 This casserole is incredibly warming for a cold autumn night – rich with wine and mushrooms and with herby cheese scones as a topping. You can easily double this up to serve more people – just use a really large roasting tin.
Ingredients (serves 2)
Prep: 10 minutes
Cook: 40 minutes
300g mini portobello mushrooms
250g chestnut mushrooms, halved
3 cloves of garlic, crushed
2 teaspoons sea salt
1 onion, roughly chopped
2–3 sprigs of fresh rosemary
1 tablespoon olive oil
200ml good red wine
2 teaspoons cornflour
150ml vegetable stock
For the scones:
250g plain flour
1½ teaspoons cream of tartar
1 teaspoon sea salt
35g cold butter, cubed
25g fresh parsley or basil, finely chopped
60g extra mature cheddar, grated
Freshly ground black pepper
100ml milk
1 egg, lightly beaten
Method
Preheat the oven to 180C fan/200C/gas 6. Mix the mushrooms, garlic, sea salt, onion and rosemary with the olive oil in a roasting tin or lasagne dish, then transfer to the oven and roast for 20 minutes.
Meanwhile, in a food processor or by hand, mix the flour, cream of tartar and sea salt with the butter until it looks like fine sand, then stir in the herbs, three-quarters of the cheese and the pepper. Add the milk, and bring everything together gently into a scone dough. Cover and chill until needed.
Once the mushrooms have had their 20 minutes, mix a tablespoon of the red wine with the cornflour then stir it into the mushrooms along with the remaining wine and the stock.
Form the scone dough into walnut-size portions and dot these over the mushrooms, flattening each slightly. Brush with the beaten egg, top with the reserved cheese, then return to the oven for 20 minutes – the scones should be golden brown and crisp, and the sauce thick and reduced. Leave to sit for 5 minutes, then serve hot.
From The Green Roasting Tin by Rukmini Iyer, page 190
Enjoyed this article? Give it a like