Vegan lunch: 3 Midday meals to make at home and have at uni
Eating out for lunch isn't always the healthiest or cheapest option, especially when you're on a plant-based diet.
So here are three easy and healthy vegan lunches you can make at home, shove in your bag, and eat on the go.
1. Sweet potato and red lentil soup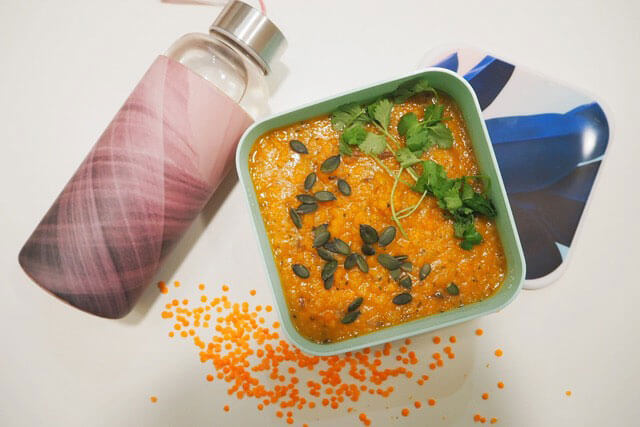 Ingredients (serves one):
oil of your choice
1⁄2 red onion, diced
1 garlic clove, thinly sliced
1 small piece of fresh ginger, peeled and diced
1 sweet potato, peeled and diced
1 carrot, peeled and diced
1⁄2 cup red split lentils
vegetable stock
fresh or dried coriander
1 tsp agave or maple syrup
Method:
Put a saucepan over a medium heat, heat the oil and fry the onion, garlic and ginger until slightly soft.
Now add the carrot, the sweet potato and lentils. Cover with vegetable stock and turn the heat down slightly. Add the coriander and put a lid on the saucepan. Leave to simmer.
As soon as the sweet potato and lentils are soft, turn the heat off and take the saucepan off the hob.
Now is the time to add the syrup. If you like it sweeter, just add extra.
I like this soup quite smooth, so I use a blender. But if you don't, just put it in a container as it is and you are ready to go.
2. Mushroom, avocado, and tofu wraps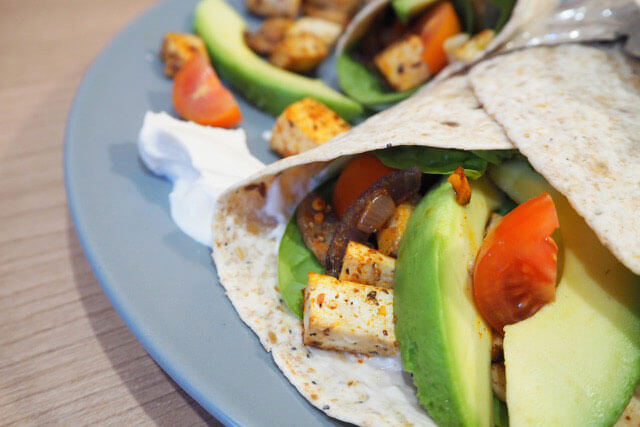 Ingredients (for two wraps):
2 tortilla wraps
some olive oil
2 handfuls of fresh baby spinach
1⁄2 a red onion, sliced
1 clove of garlic
100g tofu, diced
5 mushrooms, sliced
4 tomatoes, quartered
1⁄4 of an avocado, sliced
vegan cream cheese
salt and pepper
optional: chilli flakes
Method:
In a pan, fry the onion and garlic on a medium heat in some olive oil, then add the tofu.
Add the mushrooms and season with salt, pepper, and - if you like - chilli flakes.
Meanwhile, spread the cream cheese on the wraps and fill the middle of each with one with a handful of spinach, half of the tomatoes, and half of the avocado.
As soon as the tofu is done (you want it slightly coloured but not burned), add the remaining ingredients to your wraps.
Roll your wraps up, closing both ends, and wrap it in some tinfoil. Place in a tupperware container for protection.
3. Minty quinoa salad with asparagus and pomegranate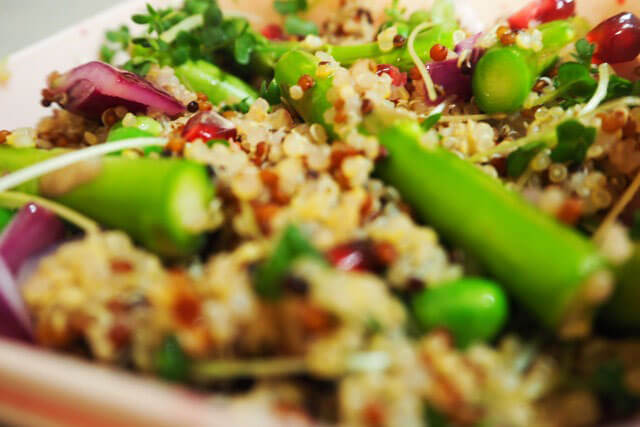 Ingredients (serves one):
1⁄2 tsp of coconut oil
1⁄2 cup quinoa
1⁄2 a red onion, diced
100g asparagus, roughly chopped
some peas
1⁄3 of a pomegranate
1 handful of salad cress
1⁄2 an orange
a bit of fresh mint, chopped
Method:
Cook the quinoa according to the instructions. I like to use less water so the quinoa is not too soft.
Put a pan on a medium heat and add the coconut oil. Caramelise the onion and add the peas and asparagus, frying only for a short time so the veg is still crunchy.
Put the pomegranate seeds in a food container, add the fresh mint and mix in the watercress, quinoa, asparagus, peas, and onion.
Drizzle everything with the juice from the orange.
If you like, you can also dice the other half of the orange and mix it with some extra pomegranate and mint - a quick and easy way to take some extra vitamins with you.
Enjoy your lunch!
Enjoyed this article? Give it a like
Hello, I am Vanessa, a 25-year old postgrad from Germany. My passion for writing evolved through my linguistic studies and the many books I read. In my free time I love to explore the world, may it be through fashion, travelling and cooking and I am always open for new experiences with my friends and family.