'When it's either learn or go hungry, you pick it up quickly': Ellie on cooking at uni
Toast. That was the extent of my cooking before starting university, and also how I felt knowing I had never ventured any further into the culinary world than heated bread. The months leading up to the move had gone by, in which I promised myself (and my worrying and nagging mum) that I would learn to cook something before moving to university.
And yet, somehow, the day came to move into halls - and still my culinary skill level remained at toast.
But I soon realised that, at least to begin with, being good at cooking just means being good at following instructions. Now, I make almost all of my meals from scratch, following a recipe directly out of a book. But I only began to get creative when I either had to substitute ingredients I couldn't find or couldn't afford, or when I got much more confident and was happy to start mixing things up.
Until then, there is absolutely no shame in following a recipe word for word. And to be honest, if you're following recipes and making meals from scratch, you're probably already doing better than half your flatmates anyway!
While it turned out cooking and following recipes was much easier than I expected, there were definitely a few kitchen gadgets that have made the learning process easier.
5 Essential kitchen items for your first year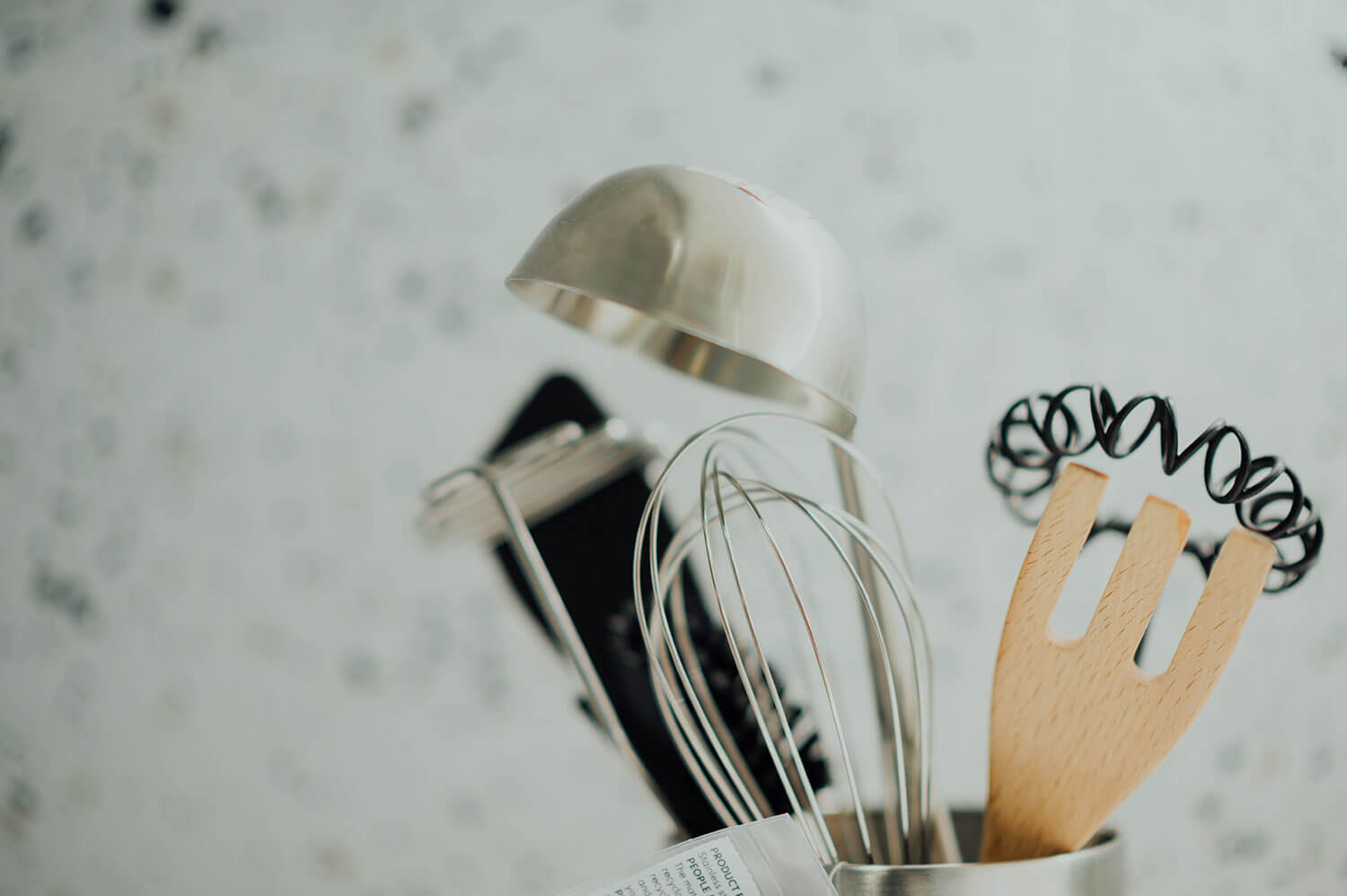 ‖
There is absolutely no shame in following a recipe word for word.
A wooden spoon
An obvious one but they are surprisingly versatile. This stuck out in my mind because I almost never bought one, on the advice from my mum that they're difficult to get clean. But it was so worth it, especially if you have non-stick pans (another good idea!).
Pans with glass lids
At home we have pans with solid metal lids, and I always worry that I'm going to burn myself while trying to check that whatever we are making isn't going to boil over. But with a glass lid, you can always see exactly what state the contents are in without having to get too close (something I have found very useful).
Tupperware
Over the last two years, I have somehow accumulated loads of tupperware and I am proud to say that I use all of it. It's great for keeping leftovers in the fridge or freezer, for defrosting things, for taking snacks and lunch to uni, and putting out food at parties.
More than one plate and bowl
A few of my flatmates only brought one plate, one bowl, one set of cutlery, and one mug with them to uni. This is fair enough if you're coming from abroad or don't have much space. But, if you can afford to, I highly recommend having at least two of everything. This way you have plenty of crockery if friends come for dinner, and you don't have to do the washing up every time you want a snack.
A student cookbook
My Nosh for Students cookbook has probably been the single most useful thing I have at university. It's written with students in mind so all of the recipes are low-cost, measure everything in mugs so you don't have to go out and buy fancy measuring kits, don't include too many bizarre and hard-to-find ingredients, and offer a difficulty rating from 1 to 5 if you're just starting to learn to cook.
I also found that certain recipes were a good way to ease in to cooking. For example, soup. Soup is kind of tricky to get wrong and you can throw just about anything into it. It's also great if you're living in a chilly flat or halls. Omelettes, too - they may be a bit easier to mess up, but they can also include almost any ingredients and can be quite filling.
It's a good idea to pick one of your existing favourite dishes, learn to make it from scratch and stick to it. After some trial and error, I now make a cracking spaghetti Bolognese, which is my go-to if I've had a rough day, am missing home, or just fancy one of my favourites.
'You will learn as you go': Don't panic, there's plenty of time
‖
There is absolutely no shame in following a recipe word for word.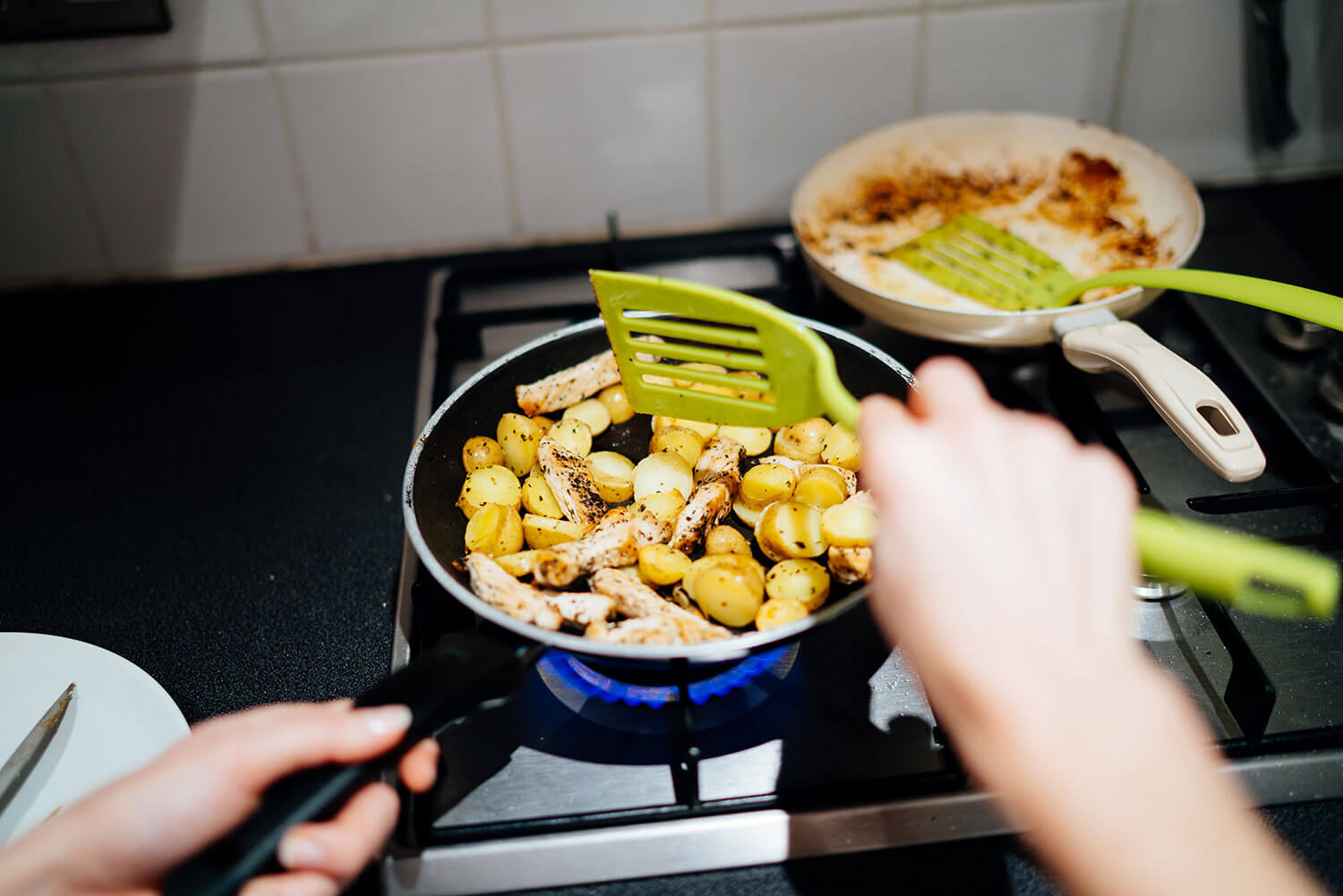 In the end, cooking is really only daunting if you make it daunting. So long as your food isn't undercooked or burnt to a crisp, it will still be edible. First focus on making sure you are definitely eating, but feel free to experiment. And then you can focus on the presentation and more complicated recipes further down the line.
I actually had a relatively decent and varied diet during my first year. As it turns out, cooking is a bit of a survival skill; when it's either learn to cook or go hungry, you pick it up pretty quickly. So if, like me, you have put it off, don't worry. Chances are you will learn as you go. Yes, there will likely be some ups and downs, some scorched pans and near misses with the smoke alarm, but you'll get there!
Just try not to panic, it will come with time. And remember, if ever something does turn out disastrous, there is always toast…
Enjoyed this article? Give it a like
Crafter, casual gamer, and future forest ranger. I'm Ellie and I graduated from the University of Glasgow in 2021 with a degree in Film Studies and Theatre. I grew up in rural Aberdeenshire and am still trying to figure this 'adult' thing out.