How to live on a budget and still save for summer travel
Ask 100 students and 99 of them will have been there, using what's left in the cupboards to make a meal at the end of the month before the student loan drops or their part-time wages come in.
And aside from the day-to-day costs, many of them will also have travel and holiday dreams for the summer break. I've been in this exact situation, where it seems impossible to both survive on a student budget and make those distant travel plans a reality.
Well, I'm here to tell you it is possible.
Here's how I managed to stick to a student budget and save for an end-of-year holiday.
1) Plan now for what you want to do next summer
Make a detailed plan of what exactly you want to do as soon as possible, it'll make budgeting and saving throughout the year much easier. By detailed, I mean find out the dates you would like to go, how much flights, hostels, and hotels will cost, how much spending money you're likely to need, and how much any added extras will cost.
I did this on a spreadsheet so I could see clearly how much each part of the trip would cost me and how much I'd need to save over the coming months. Here's an example of a spreadsheet I made when planning a 10-day trip to Budapest.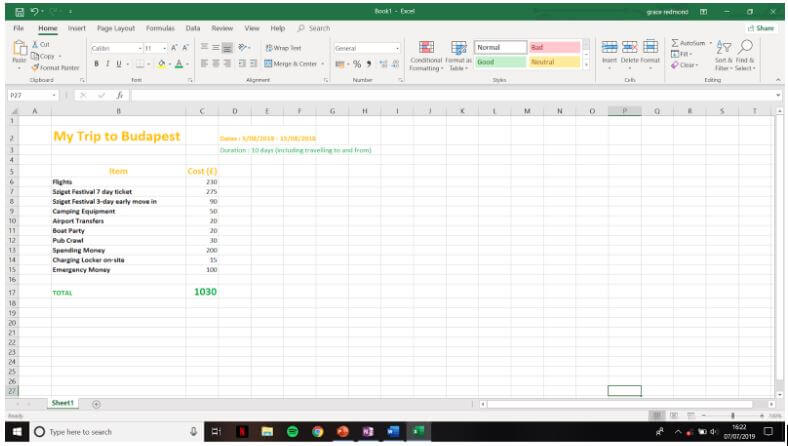 2) Open a savings account and set your goals
I use Monzo to save and manage all my money as it has clear breakdowns of both my outgoings and savings, with the option to create 'pots' where you can deposit a chosen amount at any point.
It gives the option to set a savings goal and shows me how close I am to reaching my goal. It also has an option to lock the pot until either a certain date or I reach my savings goal, which proved invaluable to me!
3) Find a flexible job you can fit around your studies
I know that fitting a job in around study isn't possible for everyone. But if it is doable for you, I really recommend finding one. It will help with both managing your day-to-day costs and building up a savings pot for that holiday to Bali you've been planning with your friends for next summer.
4) Work out how much you need to live on each month
If you know you'll need £60 per week to live at university, anything you earn above that can go into your savings account for your trip. In Monzo, I use the option to 'lock' my savings pot until my goal is reached, which really helps me stick to my budget without accidently spending my travel money. Without this, I think I would have spent it all on nights out. I liked to save 40% of my wages and spend the rest, which made it more manageable and realistic to save over a long period of time.
5) Compare prices across lots of sites to find the best deals
Take the time to find the cheapest options for your holiday, especially on flights and hostels. It may be that if you catch a slightly earlier or later flight you'll save hundreds of pounds, and the same applies to hotels and hostels. Even if you've saved for the more expensive options, you'll have more money for spending - or even for your next adventure.
Happy saving!
Enjoyed this article? Give it a like
I am a current second year student at Oxford Brookes University studying Environmental Science BSc and have a keen interest in writing whilst also having a focus on the environment. I enjoy playing sports and being outdoors as much as possible (well when the weather is nice), whilst also taking time to develop and run my own social media pages for ThinkingForward which educates all about environmental issues and scientific articles.