6 Apps that will help you be more eco-friendly every day
Wondering how to be more eco-friendly each day? That's a question I've asked myself a lot over the past few years too.
In my search for an answer, I've recently discovered that something as simple as downloading an app on my phone can go a long way to help.
You see, one of the challenges I face when trying to be more sustainable is remembering all of the different little changes I can make day-to-day. But, with these apps I can make a difference all the time, and all I need is my phone.
Here are six apps that will help you be more eco-friendly every day.
Stop procrastinating with Flora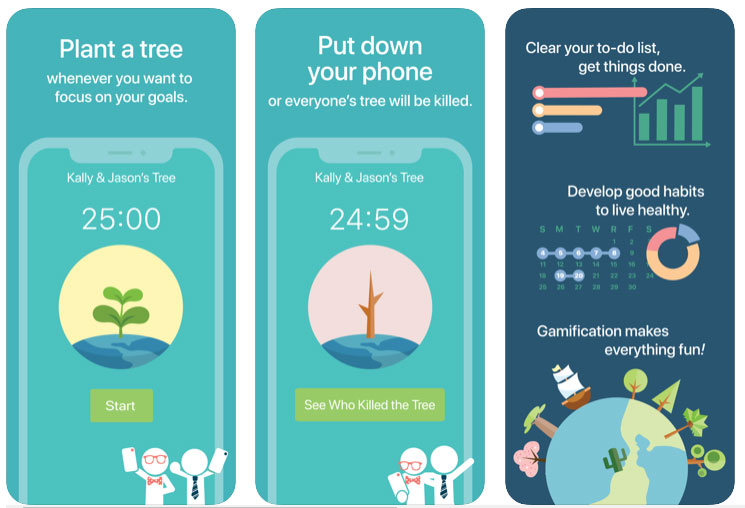 Flora is an app that's designed to help students study by planting a virtual tree that'll die if you spend too much time procrastinating. I've used it countless times to help me stay focused on assignments, or even when I need a break from scrolling through social media.
It works like this. You plant a virtual tree and set a timer for how long you want to avoid procrastinating. Leave the app to scroll through social media and the tree starts dying. Stay on the app and the tree flourishes. If you're studying with friends you can even share a tree, and if it does start to wilt you'll be able to see who's responsible.
It gets better, though. You can plant real trees through it. Put a price on your tree, and for as little as £1.99 a year Flora will plant a real tree every time you achieve 120 hours of focused work. If you're willing to pay more per year, you'll need to do as little as 24 hours. This app achieves two things at once, focused studying and helping you be more eco-friendly. It's a win-win!
Plant trees with Ecosia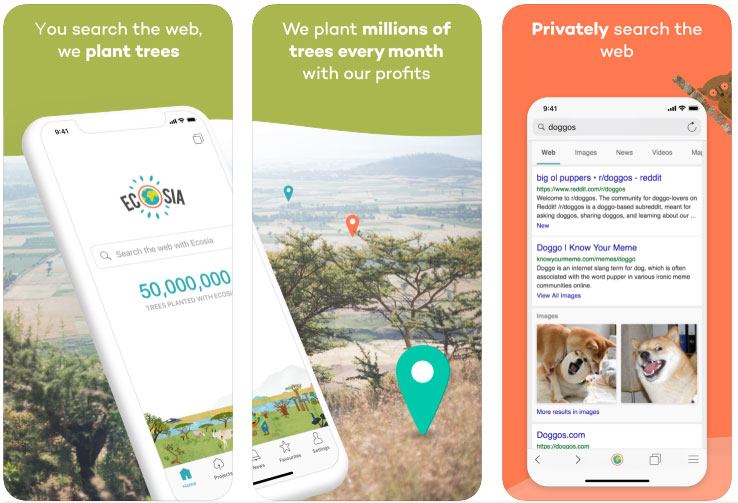 Forget Google, Ecosia is the search engine everyone needs to have on their phones. It's a search engine (like Google), but for every 45 or so searches, the company will plant a tree somewhere in the world. It's so easy to use, and yet it does such a good job as there's no end to how many trees you can plant.
Refill for free with Tap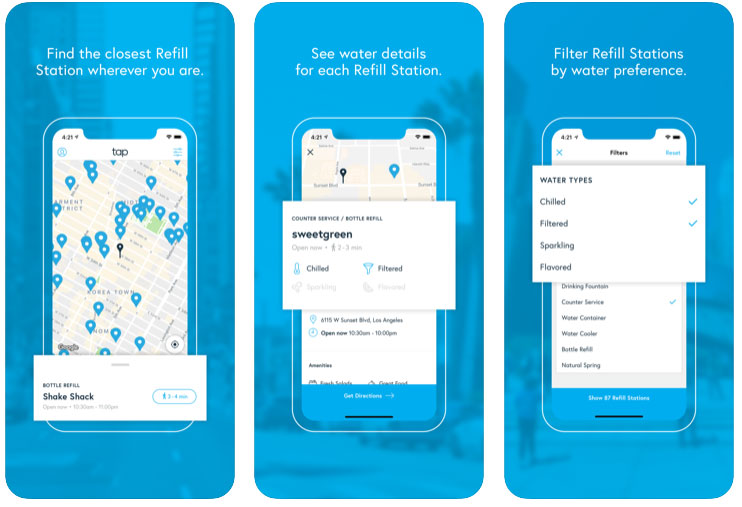 The clue is in the name; this app helps you locate taps. Not just taps, but anywhere you can refill your water bottle. I use this almost every day when I'm looking to refill my reusable water bottle instead of buying a plastic water bottle. All you have to do is open the app and it'll tell you the closest location for free water, including opening hours. You can even search by sparkling, still, filtered and flavoured water.
The average person buys three plastic water bottles a week, so think how much you could save by changing over to a reusable one. This is a really easy way to cut your plastic use, you just need to remember your reusable water bottle.
Go meat-free with Vegan Maps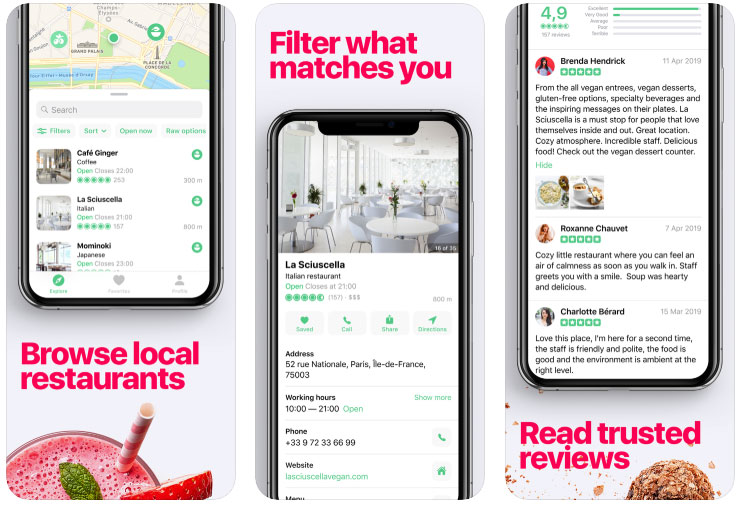 My friends and I have used this app a lot when going to a new area. Simply open the app and you're presented with pinpointed locations of the nearest vegan cafes or restaurants with a vegan menu.
There have been more than a few times when I've discovered a new cafe with an entirely vegan menu that I never knew existed. Even if you aren't vegan, like me, you can still use this app to take up meatless Mondays and lower your carbon footprint by eating vegan for just one day of the week.
Download Vegan Maps on iPhone or Android.
Reduce food waste with Too Good To Go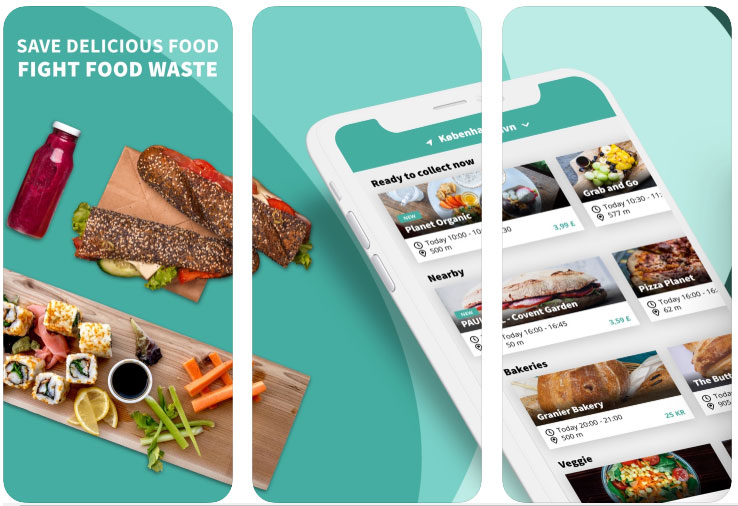 Lowering food waste in your area is a great way to help the environment. Most shops and restaurants throw large amounts of food in the bin at the end of every day, but with Too Good To Go you can pay as little as £2 for a 'magic bag' containing food from somewhere nearby.
They offer specific bags for lunches, dinners and even desserts, as well as general magic bags from places like Morrisons. I especially like using this app as it means you can eat quality meals on a budget, and as a student I'm always excited for a cheap alternative to cooking for myself.
Buy ethical with Buycott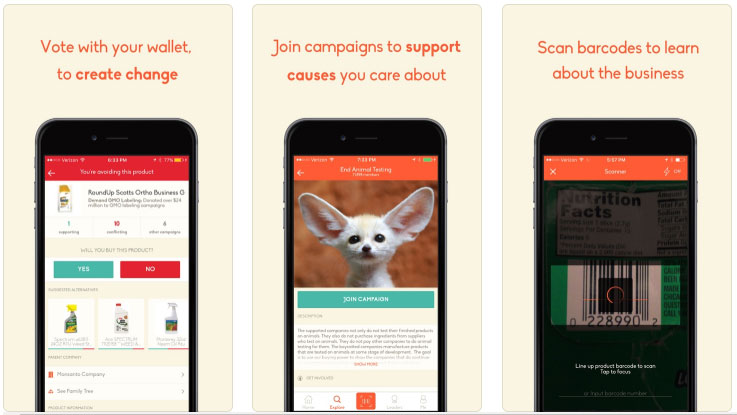 Buycott makes it easy for you to find ethical and environmentally-friendly products on the go. When you're in a shop, you can simply use your phone's camera to scan the barcode of any item and Buycott brings up the company's history and what causes it supports (you can also use it for Amazon).
I used the app to scan some washing up liquid by a brand called Method, and the app highlighted that the company supports campaigns such as ending animal testing. If you don't like what the brand stands for, Buycott will then suggest alternative products.
You can even create your very own profile, where you can support a range of different campaigns. Whenever you scan a barcode, you'll then be warned immediately whether the brand clashes with your campaigns.
Enjoyed this article? Give it a like
I'm an English Literature student at Oxford Brookes University with an interest in electronic and interactive fiction and what literature will be like in the future.