Christmas isn't cancelled: 7 Cheap ways to celebrate with flatmates
Just when you think life is starting to ease into a 'new normal', things change, and you're left wondering what Christmas will actually be like this year.
While you might not be dancing with your friends to Mariah Carey at the university Christmas party this winter, it doesn't mean you can't see 2020 out in style.
To help you out (and because I'm also a huge advocate of silly Christmas fun), I've outlined eight ways to keep the Christmas spirit alive on a student budget if you're still at uni with your flatmates.
1) The 'festive light switch-on'
So, you won't be watching a Z-list celebrity switch on the lights for your city this year but, really, you can do it better at home, anyway.
And you won't need much to do it, either. Just grab the fairy lights hanging around your bookshelf, a small Christmas tree from Poundland and a bottle of £4.99 mulled wine, split between you and your flatmates.
Then, for the big event, decorate your little tree and gather in the kitchen – it's time to switch on the lights. With a glass of mulled wine in hand and Michael Bublé crooning on Spotify, I dare you to feel more festive.
2) Wreath-making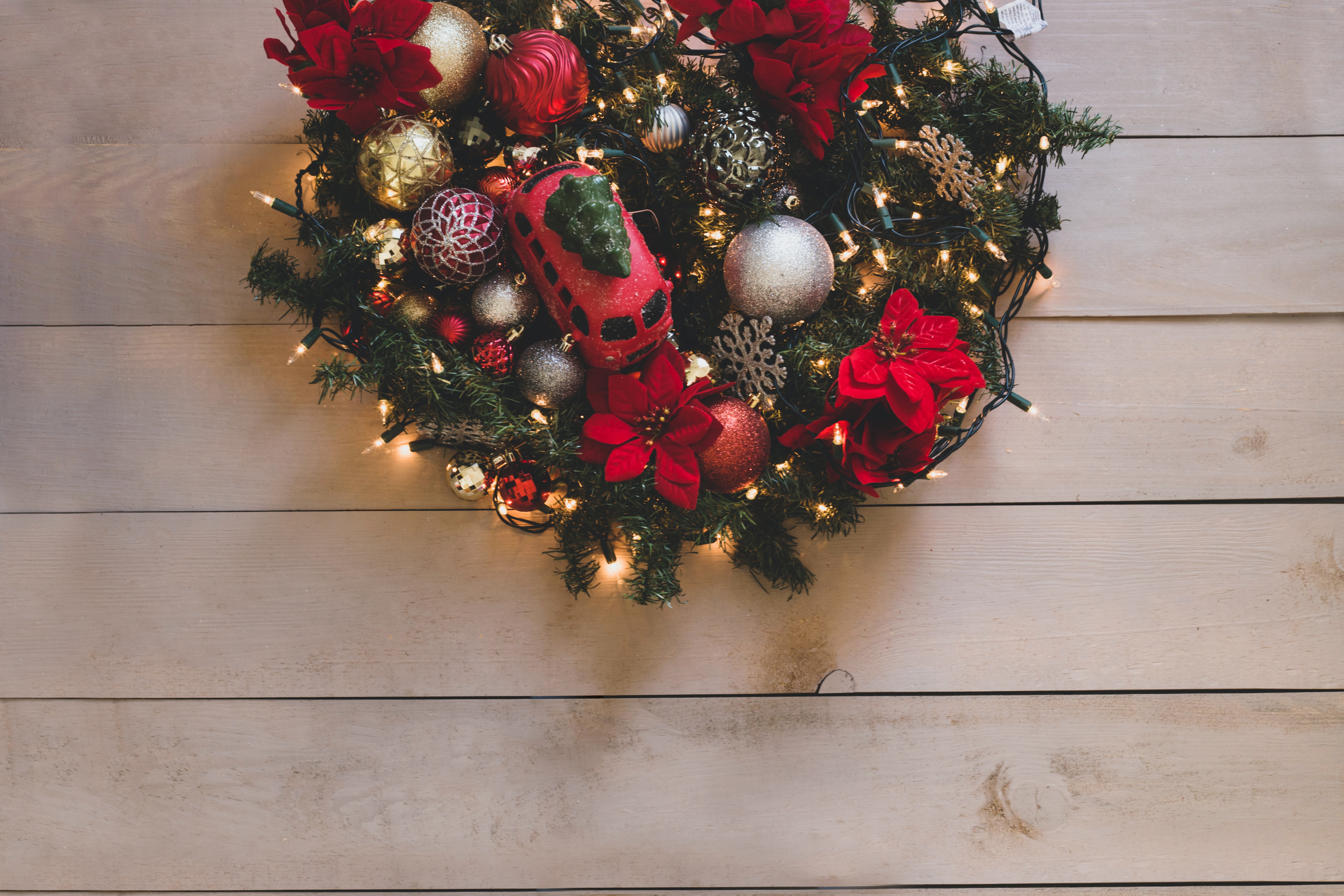 It's easier than you think you make a Christmas wreath, and you can almost do the whole thing for free, if you know where to look. Just head outside with your flatmates to your local park or woodland area and gather what you can find. I'd recommend:
Several 'bendy' twigs – essentially, not too dry and don't snap immediately when bent
Leaves – still on the twig and from a fir tree, or sprigs of holly (don't forget gloves!)
Foliage with colour or berries - if you can find them
String or twine - the one thing you might need to buy
This video tutorial is great for showing you how to tie it altogether. Why not make it a competition and see who makes the best one? Winner gets to choose that night's festive movie.
3) Festive film night
Speaking of movies, you can't have Christmas without a festive film night. So, get the cheap snacks in and get cosy – it's pretty self-explanatory. To make it more fun (and fair), put all the titles of the Christmas films into a bowl and pick one randomly to kick off the night.
4) Christmas crafts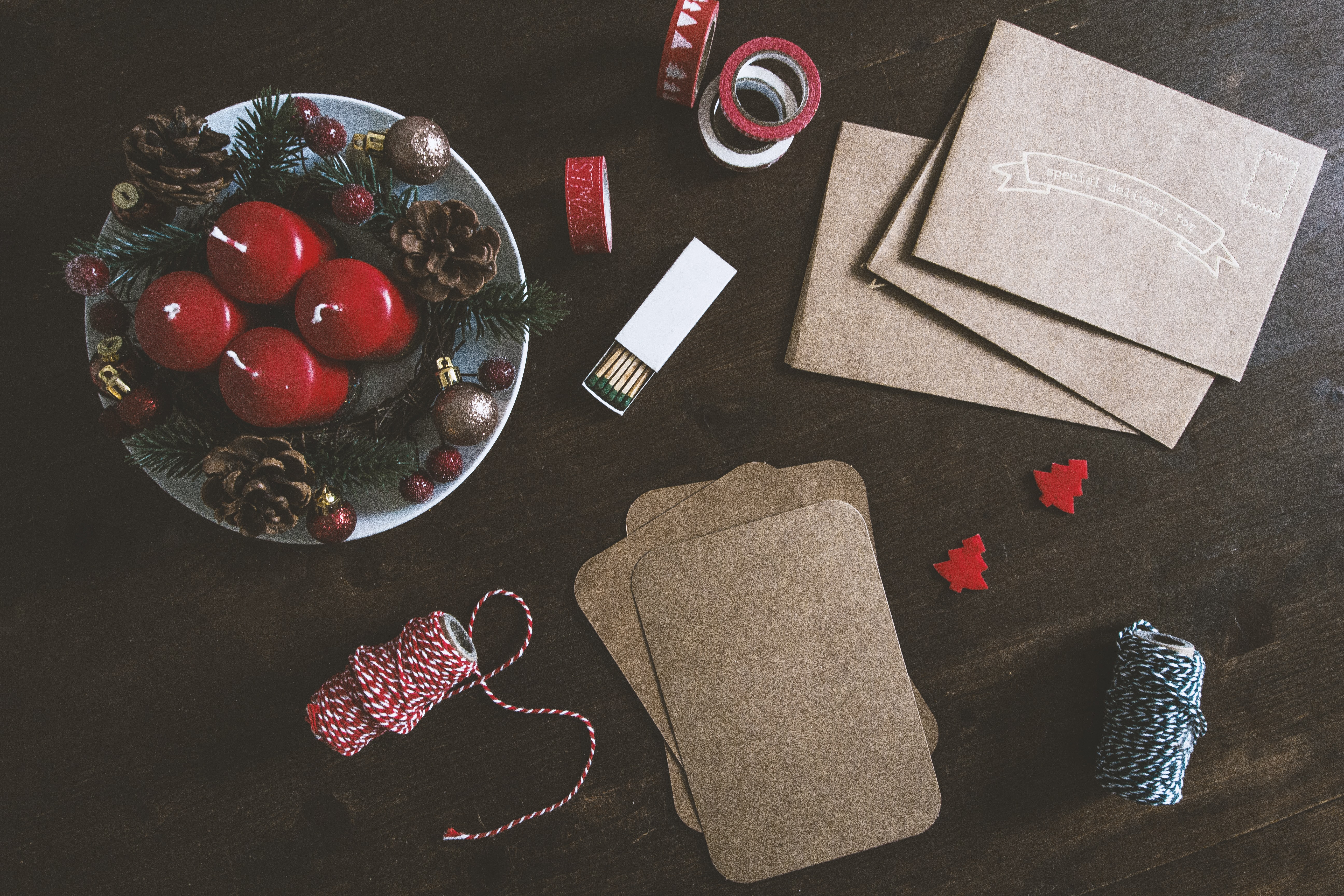 You don't have to be a Picasso to get involved with some Christmas crafts. Just grab some paper, pens and glitter and have a catch-up around the kitchen table.
From something as simple as cutting out paper snowflake chains that you can string around the kitchen, to making Christmas cards for loved ones, it's an easy way to take a break from the books.
If you want to up your game and make some gifts, though, check out Ella's home-made gift ideas here.
5) Take part in Secret Santa
I love Secret Santa, and not just because the results can be eye-wateringly hilarious. The thing is, you can put whatever rules you want on it. Want gifts to have a specific theme? What about limiting the shops you're allowed to buy from? You could even demand that everyone hand-makes their gifts on a budget of £3.
If you're as serious about it as I am, check out Elfster, a nifty, free generator which will email chosen names to each person on your list,  so everyone's Secret Santa is totally… secret.
Decide on a budget (I'd go less than £5), then pick a night for the big hand-over. Just don't let the anticipation keep you up at night.
6) Make your own Christmas biscuits
If you're a bit of a Mary Berry and love to bake, get everyone back in the kitchen to decorate your homemade Christmas biscuits. And don't forget to check out our Christmas baking video for our simple festive treat recipes and ideas.
If baking just isn't your forte, though, grab a couple of themed biscuit-decorating kits from your local supermarket for an easy win (usually less than £2).
7) Have a flat 'Christmas Day'
At this point, you've got everything you need to enjoy the festive season, now you just need a proper Christmas dinner.
This is actually pretty easy if you stick to a budget and share the shopping – and surprisingly cheaper than you think (here's our guide to having a Christmas feast for under £15).
If you're not into cooking a roast from scratch, though, read all about our alternative Flatmas dinners here.
Enjoyed this article? Give it a like
When not stringing words together, can usually be found on the local beach with her cocker spaniel pup, Huey.