Decorating your room: Natali's top tips and crafty ideas
Leaving the home in which I grew up was like leaving a part of me there. Everything in my old room is a piece of a good memory I have. But my new room was just a blank, empty space. Nothing is more depressing than living in a nice place but not feeling at home in it.
‖
Look for inspiration on Tumblr and Pinterest.
So, decorating my room was not only about living in a nice-looking place - it was also about giving this place a soul.
Here's how you can make your student room more homely.
Choose a theme and be selective
The main thing to avoid while decorating your bedroom is buying everything that catches your eye. If you're not sure what bedroom style you're pursuing, look for pictures on Tumblr or Pinterest. This will definitely inspire you to turn this blank canvas of a room into a masterpiece.
And let the fun begin. I am sure there isn't a student around who doesn't get excited about going on a shopping spree for things to make their room cosier.
‖
Look for inspiration on Tumblr and Pinterest.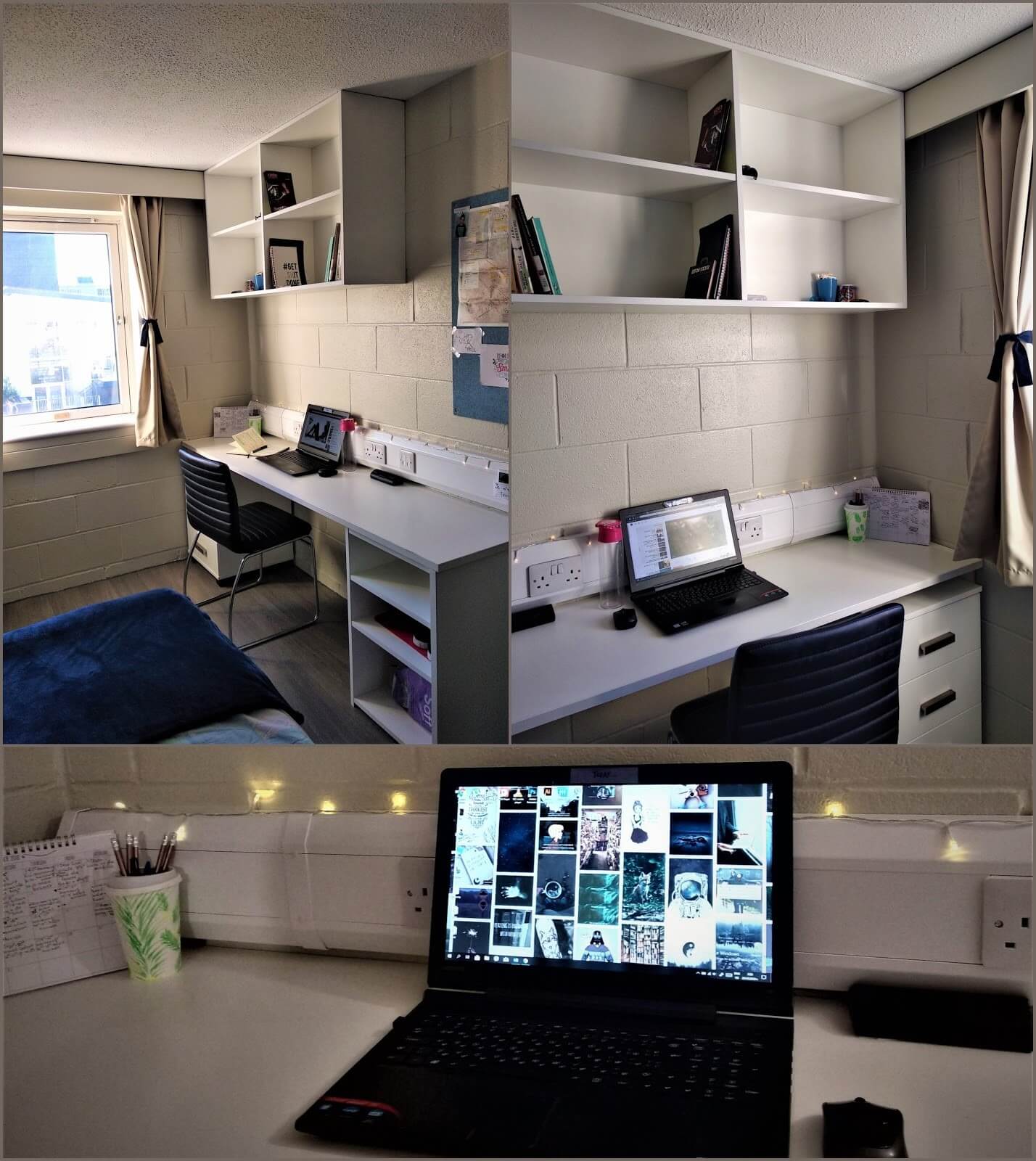 Go cheap, cheerful, and charitable
I found pretty good and cheap decorations in shops like Primark and Poundland. Also, it is a good idea to go to charity shops. Sometimes, with a little luck, you can find hidden gems. What's more, if you buy something from there, the money goes to a good cause - a win-win situation.
Go on a treasure hunt at your nearest charity shop.
In my local charity shops, I found some good posters, nice cups, bowls, and vases in interesting shapes. So, open Google maps, find your nearest charity shops, and go on a treasure hunt.
Get creative and crafty
Another idea I strongly recommend when you decorate your room is to do something DIY. It's not only easy and helpful when you're living on a budget, but also helps you if you're fighting with homesickness.
If you have something to do and to think about, you're less likely to find yourself stuck in sad thoughts about home, family, and friends.
Make your own stationery holder
Now, I want to show you how to make an artsy pencil pot which will motivate you to write these essays that are keeping you awake at night.
First, you need an empty cup of coffee or an empty jar. If you're using a paper cup, you will need colour markers. If you have a jar, you will need some washi tape and leaflets from which you can cut cool pics.
Just draw and stick whatever you like on the cup/jar. It is a lot of fun, trust me. In the end, you'll have a nice pencil pot and a big smile on your face. What more do you need?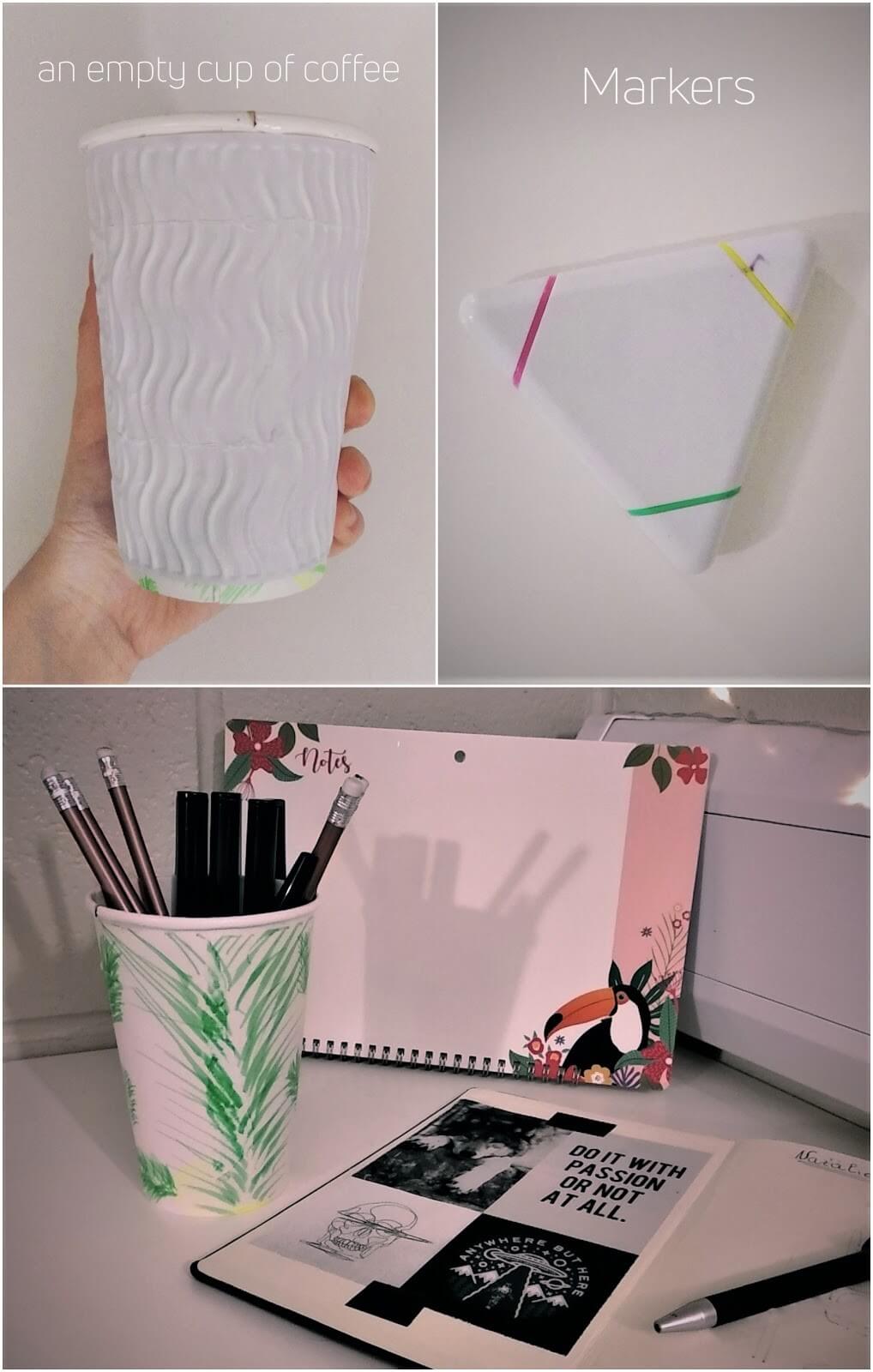 My stationery holder DIY
Surround yourself with the faces you love
Take some pictures of your family or friends - or even your pet - when you move. It's always heart melting to wake up to the faces of your loved ones (even if they're just pictures).
Decorating your room is like an adventure. You search, create, and arrange, and when you're done with all of it, you win the big prize – your own place in which feels like home.
Enjoyed this article? Give it a like
More articles in this category:
Natali is first-year student at Robert Gordon University, Aberdeen. Natali graduated from High school of Mathematics and Natural Sciences "Vassil Drumev" in Bulgaria. Her interests are wide spread - journalism, photography, film-making, graphic design - that's why she chose to study BA Media. Natali has won many literature competitions in her country and has her own published book, called "Spirit".