Fire safety: How 5 minutes in a smoke-filled room changed me
I hadn't really thought about fire safety since I was a child, when I'd been taught to 'stop, drop, and roll'.
But everything changed when I found myself in a room full of smoke. Smoke so thick I couldn't see my hand in front of my face, or hardly hear the firefighter sat next to me.
I'd been asked to meet with the Avon Fire and Rescue Service (before the Covid-19 pandemic even started), and I arrived at the station in the morning expecting to do a quick Q&A. But the service had planned much more. After a quick tour, they filled a room with smoke and put me in it.
Obviously it wasn't real smoke, it was the kind you get in nightclubs. But it was one of the scariest situations I've ever been in. I saw how quickly you can get lost in a small room. And it taught me a new respect for fire safety.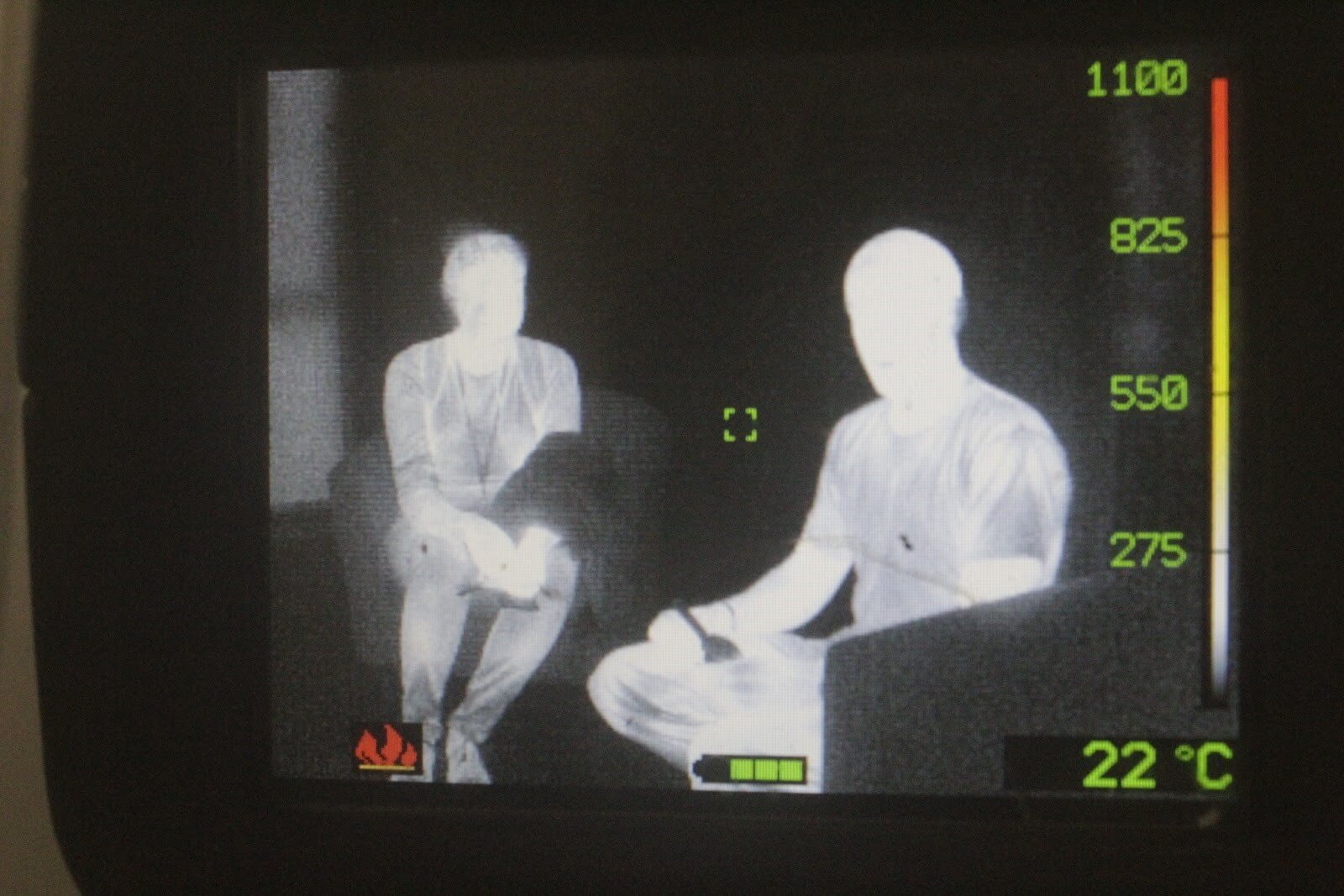 The heat-detecting camera showed me where I was in the room
Stuart, my guide, gave me a heat-detecting camera to see where I was in the room. I could now see him too. Without that camera, I had felt anxious.
After a few minutes, the firefighters burst in and rescued me as if it were a real emergency. And it did feel real. I felt scared. I was walking but couldn't see, listening but couldn't hear. I had no clue where I was going.
Back out in the daylight, and feeling shaky, the firefighters told me I was going back in. They wanted to show me the massive fan they use to clear smoke so I could see how important it is to open a window when there's smoke. The fan cleared the room within a minute, and this time I got myself to safety.
Next, they took me up in the 100ft turntable ladder so I could see Bristol from above - and understand how they fight fires in high-rise buildings.
Suddenly they got a call, and we were in the truck and on our way in minutes.
An alarm was going off at a care home for the elderly. I threw on a Hi-Vis jacket and helmet, and we sped down the motorway with blue lights flashing and sirens blaring.
Thankfully there wasn't a fire, but it showed me how much time a false alarm takes out of their day. I saw how many trucks and firefighters have to respond, and how it can stop them getting to a real fire.
How many times have the fire alarms gone off in my halls over the last year? I've honestly lost count. Most of them are from burnt toast, or someone spraying deodorant too close to a smoke detector. Accidents happen but they do have a cost - I appreciate that now.
To finish up my day, I had a cup of tea with Watch Manager Jon and firefighter Chris to ask a few questions. Read the Q&A to discover how to keep your halls fire safe.
When I was asked to write this post, I didn't realise it would change me. But, honestly, I've found a whole new level of respect for fire and the fire services. I hope it's helped you find that too.
Enjoyed this article? Give it a like
Jade is second year Business and Marketing Management student studying at the University of Gloucestershire.