'It doesn't get much better than Glasgow': A Q&A with students Ellie and Gioia
A little while ago, before the world was hit by coronavirus, we ventured out to some of Glasgow's iconic places. We explored the Botanic Gardens, Ashton Lane, and the Hillhead Bookclub - all for you, dear readers!
After several hours of chatting and writing, we collaborated to make this comprehensive city guide to help you decide whether life in Scotland's second city is for you.
More articles in this category:
‖
Glasgow has given me the opportunity to feel like I belong somewhere.
Here goes.
E: What are your favourite places to eat in Glasgow?

G: Well, we have just eaten at the Hillhead Bookclub. It's an amazing building and it's got such an unusual aesthetic. The mood is great, the music is awesome and the food is fairly cheap.
E: Yeah, like we got the Bookclub bagel and chips on the side and it just cost us £7 each, which isn't that bad at all! It's quite close to Ashton Lane as well, which is where Hanoi bike shop is. They do Vietnamese street food and have all these cool bikes hanging from the ceiling. It's quite famous around here, probably because of its unique and interesting menu.
G: That's cool, I'll have to give it a try someday! Paesano is also quite a big thing around Glasgow. It's a pizza place and, speaking as an Italian, their pizza is the closest pizza I've tasted to Naples' since I've come to the UK. It makes me super happy that there's a little corner of my country in Glasgow. Plus, a big pizza is only around £6 so it's quite perfect for students.
E: What's your your top place to visit in Glasgow?

G: Ashton Lane!
E: It is apparently where JK Rowling got the inspiration for Diagon Alley!
G: Really? That's so cool! It has all these little restaurants and a cinema too. The cinema feels like quite a classy place to go to and it would be a nice place for a date or to hang out - it's so comfy and it isn't as expensive as you might think either.
E: I love all the funky little rickety buildings on the really narrow cobbled streets, and the strings of fairy lights that cover the entire street which come on when it's dark.
‖
Glasgow has given me the opportunity to feel like I belong somewhere.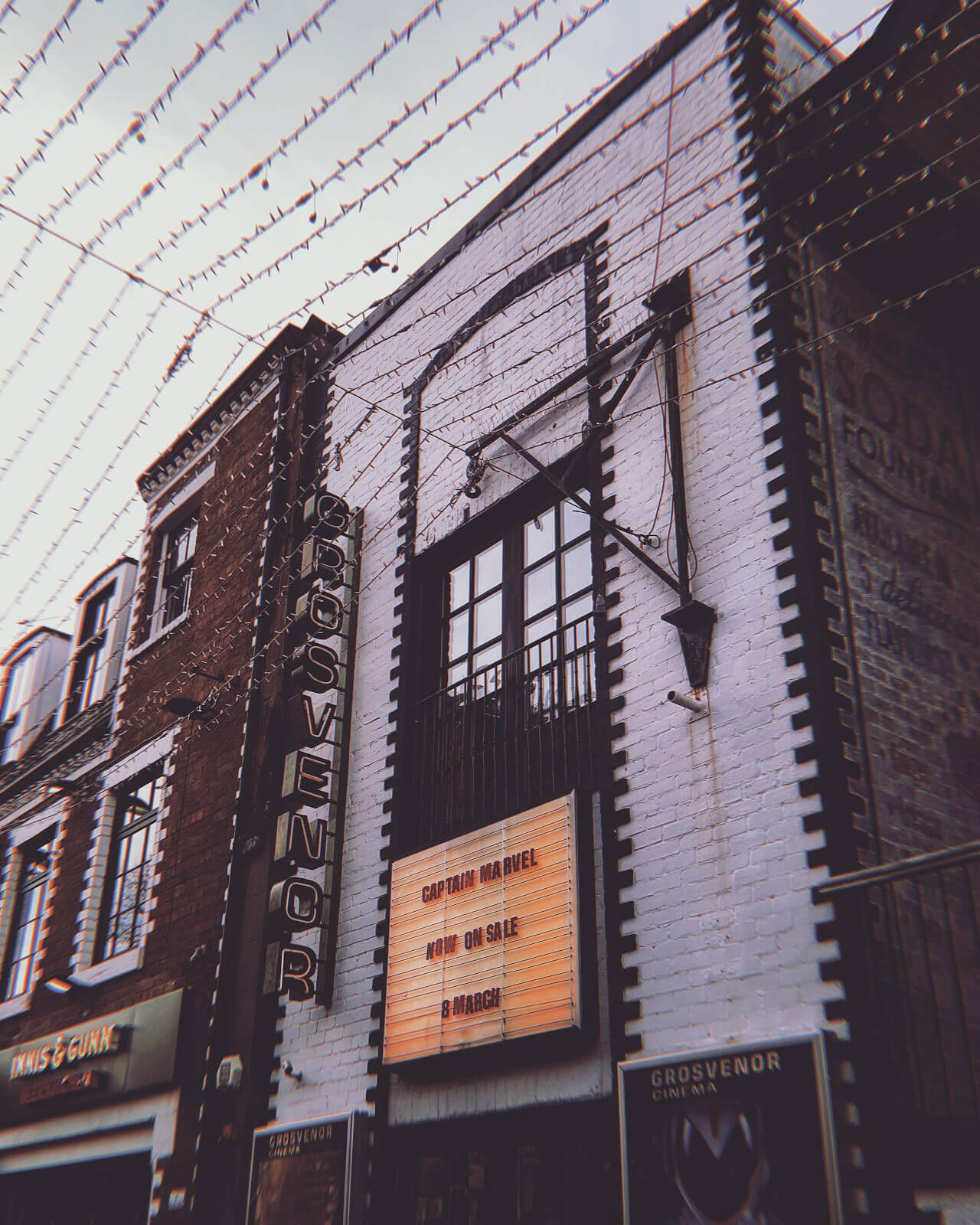 G: What is the performance arts scene like in Glasgow?

E: There are so many theatres in Glasgow! There's Tramway, the CCA, the Tron, the Kings Theatre, the National Theatre of Scotland, the Royal Conservatoire. Even the little venues like the Old Hairdressers, the Space, Cottiers and Websters - it's never ending. I mean you could go and see a show every night of the week and not spend over £20!
G: Oh, and A Play, A Pie, and A Pint!
E: Yeah, at Oran Mor where you get a play… a pie… and a pint for about £10!
G: And the plays are actually quite good. It's usually something you might not go along to but everyone always enjoys it in the end.
G: What about Glasgow's museums?

E: Okay, down by the river there's the Science Center, which is the coolest place. I think it's sort of aimed at children, but it doesn't really matter when you're there. It's so bright and colourful and fun. You can spend a whole day in there just playing with stuff, without being looked at funny. There is also a mind-blowing planetarium. Alternatively, there's free entry into the Riverside museum and Kelvingrove Gallery which has got some really funky stuff in it. Floaty heads, they're fun! I really like them!
G: They always have lots of new stuff there. It's not like one of those dusty, old museums that have all the same stuff in all the time.
E: Yeah, and even the permanent exhibitions are worth seeing more than once. There's this whole bit on ancient Egypt which looks really cool, with all these old sarcophagi.
G: Oh yeah, there's also the Hunterian Museums in the university which has that real life mummy and the sarcophagus is lifted a little bit open, so you can actually see the mummy inside!
E: Also free! Just like the Hunterian Art Gallery across the road, next to the university's library.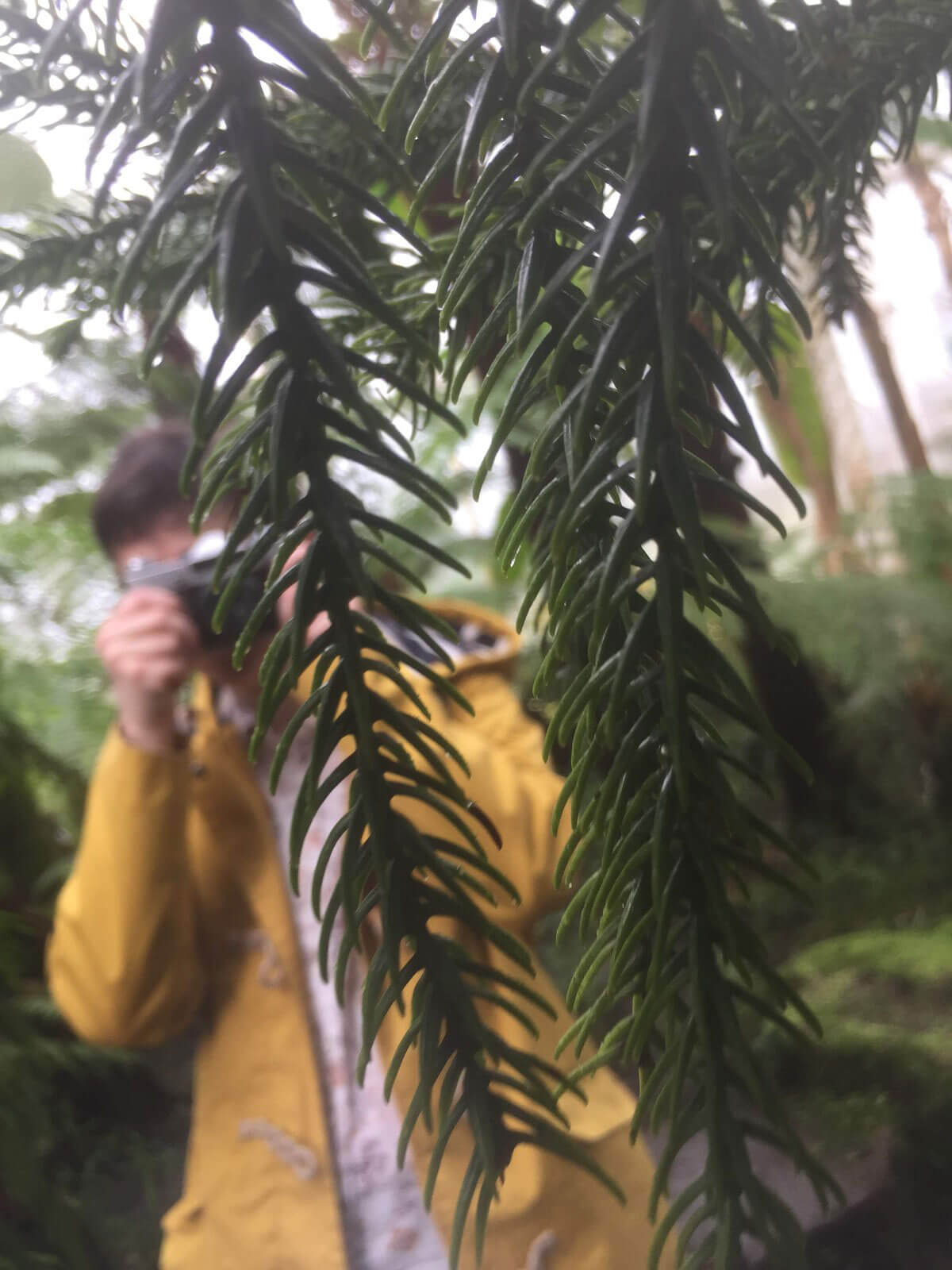 G: Where do you go to relax and let off some steam?

E: Well, if I want a drink there are quite a few places in the West End. There's Coopers on Great Western Road, which is really popular with students, and Inn Deep, which is a a bit more alternative. Plus, it's dog-friendly!
G: There's this place in the city centre I go to often for drinks called the Howling Wolf. Best. Place. Ever! They have live music there basically every night, from bands who are really great but you wouldn't hear anywhere else. It's got this sort of underground bar atmosphere, almost as though it's from the prohibition era - definitely worth the visit!
E: When I want something more relaxed, I go for a coffee at S'mug just off Ashton Lane!
G: Oh gosh, it's such a wee, simple place but it has a lovely vibe. It's perfect to go to study by yourself or meet up with a friend for a chat. Another place I've heard of is the Hidden Lane Tearoom.
E: Oh it's great! It's quite expensive but it's a good kind of treat day. Afternoon tea costs about £8 and you get a selection of sandwiches, a scone, and a pot of tea which is quite a lot. So it's worth it. Actually, the whole of Hidden Lane is pretty cool and definitely one of Glasgow's gems.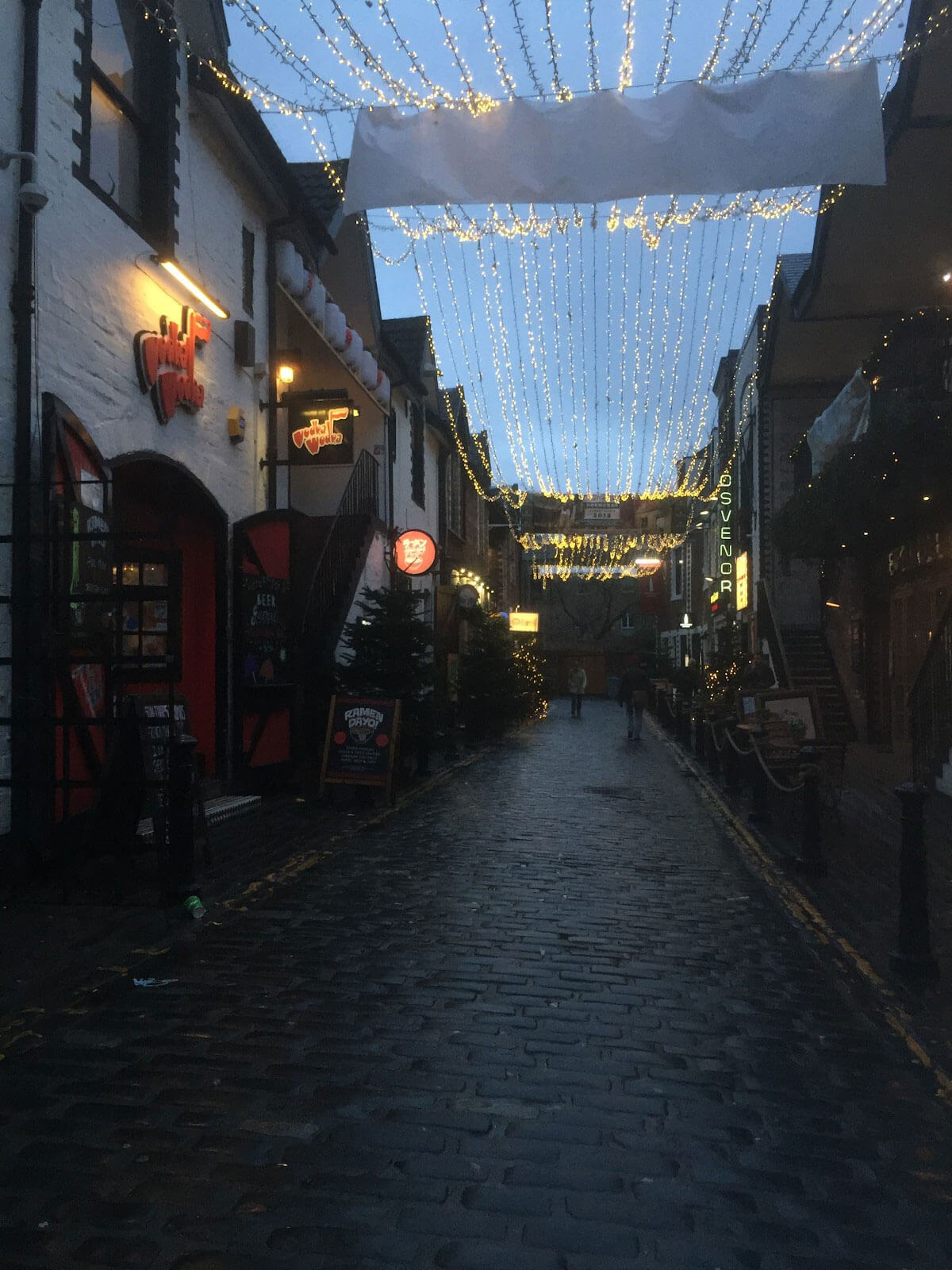 G: What did you think of Glasgow's Botanic Gardens?

E: How cool it was. I couldn't believe I hadn't been there yet. I walked through the Botanic Gardens every day last year, but I didn't go in the greenhouses until today.
G: It's a whole world inside those greenhouses!
E: Yeah, it's like Glasgow's own hidden universe in there. I mean, the greenhouses don't look that big until you get inside and you find an actual jungle. There are so many exotic plants from all over the world and these maps that show where the plants are from. And the greenhouses themselves are also really cool to look at, especially the main white one. If you live close enough, it's a good place to read a book, do some revision, or go for a relaxing walk.
G: And if you're around Glasgow during Halloween, they put on an event there called GlasGLOW and they do different themes and light shows. I went this year and it was really, really cool!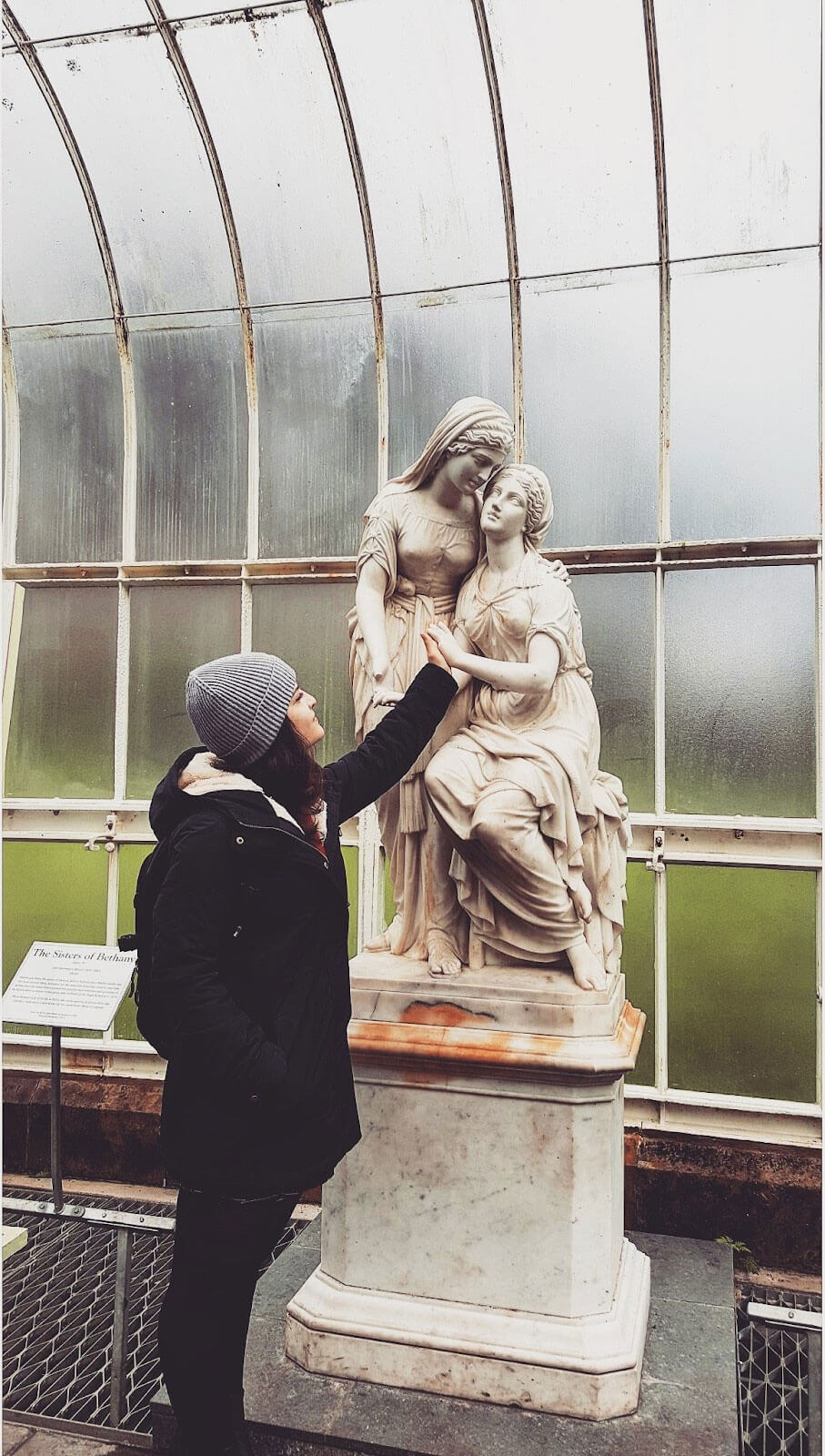 G: Has living in Glasgow changed you?

E: Yes, in so many ways! Glasgow has shown me a new, independent lifestyle and opened my eyes to all kinds of new things, new experiences, and new people. I loved growing up in the countryside and I love going home to it over the holidays but, as city living goes, it doesn't get much better than Glasgow.
G: Glasgow has given me the opportunity to feel like I belong somewhere. Sometimes being an immigrant means that you don't really feel like you belong anywhere. But I feel more rooted in Glasgow than I ever did before. Here you can be as weird and as free as you want to and no one will take a second look at you because Glasgow is such a forward-thinking, artistic, full-of-life, and diverse city. Not to say that Italy isn't, but there's something about Glasgow.
Enjoyed this article? Give it a like
More articles in this category: