The 17 best street art murals in Digbeth
Digbeth is one of Birmingham's most distinctive neighbourhoods. Located a short walk from the city centre, it is home to a variety of cafes, independent shops, art venues, and more.
The streets of Digbeth are bursting with colour. Street art is supported and even encouraged, and artists from all over the world have contributed to this neighbourhood. From the stunning to the surreal and the almost unsightly, there is something for everyone to see here.
More articles in this category:
To offer a glimpse of what you can expect, here are 17 of my favourite murals in Digbeth.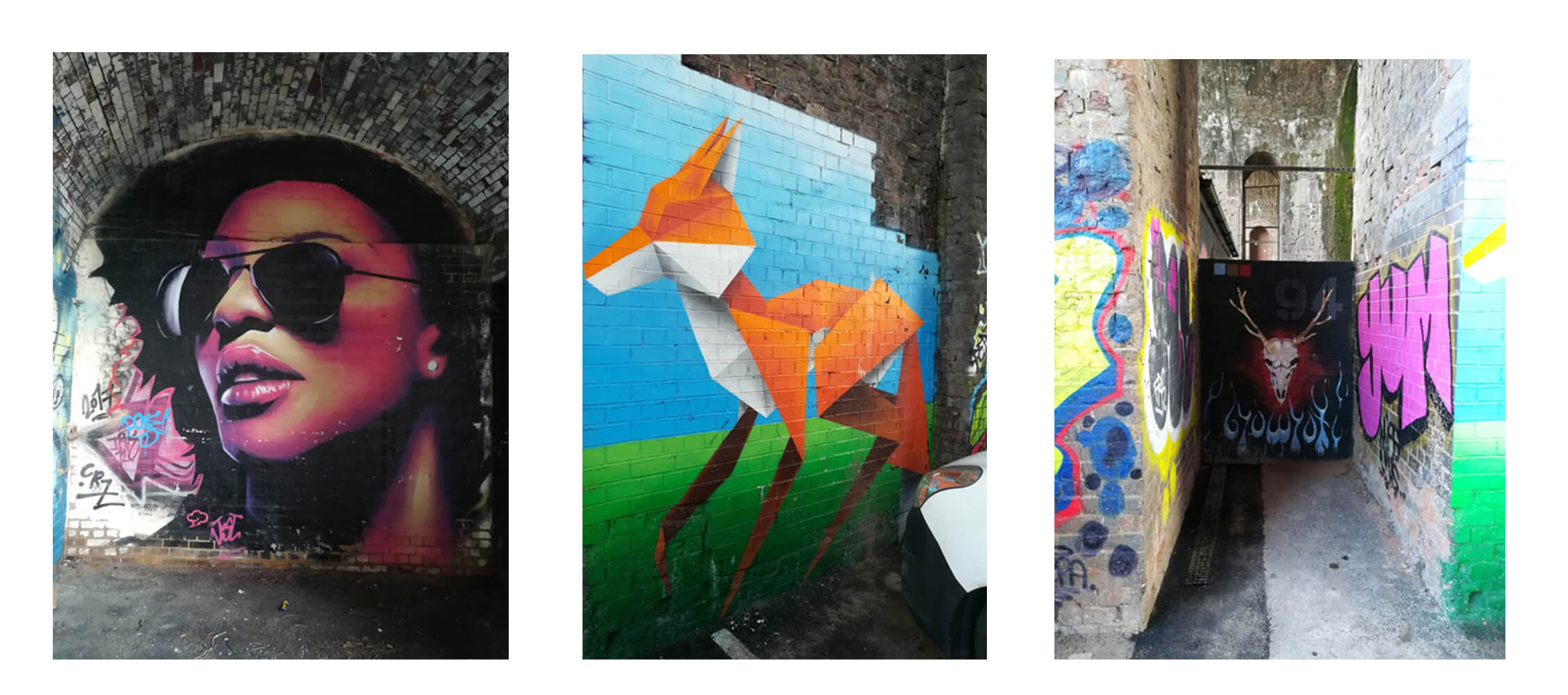 1. Well over six feet tall, this gorgeous portrait by Justin Sola must have taken quite some time to finish. It's almost possible to miss the uneven surface towards the top. The way he captured the shine of lip gloss and the light reflecting off the sunglass lenses is incredible.
Located near the Custard Factory, you can find this mural while crossing the bridge over the River Rea.
2. This mural of an adorable geometric fox is not as simple as it may first appear. I've rarely seen graffiti with such bold, clean lines. I also love the colour gradient used for the lower legs.
Located near the Custard Factory, you can find this on the colourful walls between the River Rea and Floodgate Street.
3. Hidden away in an alcove and surrounded by bright, cheerful colours, this sinister piece is easy to miss. While it was probably unintentional, my inner literature student fell in love with the symbolism. It feels as though you are looking through layers of a vivid personality and seeing the darkness within. It leaves you feeling strangely vulnerable.

4. The murals I've encountered that are by Odisy can only really be described as… surreal. While I'm not entirely sure what I'm looking at, you have to admire his talent and his eye for colours. My favourite part of this is the irony of painting a section of brick wall onto a section of brick wall.
Find this mural at Trinity Street car park. It's unmissable.
5. This mural of Frankenstein's monster does a wonderful job of showing his sensitive, emotional personality. You can see the sadness in his eyes. He certainly appears more human than the scorpion-woman on the wall behind him, wouldn't you say?
6. When the sunlight catches her amber eyes, it is truly something magical. Find this mural on Gibb Street beneath the bridge, right beside Birmingham's Ghetto Golf - perfect for an evening of cocktails and mini-golf.

7. The amount of detail in these murals never fails to amaze me. The folds of her ruff and intricate patterns on the lace must have taken such a great deal of patience.
8. This is so incredibly realistic that I almost can't believe it's not a photograph. The tears in her eyes, the bitten lip, and each individual hair of her eyebrows come together to create a stunning portrait.
9. The J. F. Kennedy memorial, which is made of mosaic, was commissioned by Birmingham's Irish community. It was erected initially in central Birmingham in 1968, but was later demolished and rebuilt in Digbeth in 2013.
Find the JFK memorial on the corner of Floodgate Street and High Street Deritend, directly opposite South & City College.

10. This is the second work by Odisy on our list, and it is even more surreal than the first. The noodles take up a greater portion of this mural, and this one also features a fried egg at the top left corner. He must have been pretty hungry.
This is located on Trinity Street car park, behind the unmissable PS4 Spiderman mural that spans the length of the wall.
11. There is something about this that's so vulnerably beautiful. You can almost feel the softness of the flower petals and her ruffled shirt.
Find this on Gibb Street, directly across from Kanteen. Whatever your dietary preferences, this cozy café should be your first stop for a healthy, filling lunch. It's furnished with a charming blend of rustic and modern - a stark contrast to the old industrial city vibes of Digbeth's streets - and it's the perfect place to put your feet up after a tour of the area.
12. Another piece by Justin Sola, located just off Floodgate Street. His eyes are so full of pain and resignation. The feeling that this mural invokes is indescribable.

13. I love all the bright colours and intricate details that make up this mural. The sparkles, swirls, and clouds are all telling the story that the words conclude. It's beautiful.
14. This cat with a predatory gleam in its eyes is, in fact, about ten times taller than you. You'll never find yourself feeling more like a mouse.
Find this on Gibb Street, by the stairs connecting to Heath Mill Lane.
15. This incredible mural spans an entire wall, and even incorporates a trailer. You'll never run out of little details to examine.

16. Of all the beautiful works of art that I discovered in Digbeth, this one on Hack Street is my favourite. Her distant eyes, the tattoo on her fingers, and the symbol on her book (ankh: the hieroglyph for 'life') tell the story of a young dreamer.
17. Both pretty and practical, this beautiful map of local attractions marks an entrance to the most colourful part of Birmingham.
Find this adjacent to The Ruin, on the corner of Bordesley Street and Floodgate Street.
The beauty of Digbeth is that it is not a museum. New murals can appear within hours, and old murals inexplicably disappear. But however long you spend there, and however often you visit, you will always discover something new in Digbeth.
Enjoyed this article? Give it a like
More articles in this category:
I'm a second year Business Management student, living away from home and finally used to it! Currently, I've got a lot on my plate - studying, working part-time, and seeking an industrial placement for 2019. In my free time, I like to haunt Birmingham's many restaurants, try to write a book, or enjoy a well-deserved nap.