What are virtual Pride events actually like? Student writer Jennifer investigates
Pride this year was much the same as previous years - chilling with some beveraginos, chatting with my mates, watching a range of queer talent, and simply rejoicing in feeling seen and valid in the LGBTQ+ community.
The difference? I was wearing my pyjamas, my friend was on a call with me, and I was in my room.
So, while some things are the same, others are not. Thanks to Covid-19, group social events have been cancelled, and that includes Pride events.
From the 1-12 September, Bristol Pride has been putting on a programme of online events that are being streamed on YouTube. And to be honest, it's lovely to still be able to experience and celebrate queer culture with others… even if it is through the live chat section.
So when Unite Students asked me to cover a few of these events for you, being queer and coming from the South West, I was more than happy to oblige.
Poetry with Pride
First up was the Poetry with Pride event. Four LGBTQ+ poets, one Zoom call, and a lot of poetry.
The poetry was mixed with a Q&A in which Ciarán Hodgers, Jasmine Gardosi, Keith Jarrett, and Tom Denbigh discussed topics like what it means to be LGBTQ+ and self-identity. It felt like you were a fly on the wall, especially during the more personal moments.
Now, as a poet myself, this was an obvious choice of event to attend. All poets performed a selection of their poetry in a captivating spoken word format which, in my opinion, allowed the true nature of the poetry to shine through.
The poets explored everything from patriarchy, the commercialisation of Pride and anti-racism movements, 'environmental identity', and loss. Jasmine and Keith's poetry stood out to me in particular; they performed in such a way that it felt like you were being sucked into the world they've created. Just watch it yourself to see what I mean.
Overall, it was an amazing experience and I am going to check out more of their work in the future. If you're interested, you can re-watch the event here.
Drag Queen Story Time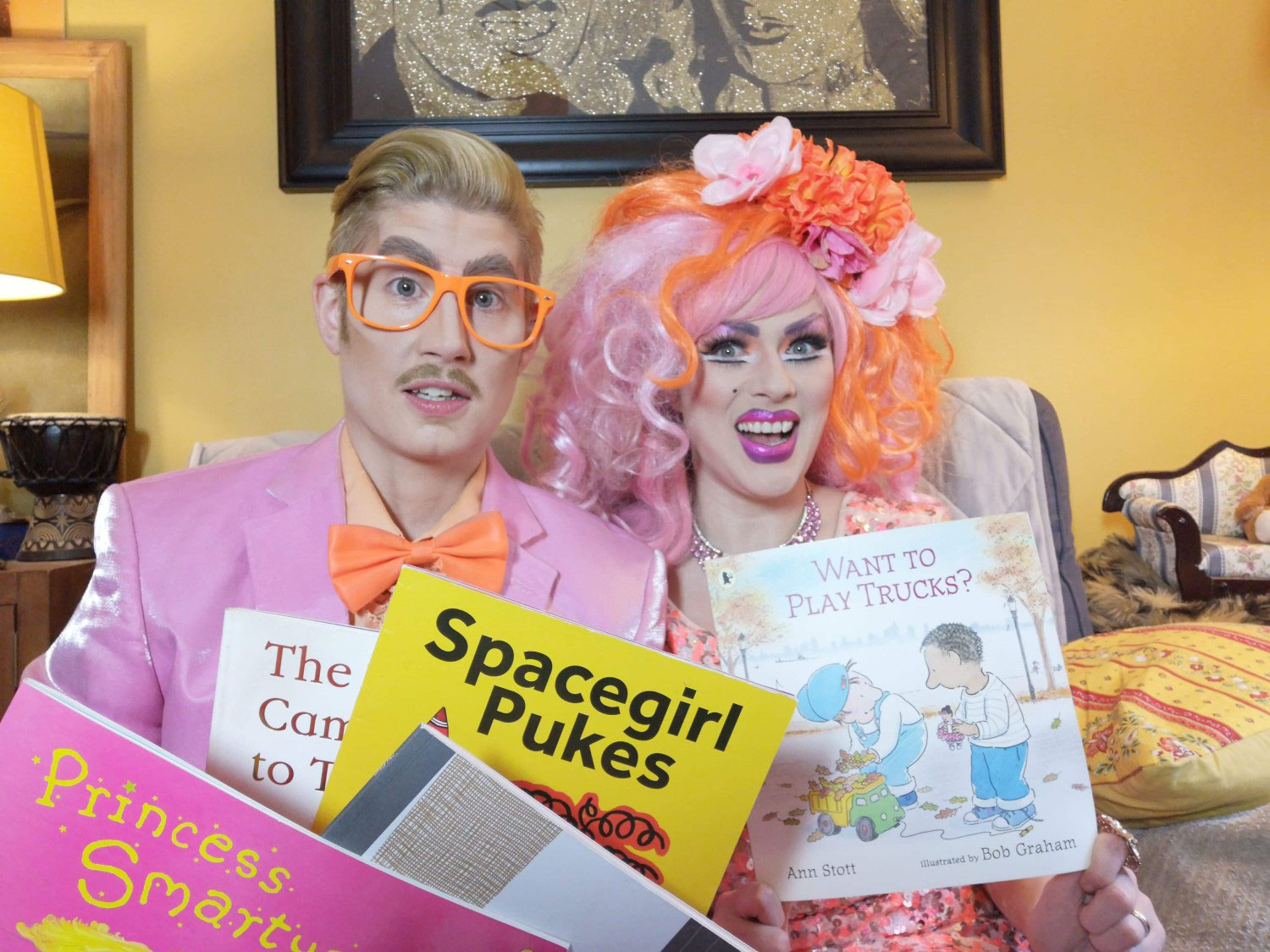 Now I had to admit I thought this was a storytime about what it was like to be a drag queen, I was sorely wrong. It was a drag version of the children's storytelling TV show, Jackanory, and I LOVED IT.
There is no better way to spend an afternoon than listening to LQBTQ+ family-friendly tales with stories about families with same-sex parents, being transgender and defying gender stereotypes, all presented in a way that children can understand.
The whole thing was fully inclusive, with closed captions and a BSL interpreter on the screen. That's what I love about Pride events, they're family-friendly and inclusive.
Adam, a drag king, and Apple, a drag queen, both did an amazing job at telling stories and I have to admit, I stayed for the whole thing (if anyone asks, it's research for when I become a teacher). The full event is still available on YouTube so you can watch it yourself.
The Dog Show
This one was a no brainer, a dog show? Yes, please! Like Crufts but gayer, Freddie drove the show with his enthusiasm for the pets featured. With categories like Waggiest Tail, Happiest Rescue, and Dog We'd Most Like to Take on A Socially Distanced Walk, it was 22 minutes of pure joy.
My favourite category had to be Happiest Rescue because of the cutest dogs. In that category, they were all winners in my eyes. Pippin and Joey's little faces? Adorable! Having said that, Most Like Owner was quite entertaining too. Dogs and owners with matching facial hair have been sorely missing from my life.
Then came the surprise rounds: Best Cat and Best Non-Dog Non-Cat. From cute cats and proud felines to strutting chickens that even Ginger from Chicken Run would be proud of, these rounds were filled to the brim with cuteness. Need this in your life? Watch it here.
The Final Verdict
So how did Bristol Virtual Pride 2020 compare to real-life Pride events? Well, it wasn't that much different. The fundamentals of celebrating LGBTQ+ culture were still there, I just couldn't take jazzy pride photos with friends.
That being said I'm looking forward to being able to meet new LGBTQ+ friends when Pride takes place in our cities again. In the meantime, head over to the Bristol Pride website to watch some of the events that have taken place over the past couple of weeks.
And don't forget to tune in for the main event, Virtual Pride Day, on Saturday 12 September. It gets started with a virtual parade at 11am and is followed by a series of events running deep into the evening.
Enjoyed this article? Give it a like