What is a bullet journal and why should you start one?
You might have seen the term bullet journal - 'BuJo' for short - popping up online and on social media, or perhaps some of your friends or family have one. When I first heard my friend talking about bullet journaling last October, I was both intrigued and confused. Fast forward a year, and I'm a committed bullet journaler.
‖
All you need to start a bullet journal is a blank notebook.
Are you intrigued and confused, like I was? Then let me explain what BuJo is and what all the fuss is about.
A to-do list, planner AND a diary?
As someone who had a million to-do lists scribbled on random pieces of paper, a weekly planner and many failed attempts at keeping a diary, I was drawn to the idea of combining all of these things into a single notebook.
But how does it work?
How to keep a bullet journal
‖
All you need to start a bullet journal is a blank notebook.
There are loads of YouTube videos, blog posts, and articles that explain how bullet journaling works and what it entails. But here's a brief overview of how my bullet journal is set up.
Blank notebook
All you need to start a bullet journal is a blank notebook, preferably with dotted grid pages so you can make the structure of the journal yourself.
Index page
I start my journal with a contents or index page and update this as I go along. This way, I can always find specific pages easily.
Future log
These pages act as an at-a-glance calendar, where I can see birthdays, deadlines or events, so I always know what's coming up.
Monthly log
Each month, I make a month-long calendar and fill it with everything that I need to do or remember that month - e.g. events, birthdays, deadlines.
Monthly to-do lists
I create a task list for the month ahead, and...
Daily log
… one for the things I need to do each day.
'Modules' or trackers
These are additional pages on which I can track habits, create lists, write longer entries, and get creative.
Wondering why I bother? Here's how I've benefited from keeping a bullet journal.
5 Reasons to keep a bullet journal as a student
Organisation
It's so useful to have everything all in one place, such as my timetable, to-do lists and monthly calendar, as it helps me manage my social and extracurricular commitments alongside my studies.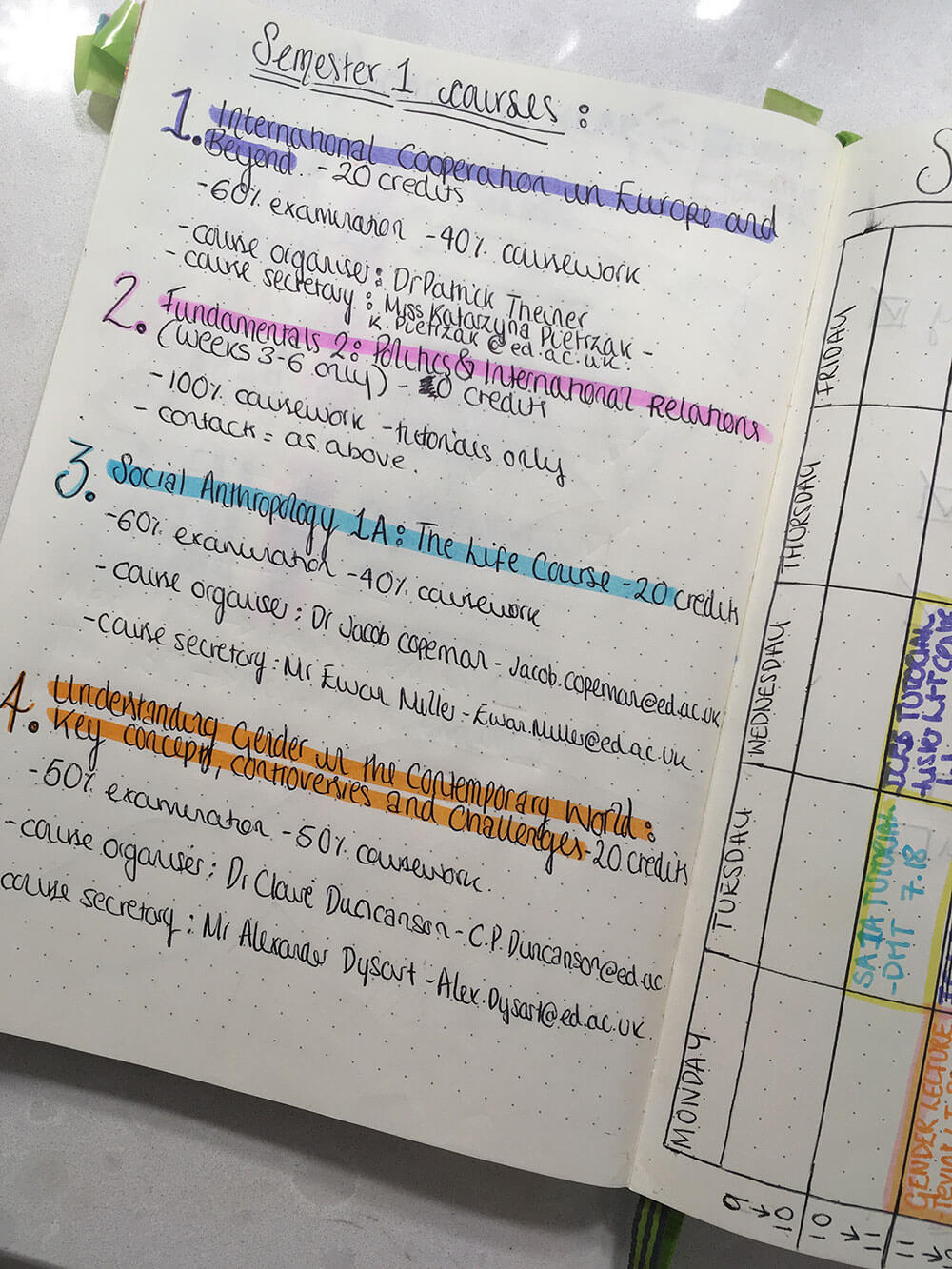 Productivity
Keeping a bullet journal has also made me far more productive, as it inspires me to set myself goals and gives me the satisfaction of ticking things off to-do lists. I've also used my journal to track the hours that I spend studying certain subjects and the lectures and tutorials that I attend - having a written record of it makes me less likely to skip them in favour of a lie-in!
Health
I've used my journal to keep on top of my physical and mental health by keeping a mood tracker, an exercise tracker, occasional food diaries, and even a period tracker. This helps me recognise any patterns and realise what makes me feel good and what doesn't.
I would also recommend keeping a gratitude tracker in which you write down one thing you are grateful for every day to help boost your positivity!
Money
I have kept spending trackers in which I write down everything I spend money on that month. This helps me recognise where I'm spending money unnecessarily.
I also have a 'master shopping list' in which I have written down the prices of the food and drinks that I regularly buy to help me budget for my weekly shop.
Fun!
Keeping a bullet journal can be so rewarding. I have particularly enjoyed keeping a record of the books that I have read and the movies that I have watched.
I also really enjoy using my journal as a creative outlet for doodling and I love decorating each month's entries with a particular theme - cacti or christmas ornaments, for example.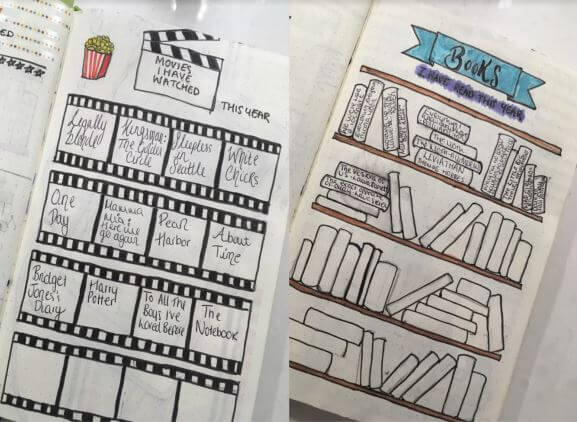 Start small and do your own thing
Although it might seem like a bullet journal will take a lot of time, you can spend as much or as little time on it as you want, and you can still get all of these benefits!
Also, don't get overwhelmed by all the artsy bullet journals on YouTube and Instagram - making it pretty isn't a requirement for an effective journal. Do what I did and create a very simple layout for the first few months until you get used to it.
Happy journaling!
Enjoyed this article? Give it a like