'I'm making it up as I go!': Audrey talks about her career
Experienced analyst. Business owner. Full-time student. Audrey Migot-Adholla is all of these things right now. After a seven-year spell as an analyst, during which she volunteered regularly and started her own business, she went back to uni as a full-time MBA student.
I asked Audrey about her career path, her business, her studies, and what she thinks the future holds.
‖
I'm a big fan of asking for help and admitting when I don't know things.
Here's what she had to say.
Audrey, how did you get started in your career as an analyst?
Truthfully, it was an accident! The first job I had after graduating was awful, it was telesales and I was terrible at it. So I handed in my notice and temped for a month while I decided what to do next.
A friend of mine saw a job at a media agency and suggested I go for it. The job was buying TV and radio ads, which involves lots of calculations, analysis and reporting to make sure clients get their money's worth. This experience led to my subsequent roles, and I ended up focusing on web analytics.
You stayed with analytics for a number of years. What kept you in that line of work?
Unless you choose to drastically change careers or you move from one entry-level position to another, the job you have is usually based on the experience you have from the one that came before it. I started off knowing nothing about how TV ads are bought, but that experience was relevant for the job I did next which involved web and database analytics.
Also, keeping up with developments in technology meant that I learned new things all the time so the role was always changing and I never got bored. I was really lucky to have a series of managers who were determined to teach me everything they knew, and took me under their wing to make sure I kept learning and developing.
I launched my business in its current form in 2017 but I've actually been selling online since 2010 when I opened up my first Etsy shop. Doing it 'properly' was hard because I've largely been making it up as I go along - there's tons of industry-specific knowledge that you can't know until you're in it. So it was a baptism of fire when I stopped 'playing shop' and actually registered a limited company with Companies House.
Luckily I'm a big fan of asking for help and admitting when I don't know things. I also have a large collection of friends who work in the creative industries so they've been super helpful. My mum has been a fountain of knowledge because she has an MBA and many years of experience running companies, so she can help me with practical financial things like profit and loss and balance sheets.
My favourite moment would have to be the day I hit the button to put the current website live. I'm obsessed with details and so it was a long time before I felt it was ready to show to the world, and when I did I got lots of positive feedback so it was all worth it.
After seven years of full-time work, why did you decide to become a student again?
It has not been easy! When we work in companies we get used to doing more or less the same thing each day and we get very efficient at it. Most of the time we can forget about work at the end of each day when we leave, because the tasks are either finished or they can wait.
The MBA program that I'm doing is just one year so it's very intensive. Classes run from 9am to 5pm every day and there's tons of reading and research to do. Not to mention group work and assignments that are due from previous modules, plus the other events around campus that are of interest - so it never stops. To add to the fun, I'm commuting from Bristol to Bath every day so I'm tired all the time!
Most of my fellow students have commented that we forgot how much brain power you use when you're in 'learning mode' and it's exhausting. But aside from the studies it's been so nice getting to know my classmates - there are 14 different nationalities between us so culturally it's really diverse and we learn from each other as much as we do in the lecture theatre.
‖
I'm a big fan of asking for help and admitting when I don't know things.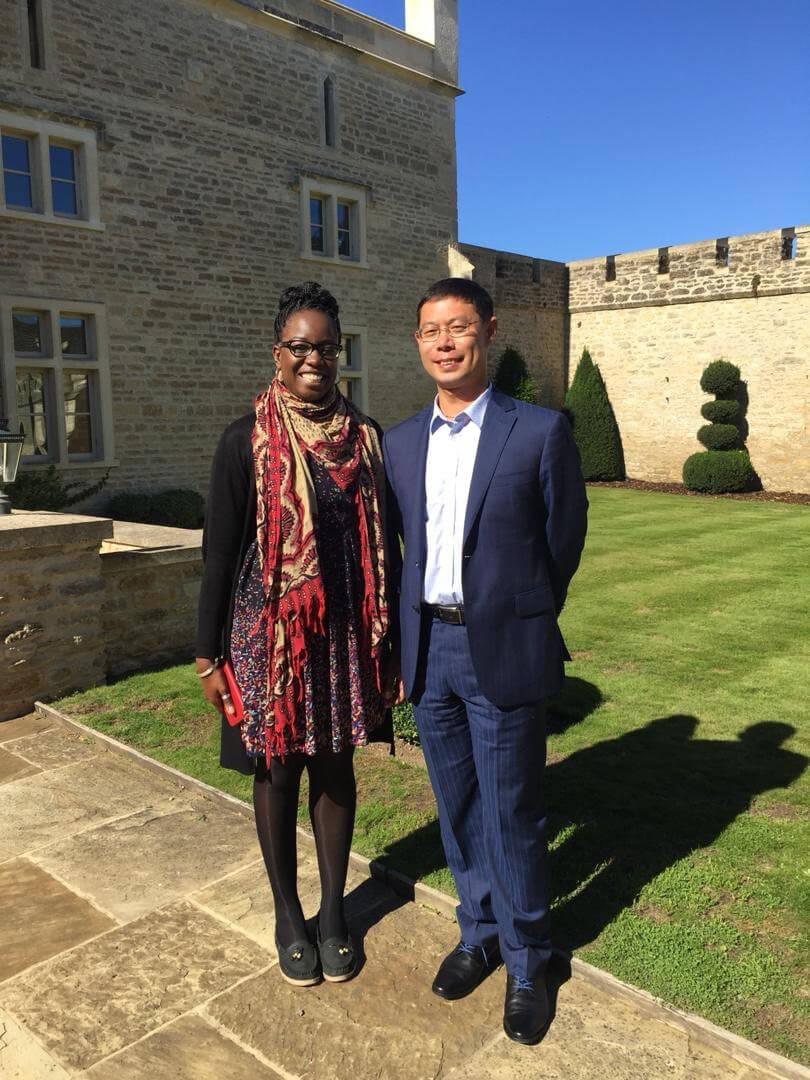 Finally, what do you think your next career move will be?
I'll certainly continue to grow my business but I'd also like to use my experience and all the new knowledge I've gained on this course to get more involved with social enterprises and the not-for-profit sector, particularly regarding issues around sustainability.
I applied for this program not fully believing that I'd ever get in, but now that I'm here I know I made the right decision. More than anything I'm keeping an open mind because anything could happen. I'm making it up as I go along!
Enjoyed this article? Give it a like