Budget meals: What I cook when time and money are tight
You know what it's like, all those Deliveroo orders have burned a hole in your student loan and, as much as you like them, you can't face yet another frozen pizza. But your budget is tight and you don't want to spend hours slaving away (you have too much Netflix to watch), so what do you do?
You cook something quick and cheap, of course.
Here are three easy recipes you can make without breaking the bank.
Best tomato soup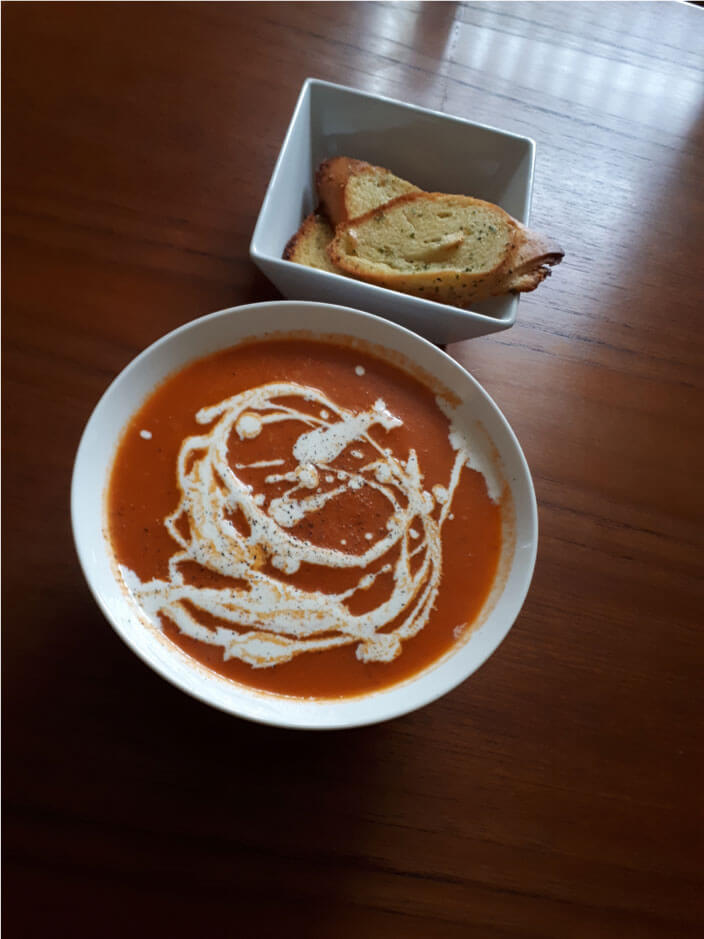 A warming soup which is ridiculously easy to make and takes no time at all.
Ingredients:
1 tbsp of sunflower oil (7p)
1 red onion, diced (15p)
5 sun dried tomatoes (28p)
4 cloves of garlic, crushed (you can add more if you want) (5p)
3 tins of chopped tomatoes (84p)
3 tbsp of sugar (7p)
500ml of stock (chicken or vegetable) (4p)
Method:
Heat the oil in a large saucepan and add the onion and crushed garlic. Once softened, add the sun-dried tomatoes and cook for a few minutes.
Add the tins of chopped tomatoes, sugar, and stock and simmer for 10 minutes.
Blend using a stick blender. Add more sugar if required and season as desired.
Serve with garlic bread and decorate with a swirl of cream if you're feeling fancy.
You can make a whole host of upgrades to this if you want - bacon lardons and chili powder work really well.
Total cost- £1.50
Makes 3 portions
Cost per portion- 50p
Herby pasta with peas and bacon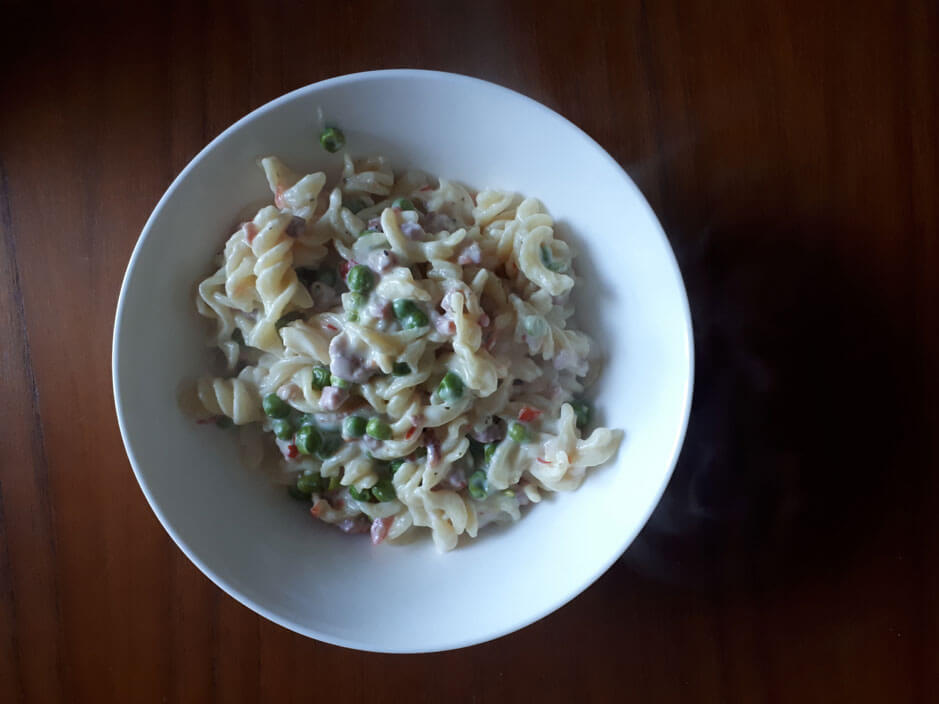 A super quick and tasty midweek dinner.
Ingredients:
175g pasta (19p)
175g frozen peas (13p)
1 small red pepper (55p)
1 small packet of lardons (92p)
75g garlic and herb cream cheese (34p)
150ml milk (23p)
Method:
Boil the pasta until it is almost cooked. A few minutes before it's done, add the frozen peas and pepper and cook until the pasta is done to your liking.
Fry off the lardons in a pan until they are crispy.
In a large saucepan, heat the milk and cream cheese, stirring continually until it is smooth and thick.
Drain the vegetables and pasta and add to the cream cheese along with the lardons and stir. Season as desired with black pepper and serve.
You can add sweetcorn if you want to get more veggies in and, if you're a cheese lover, add grated cheese when serving.
Total cost- £2.36
Makes 3 portions
Price per portion- 79p
Classic chilli con carne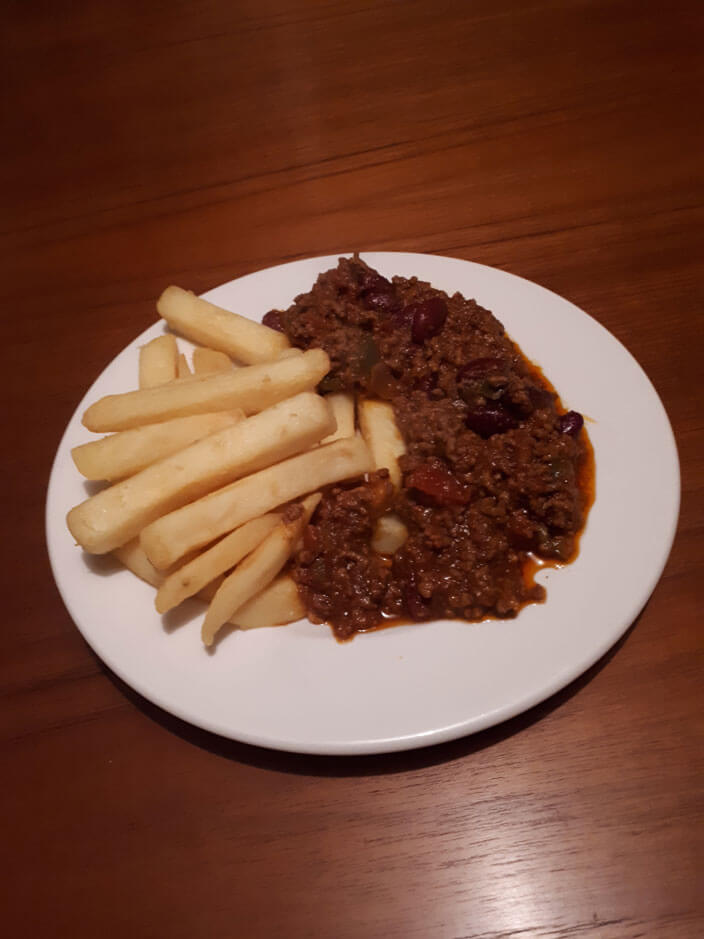 A fail-safe hit.
Ingredients:
1 tbsp oil (7p)
1 onion (15p)
1 red pepper (55p)
1 tbsp chilli powder (4p)
1 tsp sugar (3p)
1 tbsp paprika (3p)
500g mince (£1.89)
1 tin chopped tomatoes (28p)
300ml vegetable stock (4p)
2 tbsp tomato puree (2p)
1 tin kidney beans (30p)
Method:
Heat the oil, then add the garlic and onion and cook until soft. Add the pepper, chilli powder, and paprika and cook for a further five minutes.
Brown the mince in the pan, then add the stock to the mince.
Add sugar, tinned tomatoes, and tomato puree. Bring to the boil, then leave to simmer for 20 minutes until it has thickened (check occasionally and add more water if it begins to get too dry).
Once it has thickened, drain and rinse the kidney beans and add them to the pot. Stir, then season to your liking and leave for a further 10 minutes.
Serve with rice (boil in the bag portions are super handy). You can also add natural yoghurt or soured cream if it is too spicy.
If you're a vegetarian you can use Quorn mince or sweet potato instead. Just peel and boil the sweet potato, then add the stock and follow the rest of the recipe as normal.
Total cost- £3.40
Makes 4 portions
Price per portion- 85p
Enjoyed this article? Give it a like
A Northern Irish, caffeine fuelled, food-loving photographer and aspiring journalist, who likes to think they're funny. Political fan, dog enthusiast and music lover. Expect sarcasm, puns and bad jokes.