How to print at your Unite Students home - get the Printt app now
Did you know there are printers at your Unite Students home*? All you need to do to use them is download the free Printt app. Here's how it works.
How to print at home with the Printt app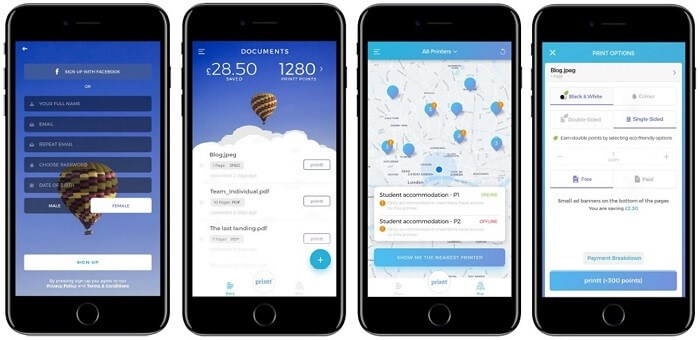 1) Download Printt and sign up
The Printt app is free to download for Android and Apple. Once you've got it, sign up with your Facebook profile or complete the short sign-up form.
2) Upload your file
Tap the + icon to select the file you want to print from your phone.
3) Tap printt logo to find a printer to finish
Stand by the Printt printer in your building (there might be more than one of them). Tap the Printt logo and the app will find the nearest printer.
4) Tap printt to finish
Select the printer you want to use, choose your options, and tap printt to finish.
_________________________________________________________________________
* The following Unite Students buildings have printing facilities:
Aberdeen: The Old Fire Station, Causeway View, King Street Exchange, Spring Gardens
Bath: Charlton Court, Waterside Court 
Birmingham: Athena Studios, Battery Park, Staniforth House, Jennens Court, Ashton Student Village
Bournemouth: Purbeck House  
Bristol: Cherry Court, Chantry Court, Brunel House, Blenheim Court, Favell House, Phoenix Court, Nelson and Drake House, Unite House, Orchard Heights, Marketgate
Coventry: Millennium View, Callice Court, Gosford Gate, Raglan House  
Durham: Houghall Court, Rushford Court
Edinburgh: Salisbury Court, Sugarhouse Close, The Old Printworks, Chalmers Street, The Bridge House
Exeter: Northfield, Northernhay House  
Glasgow: Blackfriars, Thurso Street, Kelvin Court, Tramworks   
Leeds: The Tannery, Concept Place, Broadcasting Tower, The Plaza, Joseph Stones House, James Baillie Park, Sky Plaza
Leicester: Filbert Village, Newarke Point, The Grange  
Liverpool: St Lukes View, Grand Central, Cambridge Court, Horizon Heights
London: Somerset Court, Mary Brancker House, Rahere Court, Piccadilly Court, Station Court, Beaumont Court, Julian Markham House, East Central House, Sherren House, Ewen, Henderson Court, Blithehale Court, Sidney Webb House, North Lodge, St Pancras Way, Moonraker Point, Emily Bowes Court, Olympic Way, Angel Lane, Stapleton House, Stratford One
Loughborough: William Morris Halls, Harry French Court, The Holt, Waterways 
Manchester: Parkway Gate, Kincardine Court, Piccadilly Point, New Medlock House
Newcastle: Manor Bank, Camden Court  
Nottingham: Riverside Point, St Peters Court
Oxford: Dorset House, Beech House  
Portsmouth: Greetham Street, Rosalin Franklin Hall, Greetham Street
Reading: Kendrick Hall 
Sheffield: The Anvil, The Forge 2, Devonshire Courtyard, Brassfounders, Exchange Works, Leadmill Point, St Vincent's, The Forge
Enjoyed this article? Give it a like